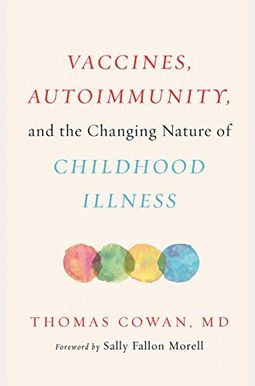 
 
Vaccines, Autoimmunity, And The Changing Nature Of Childhood Illness
Book Overview
One Doctor's Surprising Answer to the Epidemic of Autoimmunity and Chronic Disease
Over the past fifty years, rates of autoimmunity and chronic disease have exploded: currently 1 in 2.5 American children has an allergy, 1 in 11 has asthma, 1 in 13 has severe food allergies, and 1 in 36 has autism. While some attribute this rise to increased awareness and diagnosis, Thomas Cowan, MD, argues for a direct causal relationship to a corresponding increase in the number of vaccines American children typically receive--approximately 70 vaccine doses by age eighteen. The goal of these vaccines is precisely what we're now seeing in such abundance among our chronically ill children: the provocation of immune response.
Dr. Cowan looks at emerging evidence that certain childhood illnesses are actually protective of disease later in life; examines the role of fever, the gut, and cellular fluid in immune health; argues that vaccination is an ineffective (and harmful) attempt to shortcut a complex immune response; and asserts that the medical establishment has engaged in an authoritarian argument that robs parents of informed consent. His ultimate question, from the point of view of a doctor who has decades of experience treating countless children is: What are we really doing to children when we vaccinate them?
Frequently Asked Questions About Vaccines, Autoimmunity, And The Changing Nature Of Childhood Illness
Books like Vaccines, Autoimmunity, And The Changing Nature Of Childhood Illness
Book Reviews
(6)
Did you read Vaccines, Autoimmunity, And The Changing Nature Of Childhood Illness? Please provide your feedback and rating to help other readers.
Another view

Derived From Web

, May 22, 2019

I like the info and view point Could have had more facts about vacines and the effect or non-effect on antibodies.
Just STOP

Derived From Web

, Mar 27, 2019

People need to stop trying to help the ignorant in their efforts to say that vaccines are harmful and that they are the cause of so many other medical problems. Vaccines do not cause autism or autoimmune problems more than wearing a skirt causes breast cancer. While he writes good questions to ask one's self, it is also written in a way to help people think that not vaccinating our children is safe and even a good thing. Have you seen the effects of Polio, Measles, Mumps or Tetanus? Have you seen the long-term effects it has on people who contract these preventable diseases? Just because they have been obliterated from the States does not make them any less real or prevent them from coming back.
Wow.. another groundbreaking book from Dr Cowan

Derived From Web

, Oct 14, 2018

If you want to know the causes and treatments of autoimmune diseases, this is the book for you. If you want to know how vaccines work and why they are serious side effects with them, this is the book for you, too. The book by Dr. Cowan provides a wealth of information on vaccination, autoimmune diseases and childhood illnesses. I am in my last year of medical school and this book has provided me with invaluable tools that I will use with my future patients. Thank you Dr. Cowan for spreading your knowledge to all of us. It is greatly appreciated!
Vaccines destroy a crucial part of the immune system

Derived From Web

, Sep 2, 2018

Can 't recommend enough! Simple and effective vaccines have destroyed a crucial part of our immune system. If you think it is for the greater good for us all to have an autoimmune disease, then humanity is a failure... the criminals at Big Pharma have zero liability on the childhood vaccine schedule. I pray that we can stop it.
why our kids are getting allergies, asthma, and cancer so often now

Derived From Web

, Aug 30, 2018

I finished Dr. Cowan's book last night and am in awe. He is what a real doctor should be. If you want to know why you have autoimmune joints and how to heal them or any other bad illness, this book will tell you. I have read a lot of books on vaccines and know how damaging mercury, aluminum and chemicals can be, but he explains how vaccines also cause immune system problems now or later in life. The very nature of the vaccines causes an imbalance in the autoimmune system and allergies, asthma and immune illnesses that we see so much now. Dr. Cowan describes our use of DDT and sugar laced with arsenic to poison our children and bring Polio in the 40s and 50s, but we are now poisoning them with toxic vaccines. This book is not only personal, but his factual and educational information makes it particularly interesting to read.
Healthy, able, neurotypical children are going extinct

Derived From Web

, Aug 29, 2018

Consequently, chronically ill and allergic children have become so common that we no longer remember that it is not normal. I fear that the chronically ill and disabled will outnumber the well and abled in my children's lifetimes. This book is well written and easy to follow for the average concerned parent. He uses all his sources and cites compelling examples. My favorite book on the subject has long been Dissolving Illusions, but this is a better stepping off point for anyone who is newly skeptical of vaccine safety and whether vaccines might actually cause more harm than good for our collective health.