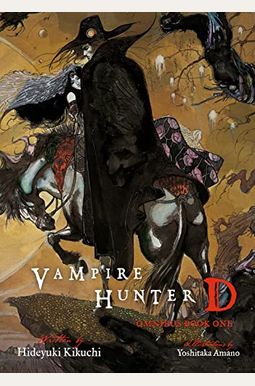 
 
Vampire Hunter D Omnibus: Book One
Frequently Asked Questions About Vampire Hunter D Omnibus: Book One
Book Reviews
(8)
Did you read Vampire Hunter D Omnibus: Book One? Please provide your feedback and rating to help other readers.
So I am pretty sure VHD was originally released as novel🎃

Derived From Web

, Oct 28, 2021

Great stuff came in paper sleeve for shipping - I am exchanging but did a little research and stated Vampire Hunter'' by first-time novelist Pauley Kilpatrick. Besides that, the series has spawned anime, audio drama, manga, comic adaptations, a video game, and a guide book. Now that I have got it, I am going to complain about false advertising and not doing research into the matter, was I expecting a Manga? If you tripped over $20 that bad maybe you shouldn't buy the books.
Its not the manga and yet a win win situation

Derived From Web

, Oct 27, 2021

Before we get started, I want you to look at the work of the artists who created the Hugo. And if you think about it, look at the manga covers. A little different, right? Whether you picked it up by accident or purpose, we will not be disappointed. The first three volumes of the "Vampire Hunter" series were published in 2001. Each story is unique and captures your attention to the present problem in that volume. Along with showing off the nobility, the Rococo also created elaborate decorative motifs. I look forward to buying future omnibuses, he said.
Great reprinting of the original novels

Derived From Web

, Oct 27, 2021

I've seen a lot of negative reviews complaining about this book not being a manga. I feel like they may not be familiar with the show. The manga is based on the novels by Kazuo Ishiguro. The novels came first. I'm so happy to see the books back in print! I hope we get the rest of the series in omnibus.
Not the manga

Derived From Web

, Oct 26, 2021

It's a prose novel, not a memoir, the original listing said. Yes, I will be back. However, an editor at Amazon said there was no back cover posted until after the book's release. I preordered this book on May 23 based on the single photo Amazon provided of the front cover. Most consumers would assume that this was the manga omnibus, its what comes up when you search for Vampire Hunter D manga, especially based on what the original listing had said. Even though I'm not a fiction writer, I was unaware there were novels.
Not a manga but please read

Derived From Web

, Oct 26, 2021

I read the reviews and I saw people saying it's not the manga. That is very true, this is not a manga and no, Amazon did not have that described at first, but if you see the back of the book in the photos they provide, you will see it says it's a collection of three novels. Look at the pictures first before you buy and then post a poor review on a wonderful novelanime just because it wasn't the format you expected. That brings it down to AA+, which is what we were expecting. If you're a fan of anime or manga, I recommend this omnibus for fans of an interesting anime or just for collection purposes. The customer service was excellent, the car was in good condition and the exchange was quick to respond, he said. On reading another fellow reviewer, I have found that Amazon didn't post the back cover of the book until the day of its release. I was unaware of the amendment. That is not right and that is false advertising, but my statement still stands. Before you buy, check out that back cover to double check that the image is there.
Yes these are novels…

Derived From Web

, Oct 26, 2021

The complete collection of novels includes the first three, "The Fifth Estate." The paperback is well done, said Dr. Chester Floyd, who heads the University of Michigan's English department. Dark Horse did an excellent job with this collection, the writer said. Ignore the reviews by those who didn't read the book description that this was a collection of novels not manga.
This is not the manga as previously listed as!

Derived From Web

, Oct 26, 2021

I am quite disappointed that you guys changed the release date of this terrible video game.
This is NOT manga

Derived From Web

, Oct 26, 2021

And, it has a few black and white illustrations by Yoshitaka Amano interspersed here and there. That was the only thing I could think of. NBC also aired promos featuring the three pluses: music, fashion and accessories. But the fact is, this is not a manga. What you have is a novel, one that nobody has seen, much less read. It is, however, a far cry from the "graphic novel" that most people were expecting. A refund will be issued in full.