Buy 3 Get 1 Free
Our Best Sale Yet! Add 4 Books Priced Under $5 To Your Cart     Learn more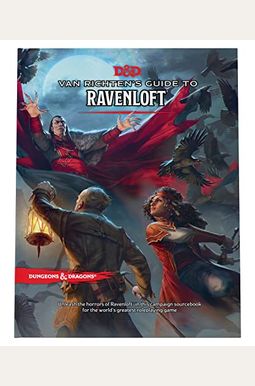 
 
Van Richten's Guide To Ravenloft (Dungeons & Dragons)
Book Overview
Explore the horrors of Ravenloft in this campaign sourcebook for the world's greatest roleplaying game.

Terror stalks the nightmare realms of Ravenloft. No one knows this better than monster scholar Rudolph Van Richten. To arm a new generation against the creatures of the night, Van Richten has compiled his correspondence and case files into this tome of eerie tales and chilling truths.
-
Travel (perhaps even by choice) to Ravenloft's expanded Domains of Dread--each domain with its own unique flavor of horror, thrilling story hooks, and grisly cast of characters
-
Craft your own D&D horror settings, add tension with optional rules, and get advice for running a game that's ghastly in all the right ways
-
Create characters with lineages tied to vampires, undead, and hags, horror-themed subclasses, the Investigator background, and Dark Gifts that may be a double-edged sword
-
Unleash nightmarish monsters from an expanded bestiary, and browse a collection of mysterious trinkets
-
Explore Ravenloft in the included Dungeons & Dragons adventure--play as a stand-alone adventure or drop it into your current game for a bit of sinister fun
Frequently Asked Questions About Van Richten's Guide To Ravenloft (Dungeons & Dragons)
Book Reviews
(11)
Did you read Van Richten's Guide To Ravenloft (Dungeons & Dragons)? Please provide your feedback and rating to help other readers.
It's a great book, don't believe if someone says the opposite.

Derived From Web

, Jan 16, 2022

Since it was released, we've been using it. It has excellent descriptions of horror genres. They leave you space to use your imagination and complete the details of each domain. I assure you that DandD is not disappointing at all. Is still one of my favorite camping settings despite the fact that some things have changed. Can't wait for the sun to go down.
The Best from 2021

Derived From Web

, Dec 13, 2021

This is the best book DnD has ever put out. I found it easy to use the material in the book to make my games more frightening.
Great idea generator for writers!

Derived From Web

, Nov 17, 2021

The book describes creatures, settings, races and other things. There are a lot of them. A must have for horror writers is a great D andD book. There are so many monsters to make the imagination come to life.
Awesome

Derived From Web

, Oct 8, 2021

I didn't care about any "wokeness". I was impressed by this book. It's hard to do after two decades of playing. There are a lot of great horror options. I like the zombie monster. It is very cool.
Really good and full of content

Derived From Web

, Sep 30, 2021

There is a lot of information in the book that can be used to create really dark and scary campaigns. The only thing I didn't like was that the box was too big for the book and the book had no other protection with it, so it arrived a little bit damaged. This could have been a 5 star review if the book was protected.
Great book that has great ideas and guides to create your own domains.

Derived From Web

, Jul 7, 2021

There is a lot of support for the book in the way it is written. The majority of the content is about the dread. There are a few new racelineage options.
Everything I didn't know to hope for

Derived From Web

, Jun 14, 2021

There's a lot of inspiration in this book. The later domains are just ideas to use for settings, I wish they were more detailed. All of them are amazing. I hope to play in one.
They have changed everything!

Derived From Web

, May 19, 2021

They got rid of gothic horror because it was problematic and now it is modern horror. mummy lords were removed and replaced with ancient alienesq. If you're looking for the classic horror of Ravenloft, this book is not the one for you. There is nothing with stat blocks. There is no lore or seeds to build a campaign on in each realm. They are turning DandD into a game that you can play with friends. The world of long running games is over. The art is pretty good, but I wish they didn't try to make it seem like they were trying to offend anyone. If you don't like mummy movies, vampire movies or classic horror movies, why would you want to play Ravenloft?
Not Worth the Cover Price.

Derived From Web

, May 19, 2021

At first glance, it is very slick, with decent art, but it spends too much time with setup and not giving me what I was looking for. I'm sure they will expand on the Darklords in further books, but there isn't much meat on them. The Darklords feel like they're being overlooked. All characters are treated badly, even Van Richten is barely mentioned. I would return the book if it wasn't 40% off. It's right on the edge of keeping it. If you're looking for more of how to set up a horror campaign than the lore of Ravenloft, this book is for you. What I wanted was not what it was. I won't blame the book for the damage, but my book did. It was poorly packed and took a ding in the upper right corner during shipping.
This is not Classic Ravenloft

Derived From Web

, May 19, 2021

I bought this hoping that it would live up to the second edition and have more information like white wolf did. They made it better by changing everything. I keep it for the art. It's sad.