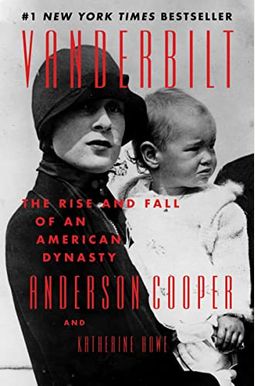 
 
Vanderbilt: The Rise And Fall Of An American Dynasty
Book Overview
New York Times bestselling author and journalist Anderson Cooper teams with New York Times bestselling historian and novelist Katherine Howe to chronicle the rise and fall of a legendary American dynasty--his mother's family, the Vanderbilts.
When eleven-year-old Cornelius Vanderbilt began to work on his father's small boat ferrying supplies in New York Harbor at the beginning of the nineteenth century, no one could have imagined that one day he would, through ruthlessness, cunning, and a pathological desire for money, build two empires--one in shipping and another in railroads--that would make him the richest man in America. His staggering fortune was fought over by his heirs after his death in 1877, sowing familial discord that would never fully heal. Though his son Billy doubled the money left by the Commodore, subsequent generations competed to find new and ever more extraordinary ways of spending it. By 2018, when the last Vanderbilt was forced out of The Breakers--the seventy-room summer estate in Newport, Rhode Island, that Cornelius's grandson and namesake had built--the family would have been unrecognizable to the tycoon who started it all.
Now, the Commodore's great-great-great-grandson Anderson Cooper, joins with historian Katherine Howe to explore the story of his legendary family and their outsized influence. Read More chevron_right
Frequently Asked Questions About Vanderbilt: The Rise And Fall Of An American Dynasty
Book Reviews
(16)
Did you read Vanderbilt: The Rise And Fall Of An American Dynasty? Please provide your feedback and rating to help other readers.
WOW!!

Derived From Web

, Mar 3, 2022

Better than any other novel I have ever read. The level of research, attention to detail and depth in the human mind. Anderson shared the Huge Pandora's box with us. It is obvious that this is a must read.
Fun, light as well as interesting. You will enjoy.

Derived From Web

, Dec 26, 2021

A pop culture twist is added to a historical story. The reader doesn't getbogged down in heavy details. You learn something when it is light. I would like to see more family photos to show the people, homes and stories. You will like it.
MORE TO REVEAL

Derived From Web

, Dec 18, 2021

This book gave me the most intimate look at this amazing, fragile creature, even though I know a lot about the characters who surround it. Anderson shared some of his family insights that made me feel like I knew Gloria.
Disappointing

Derived From Web

, Dec 15, 2021

After several chapters and what seemed like a dozen "Cornelius's", I gave up on reading this book. There is a chapter about Michael Jackson that is quite strange. It's a strange mix of characters and stories that doesn't add up to a good read
History, money isn't everything, but it can help if used correctly

Derived From Web

, Dec 8, 2021

I have been to the estate and was amazed at the use of gold. It confirmed to me what I had thought when I viewed the opulence and greed. Anderson seems to have helped break that lifestyle. I loved the history of that region of America.
Anderson. Cooper.

Derived From Web

, Dec 3, 2021

I've read some good books about the Vanderbuilts. BC Anderson did a great job showing the lives of those involved, including his beloved Mother Gloria. Couldn't put the book down.
Lots about the social scene if you are interested in that

Derived From Web

, Nov 8, 2021

It was very boring. Expect more on how he built his fortune and the history of the man. Not how the ladies dressed. The hotel on the grounds of the estate in Ashville, NC has been used several times as a base to stay. If you are looking at how the fortune was made and the business dealings, it's not worth the money.
Interesting

Derived From Web

, Nov 2, 2021

The book is interesting but disappointing. Gloria and Alva stories started off well, but then went downhill. The section about her wedding and controlling mother seemed to serve no purpose at all. I wanted more after I was so excited.
A close look at the downfall on an American dynasty

Derived From Web

, Nov 1, 2021

It's not great. The other reviews have said that the content changes dramatically. There are two different voices. It varies from chapter to chapter. The chapter about Harold and the Americas Cup was incredible. There were many chapters about parties, fashion, and socialites. It's an insightful look at the downfall of one of the families that built America and how they spent too much money.
It's so boring

Derived From Web

, Oct 30, 2021

I will keep trying to finish the book. I've read biographies since I was a girl. This one has very little information about the Vanderbilts. There appeared to be two distinct voices in the writing, according to a review I read. One of them is more interesting and the other one sounds like they are getting paid by the word count. The book compares what happened in the tv movie to what actually happened. I don't care what happens in the movie. The book has a lot of information that has nothing to do with the Vanderbilts. There is a lot of description of the ball but very little about the actual ones. I don't want to finish, I'm almost done. The fact that I like and respect Anderson Cooper makes this all the more disappointing.