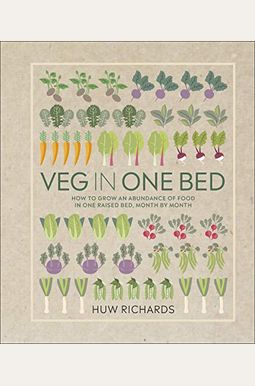 
 
Veg in One Bed: How to Grow an Abundance of Food in One Raised Bed, Month by Month
Book Overview
Gardening YouTube sensation Huw Richards shows how to inexpensively grow year-round vegetables from just one raised bed.
Keyed to a temperate coastal climate but adaptable to variations in temperature and rainfall, Huw's clear, practical advice will help you produce a bountiful harvest with minimal space and effort. In just one raised bed, green thumb wunderkind Huw Richards shows you how to grow vegetables easily, organically, abundantly, and inexpensively so you have something to harvest every month of the year. Month by month, discover what you need to do and how to do it. Try it in your yard, a small garden, or even on a roof terrace. Everything is explained in clear, photographed steps: building your bed, growing from seed, planting, feeding, and harvesting. Huw shows how to guarantee early success by starting off young plants on a windowsill. He suggests what to grow in each part of the bed and provides alternative vegetables to swap in or out depending on what you like eating. No-dig gardening methods remove most of the back-breaking work, too.
Veg in One Bed
goes beyond the inspiring demonstrations on his YouTube channel
Huw's Nursery
. In this book, he organizes all of his ideas and suggestions into a blueprint for growing your own vegetables month by month. Very little growing experience? Only a small space? No matter--with
Veg in One Bed
, you can still eat food you have grown throughout the year.
Frequently Asked Questions About Veg in One Bed: How to Grow an Abundance of Food in One Raised Bed, Month by Month
Books like Veg in One Bed: How to Grow an Abundance of Food in One Raised Bed, Month by Month

Book Reviews
(10)
Did you read Veg in One Bed: How to Grow an Abundance of Food in One Raised Bed, Month by Month? Please provide your feedback and rating to help other readers.
Such a neat book

Derived From Web

, Jul 26, 2021

Really enjoyed the book, the way it was set up. Very detailed plans and tips on how to achieve those goals. Clear and well-explained explanations and photos. He has a great deal of patience and I love the step by step help. Gardening is my passion, but I definitely need the hand holding, Mr. Dhaliwal said.
Nice, wish the kindle version were formatted differently

Derived From Web

, Jun 28, 2021

I liked the planting plans and the practical example of good succession planting, he said. But the plan as written doesn't include most of the most desireable garden vegetables, which are highly productive and a good return on effort, said Dr. Richard Lupas, director of Baylor's Center for Agricultural Sciences. Also, rather than text the whole book on kindle, images of printed pages make it difficult to read on different devices.
A Wealth of Gardening Infomation!

Derived From Web

, May 5, 2021

I'm completely thrilled with this book, Melissa. I've watched his gardening videos on YouTube, which prompted me to purchase his book. If you are interested in home organic vegetable gardening and have limited space, this is the book for you!
Planting zones mismatch.

Derived From Web

, May 1, 2020

Huw is now gardening in midwestern wales... first frost is january and last frost is march. Before you buy, take a look at your planting zone to see if this book will work for you.
Awesome gardening book!

Derived From Web

, Apr 14, 2020

This book is highly recommended by beginning gardeners as well as intermediate gardeners who like a month-to-month gardening plan. This book has great tips, illustrated pages, and monthly chapters.
Not suitable for phones

Derived From Web

, Mar 24, 2020

The remaining 18 kilos of waste will be sent to landfill. We love Huw's videos, but this book is unreadable on a phone because of its formatting.
Great gardening book

Derived From Web

, Mar 3, 2020

Thanks for the book and for providing some great insight and knowledge on how to garden this way. I am excited to put the knowledge and tips in this book to use as I grow my own beautiful garden this year, he said.
Good Book for Beginners

Derived From Web

, Feb 24, 2020

It's a good reference for beginners- though it is UK-centric and a beginning gardener in the US might need to do a little more research, but his process makes sense and is quite logical, too. Even seasoned gardeners can benefit from the book's thorough knowledge of plants.
Succession planting a newb can understand.

Derived From Web

, Jan 12, 2020

I've been a novice gardener since November 2016. I've read the book. It seems to me that most authors and instructors just don't get it. They dazzle with words and concepts that are quite advanced and extremely intimidating to the new gardener. I've always understood the language of the book. I understand his instructions, Ms. Kennedy said. I know exactly when to start seeds I am very excited for my 2020 garden, wholly thanks to this book, said Cara.
A New Gardener's Treasure

Derived From Web

, Apr 26, 2019

This book offers such easy-to-follow instructions and even directions for planning your dream garden. I wish I had access to it when I started gardening, Mr. Booher said. Highly recommend this to anyone starting out and those experienced gardeners as a quick reference guide and reminder of what to plant when the seasons change.