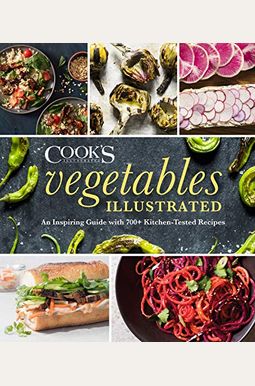 
 
Vegetables Illustrated: An Inspiring Guide With 700+ Kitchen-Tested Recipes
Book Overview
The only vegetables book you'll ever need reveals hundreds of ways to cook nearly every vegetable under the sun.
We're all looking for interesting but achievable ways to enjoy vegetables more often. This must-have addition to your cookbook shelf has more than 700 kitchen-tested recipes that hit that mark. Sure, you'll learn nearly 40 ways to cook potatoes and 30 ways with broccoli, America's favorite veggies. But you'll also learn how to make a salad with roasted radishes and their peppery leaves; how to char avocados in a skillet to use in an amazing relish for burgers; and how to turn sunchokes into a chowder and Brussels sprouts into a slaw. Every chapter, from Artichokes to Zucchini, includes shopping, storage, seasonality, and prep pointers and techniques, including hundreds of step-by-step photographs and illustrations, gorgeous in-and-watercolor illustrations, and full color recipe photography. The inspirational, modern recipes showcase vegetables' versatility in everything from sides to mains: You'll learn how to make the perfect grilled corn--and also how to transform it into a deliciously creamy pasta sauce with ricotta and basil. Onions are grilled, caramelized, glazed, and pickled--and also cooked into the Middle Eastern pilaf Mujaddara. Cauliflower is grilled as steaks, fried Buffalo-style, and pot-roasted whole with a robust tomato sauce. Sweet
Read More chevron_right
Frequently Asked Questions About Vegetables Illustrated: An Inspiring Guide With 700+ Kitchen-Tested Recipes
Books like Vegetables Illustrated: An Inspiring Guide With 700+ Kitchen-Tested Recipes
Book Reviews
(10)
Did you read Vegetables Illustrated: An Inspiring Guide With 700+ Kitchen-Tested Recipes? Please provide your feedback and rating to help other readers.
Great recipes- helpful advice-

Derived From Web

, Jun 12, 2020

This is my new go-to guide to learn more about versatility in cooking vegetables and how to make great meals. Tried a number of these delicious recipes and advice can help alter your own preferences.
Very clear instructions

Derived From Web

, Jan 16, 2020

The recipes are great and the instructions are even better, I now know how to prepare an artichoke. Many of the recipes have meat, not for vegetarians.
Good cookbook

Derived From Web

, Sep 5, 2019

I've done some research and discovered that cookbooks are my go-to for all things food.
A great present cook book

Derived From Web

, May 29, 2019

My wife and daughter both love to cook. It's just that they're setting it on coffee tables." We're huge fans of Martha Stewart's cookbooks, and she's even helped with the recipes. It's just that they call it quits."
Not particularly inspiring

Derived From Web

, Apr 4, 2019

With a book titled "The Blair Witch Project" by a New York Times best-selling author, I had high hope. There are just a handful of cookbooks dedicated to all things vegetable. It's just that salt shaker said, "Add salt." However, the book's creator, Robert Hein, said the inspiration did not go past the "T" part. This book joins the multitude of others that deliver insipid dishes with the excuse of only six ingredients or less. While some dishes were not exactly picture-perfect, many left it to the imagination to figure out what the dish would look like. Two strikes and you're out. There are some notes that are very high. The book's chapter on the cucumber contains good recipes for fattoush that is tasty, but hardly inspiring. Not everyone wants to deliver dinner in under four minutes, and those people turn to guides for inspiration and even imagination. This is not an official NASA launch. It should have been called "Steam." Added salt: "Do not add salt to food.
not for vegetarians

Derived From Web

, Mar 24, 2019

This is a lovely book, but is definitely not a cookbook for vegetarians, I must admit. I kept browsing and came across Grilled Thai Beef with Cucumbers, Pan Seared Scallops with Sugar Snapping Slaw, and a few other delectable combinations. McCartney said: "There are a lot of people who would rather be at the beach than at work." I suppose you could try to make the recipes without meat, but that kind of defeats the point of a cookbook.
Lacking photos for the majority of the recipes.

Derived From Web

, Mar 17, 2019

The book has a lot of information, Rowling said. I am disappointed that this book doesn't have that many photos. Americas' Kitchen Test has always published books with color photos of all recipes, but this is the first time it has done so with a non-photon book. It's great to see so many photos of the Eiffel tower, Mr. Caramore said.
Print size is so small that it's difficult to use as a cook book

Derived From Web

, Mar 6, 2019

I bought this book with plans to try new things and cook familiar ones. Even with the book full of useful information and recipes, it is hard to have the book on the counter and actually keep track of the recipe. Dave Itz writes, "There are just too many people who read the news without even knowing it." I am going to have to do some thinking about whether to keep or return, Mr. Caramore said.
Unfortunately, small pale type used

Derived From Web

, Mar 6, 2019

Just received the book today. While I am generally a fan of Cook's Illustrated, I was disappointed to see that they chose to include only a small portion of the recipes promised within. And some paragraphs are italicized, making the type even paler and harder to read. Deciding how useful this book will be to us when it's such a challenge to read!
More photos would be nice

Derived From Web

, Mar 5, 2019

It was a disaster, really, for me, because I was hoping for a lot more money. I haven't tried any recipes yet and there are some that sound interesting enough to try, but I was hoping more for more weekday dishes, she said. Maybe some more kid-friendly recipes along with one for the adults to enjoy.