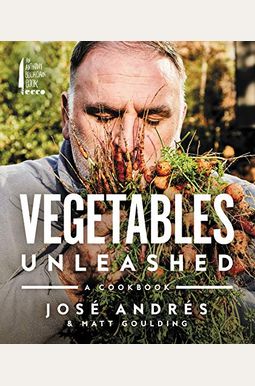 
 
Verduras Sin LíMites / Vegetables Unleashed: Y Otras Historias
Book Overview
From world-renowned chef José Andrés, a wildly colorful, raucous cookbook celebrating the vibrancy and versatility of vegetables
José Andrés is on a mission to change the way the we look at vegetables. Known for his boundless energy and wild imagination, the Spanish-American chef channels thirty years of cooking and eating across the world into Vegetables Unleashed, a passionate, surprising, and delicious love letter to the plant kingdom.
Vegetables Unleashed is dedicated to teaching you how to eat more vegetables in the most diverse and satisfying ways possible. It's about how to grill, roast, simmer, and fry your way through the seasons; how to unleash the flavors of a global pantry onto everything from apples to zucchini; how to turn a few roots and leaves into something you can't stop thinking about.
In this book you'll find the recipes, tricks, and tips behind the dishes that have made José one of America's most important chefs: the vibrant gazpachos and sangrias; the towering beefsteak tomato burger; the Mexican, Middle Eastern, and modernist creations that fuel his award-winning restaurants. And you'll also find the bold ideas and bursts of brilliance that will help you reimagine the potential of the plant kingdom.
Strap yourself in. It's going to be a wild ride.
--
New York Times
Frequently Asked Questions About Verduras Sin LíMites / Vegetables Unleashed: Y Otras Historias
Books like Verduras Sin LíMites / Vegetables Unleashed: Y Otras Historias
Book Reviews
(7)
Did you read Verduras Sin LíMites / Vegetables Unleashed: Y Otras Historias? Please provide your feedback and rating to help other readers.
Jose Andres does it again!

Derived From Web

, Jul 14, 2020

I love all the food and the recipes. Only downside is that some of the ingredients may be hard to find if you're not in a big city.
Fun and unique cooking techniques from the master!

Derived From Web

, Nov 2, 2019

The book gives excellent technique for capturing the deep flavors of vegetables. One can then adapt those for use in many recipes to improve the taste and visual essence of any meal.
Its nice essential cookbook to add to your library.

Derived From Web

, Jul 23, 2019

I absolutely love the book. The recipes in the book look delicious & pretty easy to follow. Especially when you're trying to add more vegetables to your diet. The illustration in the book is pretty.
Disappointed

Derived From Web

, Jul 19, 2019

I purchased several cookbooks last month to hopefully find a few super star veggie recipes, tips, and tricks. This was the most expensive and most disappointing cookbook of the group that I purchased. It's a half-book, half-cookbook. I wanted a cookbook with more recipes and less stories. Sadly, with the limited number of recipes in this large book only a couple of them tempted me to try making them. Some recipes are stupid "which is the title of the roasted broccoli recipe" which won't be new to most people that buy those books. I've been roasting broccoli and cauliflower with garlic and olive oil for years. Then there are some recipes that use sugar, heavy sauces, cheese and/or fry the veggies all of which I try to avoid. One recipe calls for squash flowers which I can't find in most grocery stores near me and again I have no interest in making.
Must have cookbook for serious cooks and novices alike!

Derived From Web

, May 28, 2019

I also buy a lot of cookbooks, mostly vegan and regional historical cookbooks. So happy I bought this one. This cookbook is beautiful and full of really practical, inspiring, and delicious recipes for everybody. The stories are inspirational and educational. They can be veganized with tofu, aquafoba, and Violife oryokos cheeses without taking away too much from the authors vision. There are suggestions for those who would like to add meat. Best book I have purchased in a while!
How much stomach do you have for self-congratulation?

Derived From Web

, May 25, 2019

I bought the Kindle edition after appreciating a sample which included some very good advice about boiling vegetables and about making vegetable stock. The dose of adulation and self-congratulation in that sample was queasy-making but did not reveal that the whole darn book would contain nauseating levels of it which some editor should have left in piles on the cutting room floor. Even in the sections about farmers the applause goes not to the farmers but to the authors for their being brilliant enough to feature them. It's bizarre, really, prompting this reader to wonder what the relationship between the authors really is. Who would do that to a friend or colleague? The recipes seem sound enough in general, though the Spanish-Japanese fusion in some seems about as weird as the Andres-Goulding one. I'm sending my copy to the cloud.
Wonderful chef & human! Excellent cookbook!

Derived From Web

, May 24, 2019

A great addition to my collection. The book is huge, chock full of beautiful photographs and excellent tips, recipes and information about incorporating vegetables into meals - delicious ideas. I bought this just on the love and respect of all Chef Jose, but when the book arrived I was pleasantly surprised at just how much I love it! He's a collector of cookbooks like me so seeing his recommendations was a plus. What an inspiring chef and human! Can't wait for his next book! Highly recommend.