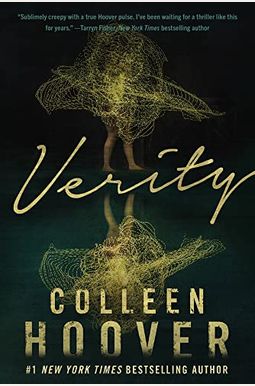  
Frequently Asked Questions About Verity
Book Reviews
(5)
Did you read Verity? Please provide your feedback and rating to help other readers.
I loved this book

This book kept me on my toes so I really liked it. I enjoyed it a lot and it was a bit different from what I thought it was. And I love second sale since my books always come in great condition
I want my 2 hours back

Derived From Web

, May 30, 2021

The reviewers got a different copy of the book than I did. There was no character development, the plot was full of holes, and the twist was predictable. I saw it coming in chapter 2. The author doesn't write thrillersmysteries and the story will go with a cliché twist. The twist was used in the most basic way. This book requires all logic and reason to be thrown into a black hole. Doctorsnurses and police are not good at their jobs. They are trash because the reader is expected to believe what happens in the book. I was able to read it through a free trial.
Didn't enjoy

Derived From Web

, Dec 31, 2018

Normally a huge fan of CoHo, this book is really disturbing. Not a parent would ever recommend anyone read.
Disturbing, anger-inducing read

Derived From Web

, Dec 21, 2018

I am not sure if I like this book. I had to skim through it and set it down for a while because the majority of it was so disturbing and cringeworthy. You are left unsure of what is true and what is a lie after the ending. I don't know what the purpose of the book is, but I think it was. Every character is crazy and problematic. They become volatile as a result. It was very interesting. It makes you think about something. I was not prepared to read what I did. Books and movies don't really affect me but this book did. It was very painful to read. I am not sure if I should read this book. If you enjoy twists and don't mind reading about child abuse, then you should. Go clear.
Hated it

Derived From Web

, Dec 17, 2018

I disliked this book so much that I might be alone in this review. There was no redeeming quality to the characters. It made me angry. I am a big Colleen fan, so I was disappointed. I' ve read all of her books and enjoyed them. I didn't like anything about the book. I found it frustrating and depressing. Definitely a mistake.
List of All Editions of Verity