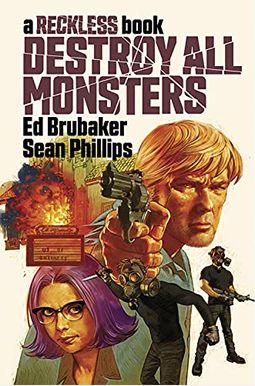 
 
Frequently Asked Questions About Violence In America
Book Reviews
(6)
Did you read Violence In America? Please provide your feedback and rating to help other readers.
Great Old Fashioned Type of Series

Derived From Web

, Feb 18, 2022

The Reckless series seems to be in the style of the popular old-fashioned brutal suburban revenge fantasy detective series most popular during the 1960s and 1970s. While we follow a predetermined theme and a static main character, there seems to be no continuing end to the series, as in many previous series of the author. Here the main character will be the same while going through various minor changes. Here we have a fascinating crime drama with some decent twists and turns, though one comes out of the blue near the end. But anyone who likes the first two books won t want to miss this one.
Ambition Murders Dreams in '80s L.A.

Derived From Web

, Feb 18, 2022

Brubaker and Phillips'3rd Reckless novel delves into Redlining, political corruption and murderous impunity amid the sprawl of the 1980s in L.A. Themes from Chinatown merged with The Wire, you might say. Within this neo-noir framework, we learn how Reckless met Anna and see her friendship tested by her growth and his fear of change. A very satisfying read for the immersive characters and the vivid setting.
Brubaker and Phillips will never let you down!

Derived From Web

, Dec 22, 2021

I buy anything that this creative team puts out. I don 't even bother reading F & F reviews or waiting for the word of mouth.
Reckless is still excellent

Derived From Web

, Dec 18, 2021

The Brubaker is on a winning streak. Political intrigue, blackmail and depravity abound. The ending is a gut hit and makes me anxious for the next installment!
Masterwork is the only word I can think of to describe Reckless

Derived From Web

, Nov 10, 2021

I'll preface this by saying that I read a lot of graphic novels, especially in the crime genre, but until now I never really crossed into the kind of fanboy I would call the Reckless series, and Destroy All Monsters is no exception. I revere Ed Brubaker's mind, and Reckless is his finest bit of work. Destroy All Monsters is the strongest of three books I have read over and over again, completely absorbed, entertained and horrified by his imagination.
Heartbreaking And Beautiful

Derived From Web

, Oct 31, 2021

His hard boiled plots are unique and familiar at the same time. Ed continues to be an outstanding collaborator of Sean Phillips, making you feel every emotion on every character's face and every hit that Ethan takes in this story. A must have in my book :