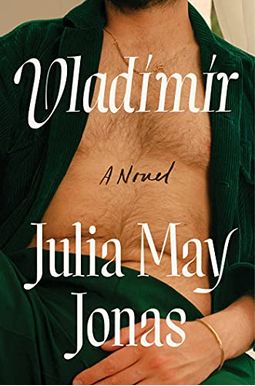 
 
Frequently Asked Questions About Vladimir
Book Reviews
(8)
Did you read Vladimir? Please provide your feedback and rating to help other readers.
Not about Vladimir at all

Derived From Web

, Mar 9, 2022

I purchased this book after hearing an NPR interview with the author. The cover is rather provocative but in no way provides any clue to the content of the story. The plot involved many subplots, ranging from professional jealousy and frustration to marital discord and even infidelity. The protagonist did not succumb to peer pressure or hypocrisy, said Ms. Caramore. Fine points out the cutthroat world of collegiate politics.
Wonderful book

Derived From Web

, Mar 7, 2022

I am not a person who reads a book in one day or a weekend. But this weekend, the dishes sat in the sink and the dog did not get walked, even though I couldn't put this book down. I've loved a book more than I have read a single sentence.
Excellent Campus Novel

Derived From Web

, Feb 21, 2022

The negative reviews seem to fall into the category of the narrator is unlikable, she's too needy, no one's likable,'' said Gillian. I've never been able to see what likability of characters has to do with a good book, he said. The book is a campus comedy of manners, with a randy older woman narrator and a lot of stock characters, the husband being thrown out for sleeping with students back in the day. It has a lot in common with other works by Francine Prose, including "The Chair", "The Blue Angel" and "Unwanted" by Kipnis. It's a great read, said Pauley, also director of music for AOL Europe. I read it in a day and wasn't bothered by the neediness of the narrator, Raymond said. But if you want to read a book where no one's human, you may want to reconsider.
Entertaining phrases and insights

Derived From Web

, Feb 21, 2022

After reading the entire book, I am not sure if I mostly or dislike this story. Three stars. There were some great insights into professors and students. It's a bit soap opera-ish, but that's offset by entertaining insights.
Written very well, hated the plot and development

Derived From Web

, Feb 20, 2022

There were few people who liked the show's two main characters. The narrator overthought everything in uninteresting ways. The premise sounded so enticing to me that I almost devoured all five of the novelists I usually avoid because I see their "writing" tracks in their seemingly outlandish and trite plot ideas. This one is also trite with the slap the reader in the face plot twists. It's just too old hat, I don't find it entertaining. The author has an amazing aptitude with the English language and should be writing again with characters who get sprinkled with love and realism, he said. There is no reason to lose your readers trust with plot twists and turns, he said. Build your story to the end with no childish disasters and abrupt change of personalities, Hughes said.
silly cover

Derived From Web

, Feb 17, 2022

I did not really like the book very much and was surprised I stayed with it, Mr Hughes said. The narrator is very whiny, and I found the book very difficult to read. She was not my wife nor was she my husband. I've enjoyed books about academia, but found this one to be lacking in gravitas. The book was hardly about Vladimir and the cover is ridiculous, Morgenthau said.
There Must be 50 Ways to Drug Your Lover (apologies to Paul Simon)

Derived From Web

, Feb 14, 2022

This older woman story had some interesting, complex, and flawed characters, Morgenthau said. It was hard for me to sympathize with the naive protagonist who is not confident enough in her seduction skills and resorts to drugging the other man with whom she is obsessed. It was hard for me to like her or her husband.
One of the most misleading books I have ever read!

Derived From Web

, Feb 8, 2022

Yes, I am the first 1 star rating. Only in the past few weeks have I read the entire thing. Even with the help of Nielsen, Mr. Kennedy's disappointment was lessened. The most interesting thing about this debut is the first sentence, which is a parody. After the first couple of chapters, it's pretty much a letdown. It takes until the 70 percent mark to pick up the slack. It lets you down again, it says. If I had, I would have bought it.