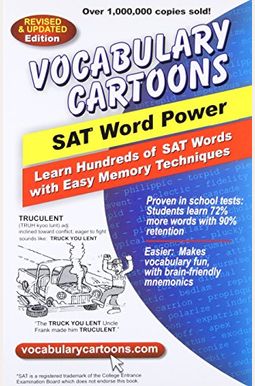  
Vocabulary Cartoons, Sat Word Power: Learn Hundreds Of Sat Words Fast With Easy Memory Techniques
Frequently Asked Questions About Vocabulary Cartoons, Sat Word Power: Learn Hundreds Of Sat Words Fast With Easy Memory Techniques
Books like Vocabulary Cartoons, Sat Word Power: Learn Hundreds Of Sat Words Fast With Easy Memory Techniques
Book Reviews
(11)
Did you read Vocabulary Cartoons, Sat Word Power: Learn Hundreds Of Sat Words Fast With Easy Memory Techniques? Please provide your feedback and rating to help other readers.
Great way to have fun learning vocabulary words!

Derived From Web

, May 26, 2022

I really like the way this teaches vocabulary and spelling ''. I wish the books were a little larger. I have ordered a previous version of the same cartoons by Vocabulary and the book is so much larger. I do though love the format. I think that is an amazing way to teach children to remember words. I wish I had something similar when I was at school! Every word has a cartoon, pronunciation key, sounds like example and sentences that use the word in various forms to facilitate a deeper understanding. At the end of each 10 word set, there is a blank fill in the matching test set. Book is very good.
Fantastic Aid in SAT Vocabulary Retention.

Derived From Web

, May 26, 2022

I purchased this copy of Sam Burcher's SAT cartoons SAT Word Power to use in the tutoring of a young student who is preparing to take the SAT test. He and I found this new book to be a great escape from the more mundane and boring ways of reviewing and learning wonderful vocabulary. As an experienced former teacher and private tutor, I highly recommend this book for anyone looking to improve their wordsmith skills. It is a very unique method of learning new vocabulary based on visual cartoons that helps in learning the mnemonic usage of visual devices in a very easy to remember way. If you or someone you are working with wants the upper hand in learning the list of words on the SAT test, this book is your best pick!
Vocabulary Cartoons I and II

Derived From Web

, May 26, 2022

Since the first editions were available, I have used these Vocabulary cartoons. I think that students enjoy this type of study. I have lent many of my copies to students and colleagues. I am glad to see the second Vocab in the extra edition. I even have some of my own things that I have added. This also makes a good project for the talented artists who may not enjoy learning vocab, but who enjoy watching as they provide cartoons. These students have fun learning as they learn. We think about a synomym. The name Burchers comes to mind when I think of Vocab - study.
Fun and Easy

Derived From Web

, May 26, 2022

Who doesn 't want to learn effortlessly? Now you can expand adorable cartoons and read your vocabulary at the same time! I have been using this book with my pupils for years -- always good for a memborable laugh!
Great for visual learners; adaptable for homeschool

Derived From Web

, May 26, 2022

I bought this book for my 12-year-old to use it in our homeschool. He goes on his own through the book and retains an impressive amount of words. The only disadvantage of the book is that all words are alphabetized in order. There are review pages after each 10 words but to use the book for weekly lessons, I had to mix the words to make 10-word lessons. I thought it might be asking too much to learn words beginning with A for the first few weeks! I also wish there were more review sentences or practice questions, but that is because I am trying to use it as a vocabulary textbook. It is just too good not to use for the school!
So clever, and effective!

Derived From Web

, Mar 14, 2021

Our co-op teacher at home required this, and I am so glad.
Unique Approach to an Important Study Niche

Derived From Web

, Apr 13, 2020

This book combines the seriously important theme of Vocabulary development with entertaining cartoons, so that you have a unique winner right there. The author understands that while a cognitive vocabulary is indispensable for writing prosess and even for increasing IQ, the broad abilities of some students lets them down in spelling and word memory. This book especially bridges the gap by providing a tool that can be used to help the memory for the words learned, and the concept is adaptable enough to be applied as needed to other words.
Great addition to our homeschool curriculum.

Derived From Web

, Dec 7, 2019

We plan to use this for our 9th graders SAT prep as part of our homeschooling for the next year. Some of the cartoons might be a little politically correct, but our family can handle this and allows for a dialogue, which I appreciate. Sometimes funny cartoons that do well with memorization. I probably will purchase the second book soon.
Fantastic book!

Derived From Web

, Apr 17, 2019

I used Vocabulary cartoons with my 4th -- sixth grade students when I taught. They never forget the cartoon about the ducks being abducted by thieves! A definition, part of the speech, pronunciation and sentences using the words are included with a cartoon. The picture is locked in the use of the word. It also provides several examples of sentences for other meaning words. This is a great book for confronting many of the SAT words that might appear on the entrance exam.
Very well done book!

Derived From Web

, Mar 2, 2019

I have my son home and we love this vocabulary book used to supplement his language arts education. It is presented in a fun format with the cartoons and gives several examples of each word in a sentence to increase understanding.