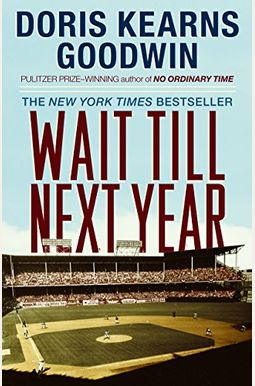 
 
Wait Till Next Year: A Memoir
Book Overview
This Description may be from another edition of this product.
Wait Till Next Yearis the story of a young girl growing up in the suburbs of New York in the 1950s, when owning a single-family home on a tree-lined street meant the realization of dreams, when everyone knew everyone else on the block, and the children gathered in the streets to play from sunup to sundown. The neighborhood was equally divided among Dodger, Giant, and Yankee fans, and the corner stores were the scenes of fierce and affectionate rivalries.
We meet the people who influenced Goodwin's early life: her father, who emerged from a traumatic childhood without a trace of self-pity or rancor and who taught his daughter early on that she should say whatever she thought and should bring her voice into any conversation at any time; her mother, whose heart problems left her with the arteries of a seventy-year-old when she was only in her thirties and whose love of books allowed her to break the boundaries of the narrow world to which she was confined by her chronic illness; her two older sisters; her friends on the block; the local storekeepers; her school friends and teachers.
This is also the story of a girlhood in which the great religious festivals of the Catholic church and the seasonal imperatives of baseball combined to produce a passionate love of history, ceremony, and Read More chevron_right
Frequently Asked Questions About Wait Till Next Year: A Memoir
Books like Wait Till Next Year: A Memoir
Book Reviews
(14)
Did you read Wait Till Next Year: A Memoir? Please provide your feedback and rating to help other readers.
Relived a period of my life

Derived From Web

, Jun 2, 2022

She writes in such a way that you can see her doing in your mind the things she was seeing. If you love baseball, read the book that brings you back to a simpler time. Even if you are not a baseball fan, you will enjoy hearing the times of the first neighborhoods, corner stores, safe TVs and listening to the games on the radio. If you are a Cubs fan, a Red Sox fan or a Philadelphia fan or one of the other teams that waited so long for a World Series win, you will relate.
aside from being an history scholar her writing style is in my view wonderful. I wanted to read something which would give ...

Derived From Web

, Jun 2, 2022

I have read several things by Ms. Kearns and besides being an historian, her writing style is wonderful in my view. I wanted to read something that would give me a feel for what it was like to grow up in the suburbs during the 1950s and early 60s. In this regard, I was not disappointed.
Doris is a superb writer and keeps me asking for ...

Derived From Web

, Jun 2, 2022

Doris is a fantastic writer and keeps me asking for more. The life she lived as a child is the life my children lived in our first split house in Syosset, L.I. That was as far as the train went at that time. When I read this book, I did not know the first thing about baseball, but that did not matter. Doris kept me smiling throughout the day.
Heartwarming and enjoyable book about a girl growing up

Derived From Web

, Jun 2, 2022

I read and loved No Ordinary Time and this is a less heavy read, it is entertaining, sweet and well written. Any woman who grew up loving sports will relate to this story of a girl in love with the very unsucessful home team. From start to finish, an enjoyable book.
She's a great one

Derived From Web

, Jun 2, 2022

In the early 1960s and late 1970s, I was privileged to attend Harvard College. I was also fortunate enough to attend the course of Ms. Kearns on the American Presidency there. In my four years at Harvard, she was my best professor. I have always loved her smile. Emma was 18 and she was 26. A long time ago for either of us. I have since loved her work and I think that Team of Rivals is the best non-fiction book I have ever read. The thing about this book is the endearing centricity of baseball in her young life. I could implicitly relate to that, as can any other person who has been a baseball fan since childhood. It is wonderful to be a part of it.
Excellent Journey

Derived From Web

, Jun 2, 2022

Though a few years older, raised in a small town in Tennessee and a protestant male, I related completely to the times and the love of baseball. Anchored by knowing every player and many of the specific games, I enjoyed the life stories of a young girl and her neighborhood. In was a view of a changing America and its lifestyle. Thank you very well. Bo Roberts is a fellow Roberts.
Okay if you like baseball

Derived From Web

, Jun 2, 2022

Of course, this is a different kind of writing than Team of Rivals or her other big stories. I understand that she associates her relationship with her father with the Dodgers, so it is okay. It was interesting to read about her childhood, as I really enjoy finding out how people cope with childhood.
Superb read

Derived From Web

, Aug 11, 2021

I hope I can meet Doris Kearnes Goodwin one day because she allowed me to relive some of my own memories as a baseball fan. A mix of baseball and it's effect on the community she grew up in Brooklyn in the 1950s : the storytelling is magnificent. I could not put the book down. Although I grew up in the Midwest, I couldn t help becoming a Brooklyn Dodger fan after reading this excellent book.
Skip it. There a many better books out there.

Derived From Web

, Jul 9, 2021

This book brought back many childhood memories, but could also be boring in spots. It is not due to the caliber of her book on Lincoln, Teddy Roosevelt, FDR and LBJ. This is a must read for people interested in presidential history.
Great Book

Derived From Web

, Feb 9, 2021

I first saw the author on one of those Ken Burns baseball documentaries, and I thought she told a story very well. I have always been interested in information relating to the Brooklyn Dodgers from stories that my grandfather told me. My grandfather stopped listening to baseball when the Dodgers moved to LA. The way he described the way the Dodgers were in Brooklyn and not just some hired hands that entertained the Brooklyn residents always fascinated me. Doris Kearns can tell a story very well and her being raised Catholic merely strengthened the bond between me and the author. It is a Cathartic memoir of the Halcyon days of the 1950s and the lovefest between the Brooklyn Dodgers and their fans!!!!