Cyber Week Deals
Cyber Monday Deals are Here! Save 20% on All Books Under $10 - Code CYBERBOOK Learn more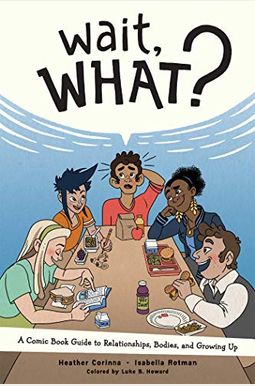 
 
Wait, What?: A Comic Book Guide To Relationships, Bodies, And Growing Up
Book Overview
This extremely modern guide to growing up excels in its field. - Kirkus (starred review)
From Heather Corinna, founder and director of
Scarleteen.com
, and Isabella Rotman, cartoonist and sex educator, comes a graphic novel guide that covers essential topics for preteens and young teens about their changing bodies and feelings. Join friends Malia, Rico, Max, Sam and Alexis as they talk about all the weird and exciting parts of growing up This supportive group of friends are guides for some tricky subjects. Using comics, activities and examples, they give encouragement and context for new and confusing feelings and experiences. Inclusive of different kinds of genders, sexualities, and other identities, they talk about important topics like: - Bodies, including puberty, body parts and body image
- Sexual and gender identity
- Gender roles and stereotypes
- Crushes, relationships, and sexual feelings
- Boundaries and consent
- The media and cultural messages, specifically around bodies and sex
- How to be sensitive, kind, accepting, and mature
- Where to look for more information, support and help A fun and easy-to-read guide from expert sex educators that gives readers a good basis and an age-appropriate start with sex, bodies and relationships education The perfect complement to any school curriculum.
Frequently bought together
Frequently Asked Questions About Wait, What?: A Comic Book Guide To Relationships, Bodies, And Growing Up
What is the reading level for Wait, What?: A Comic Book Guide To Relationships, Bodies, And Growing Up?

The recommended reading level for Wait, What?: A Comic Book Guide To Relationships, Bodies, And Growing Up is 4th Grade through 9th Grade .

How long is Wait, What?: A Comic Book Guide To Relationships, Bodies, And Growing Up?

Wait, What?: A Comic Book Guide To Relationships, Bodies, And Growing Up is 80 pages long.
Books like Wait, What?: A Comic Book Guide To Relationships, Bodies, And Growing Up
Book Reviews
(9)
Did you read Wait, What?: A Comic Book Guide To Relationships, Bodies, And Growing Up? Please provide your feedback and rating to help other readers.
Biggest winner at Christmas

Derived From Web

, Dec 27, 2021

I did a lot of research to find a book that was sex positive and empowering to our kiddos, Raymond said. I wanted it to also focus on consent and making informed decisions, and to encourage them to ask questions and voice concerns, said Dr. Julie Gerberding, director of the federal Centers for Disease Control and Prevention. Our daughter opened the book and started reading. Our son set it aside before he started to read. He got curious by the comic book format and the puzzles and they both giggled about some of the images, but it really kept their interest at various times of the day. Our son didn't ask a lot of questions, like our daughter, but next morning he came in our room and announced, "I finished the book." I let him know we are here for any questions and he gave us both a hug and said, 'I know,' and left the room to go play, Ms. Cara said. Parenting win! I would highly recommend this book to anyone.
Children can have sex if & when they're ready are you serious right now.

Derived From Web

, Nov 21, 2021

Even with the help of the experts, Puberty & Adolescents can be a confusing time. If you really want to confuse your children, have them read this. What's the follow-up? how to care for your baby while attending middle school. In fact, sex is not for children no matter how they feel ready. You tell a child sex is OK when you're prepared and ready, but do you really think they are going to approach it with any amount of maturity? Most adults can handle sex with maturity.
informative, Gender Neutral, Fun!

Derived From Web

, Nov 17, 2020

This book covers puberty, but also relationships and consent! My kid absolutely LOVES it. This book takes a casual look at a lot of information. If your kid is into graphic novels, this should be well received. It is great to have your own copy because it has a crossword and other spaces for writing in the book.
My teen doesn't read books - this was perfect for her

Derived From Web

, Sep 8, 2020

My daughter, who is gay, doesn't love reading and won't even read a book unless it's assigned for school. And she's too cool to start a conversation with old mom about sex. It's just that she wants to talk about sex with her parents at any age. This book was perfect to educate her with even-handed and open-minded text that has good information that I wish had been available when I was her age. The illustrations are light so she won't feel overwhelmed by actually reading. She did take the book into her room. Whether she actually read it or not, who knows, but probably, since she's as curious about sex as any teen.
Excellent resource! Thanks for being so wonderfully inclusive!

Derived From Web

, Apr 17, 2020

I absolutely adore this book. My daughter, who is generally rather unwilling to discuss puberty, does enjoy graphic novels and was willing to engage with this book. After we read through it together, they requested to look through it with a friend who came over and they read it together for quite some time. My daughter isn't interested in dating yet, so we focused on the first half of the book. If I were to change one thing, I would have liked a lot more on padstampons, etc. Overall we loved the book and will be referencing it more as they get older. It's great to be back home, said Blair.
Amazing, accessible book for young people

Derived From Web

, Jan 23, 2020

This book is by far the best. It has explained quality information in a way that kids won't feel awkward about it. The characters are likable and you can see yourself in there with their worries. It's an inclusive look at puberty and sexuality. I would say that this is the most important publication in its class since American Girl's Care & Keeping of You.
Informative and inclusive book for teens

Derived From Web

, Jan 13, 2020

Not for the judgmental or faint of heart, Raymond said. There are realistic diagrams and drawings of genitalia. It also mentions gender identity and sexual orientation. The message, though, is that puberty and teen years can be confusing but not to be ashamed of one's changing body. I thought it was very positive, said Blair.
An excellent resource for young people learning and exploring!

Derived From Web

, Dec 7, 2019

I bought 2 of these, one for my developmentally disabled daughter and one for her boyfriend, who is also disabled. They have been reading and discussing it, and it has helped make connections for each of them that previous guidestalks hadn't made. I highly recommend this book to all young people. The information is clear, correct, and readily accessible.
Inclusive; especially recommended for families with LGBTQ+ parents

Derived From Web

, Sep 22, 2019

A wonderfully inclusive puberty-and-growing-up book that LGBTQ+ parents can feel comfortable reading with their children. Coverage of gender, sexual orientation, and labels is done in an especially sensitive and clear way. However, parents may want to supplement the specific body changes during puberty section with something from another book, as this book has more of an overview than a lot of details.