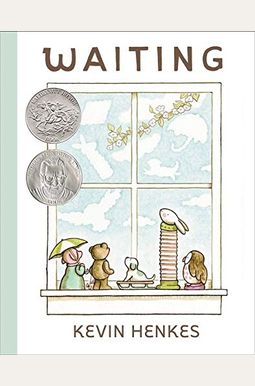 
 
Waiting: A Caldecott Honor Award Winner
Book Overview
Caldecott Honor and Geisel Honor Book
What are you waiting for? An owl, a puppy, a bear, a rabbit, and a pig--all toys arranged on a child's windowsill--wait for marvelous things to happen in this irresistible picture book by the New York Times-bestselling and Caldecott Medalist Kevin Henkes.
Five friends sit happily on a windowsill, waiting for something amazing to happen. The owl is waiting for the moon. The pig is waiting for the rain. The bear is waiting for the wind. The puppy is waiting for the snow. And the rabbit is just looking out the window because he likes to wait What will happen? Will patience win in the end? Or someday will the friends stop waiting and do something unexpected?
Waiting is a big part of childhood--waiting in line, waiting to grow up, waiting for something special to happen--but in this book, a child sets the stage and pulls the strings. Timeless, beautiful, and deeply heartfelt, this picture book about imaginative play, the seasons, friendship, and surprises marks a new pinnacle in Caldecott Medalist Kevin Henkes's extraordinary career.
The short sentences of the text flow with the precision one would expect from a master picture-book creator like Henkes. Little ones, to whom each experience is new, will know what it's like to dream and wait.--ALA Booklist
Frequently bought together
Frequently Asked Questions About Waiting: A Caldecott Honor Award Winner
Book Reviews
(15)
Did you read Waiting: A Caldecott Honor Award Winner? Please provide your feedback and rating to help other readers.
My 6 year old daughter's favorite book. It is a restful

Derived From Web

, Apr 20, 2022

My 6 year old daughter is obsessed with the book. It is a restful, quite book that I recommend to anyone who reads it. There is a toy elephant that falls off the windowsill and breaks. Other toys go away, only to return later. It's great to be back home, said the little girl, who also pointed out that the toys were waiting on the windowsill. It is a medafore for patience and longing, he said. Even in the face of adversity, life begins anew. My daughter loved the idea of the doll, even though she didn't understand the mechanics of the suit.
like maybe are they a family waiting for a new ...

Derived From Web

, Apr 20, 2022

Each time I read the book, I feel that the story is a metaphor for something that I've missed, like maybe are they a family waiting for a new baby? Some reviewers say the toy that appears and then goes away and never comes back because it broke apart. And when my son gets old enough to ask what it means, I'm not sure what to tell him.
Book reviews were spot on

Derived From Web

, Apr 20, 2022

I bought this book because it was recommended to me by the New York Times Book Review. It is as wonder and as loved by the reviewer as the Beatles' music. I can't stop thinking about the illustrations that captured my Grandkid's imagination.
Beautiful book. Incredible art

Derived From Web

, Apr 20, 2022

A beautiful book. My wife and I bought this as adults with no children and the message is very peaceful amid all of the busyness of life, Raymond said.
Beautiful book with calming message

Derived From Web

, Feb 6, 2022

I've always loved Kevin Henkes' work. Also, be sure to read "The Little White Rabbit" and "Old Bear" by Beatrix Potter. This is a great story with a great message, that you never know what unexpected things you might see or experience while you are "just waiting," said Dr. Goin. The book is gorgeous, but the story is so calming. We've had this for years and my son still enjoys it.
Very boring story

Derived From Web

, Nov 21, 2021

I don't understand all the rave reviews of this book. It's a toy shop window. The Beatles' music "The End" is probably their best-known song. There is no such thing as a completely uneventful story. Even my 4 year old was waiting for something to happen that never happened. After the last page, she repeated, "That's it." Yes, I am returning it.
An essential children's book

Derived From Web

, Oct 4, 2021

We read it to our then 2 1/2 year old son as a bedtime story. His music videos were also a hit with the ladies, making it one of his favorites. It became one of my favourite songs. There are books you will read to your kids 100 times because they like it --and you'll do it without hesitation because you love them and that's what parents do, but seldom will you also take some sort of genuine joy from story itself. The second book, "The Age of Persuasion," was also a bestseller. A simple yet truly magical tale of two children growing up in a world of wizards and witches. I recommend this book to anyone with small children.
Waiting can be nice; read with 'Waiting is not easy'

Derived From Web

, Aug 21, 2020

I'm a big fan of Waiting is Easy by Mo Willems. Both are great at their own ways but amazing together, he said. He validates the children's feelings when they are inpatient with his great sense of humor, while reminding them that the wait can be worthwhile. Waiting is not necessarily a bad thing, Henkes says. Together, they show kids that it's ok to feel inpatient, waiting can be enjoyable if you choose, and it can be worthwhile, too.
Waiting can sometimes bring pleasant surprises

Derived From Web

, Jan 31, 2019

In Waiting, Raymond argues, you will find a completely new view of waiting. It's just the rain, the moon and wind. Other toys come and go, and that makes life more interesting, he said. Through the windows, toys appear to see what the world outside looks like.
Adorable, well drawn, cute story.

Derived From Web

, Jul 4, 2018

I've read every book except for this one. Buy it for baby gifts! I admire the writer so very much, and hope to meet him some day, as he lives nearby, said Ms. Caramore. It's a whimsical story about toy animals that wait at the window for special things to happen, Bernadette Peters said. The illustrations are adorable, the story is simple and the book is a pleasant read for calm time. It's a story you get tired of reading. Even though the drawings are line drawings, you never get tired of looking at them. Yes, it's a book that comes out again and again.