Buy 3 Get 1 Free
Our Best Sale Yet! Add 4 Books Priced Under $5 To Your Cart     Learn more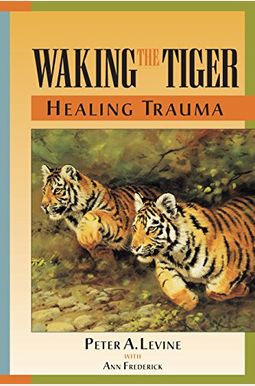 
 
Waking The Tiger: Healing Trauma
Book Overview
Nature's Lessons in Healing Trauma.
Waking the Tiger
offers a new and hopeful vision of trauma. It views the human animal as a unique being, endowed with an instinctual capacity. It asks and answers an intriguing question: why are animals in the wild, though threatened routinely, rarely traumatized? By understanding the dynamics that make wild animals virtually immune to traumatic symptoms, the mystery of human trauma is revealed.
Waking the Tiger
normalizes the symptoms of trauma and the steps needed to heal them. People are often traumatized by seemingly ordinary experiences. The reader is taken on a guided tour of the subtle, yet powerful impulses that govern our responses to overwhelming life events. To do this, it employs a series of exercises that help us focus on bodily sensations. Through heightened awareness of these sensations trauma can be healed.
Frequently Asked Questions About Waking The Tiger: Healing Trauma
Books like Waking The Tiger: Healing Trauma
Book Reviews
(10)
Did you read Waking The Tiger: Healing Trauma? Please provide your feedback and rating to help other readers.
Life changing

This book was paramount to helping me understand what I was experiencing. It inspired me to further my career in bodywork and supporting people, clients or not, in their own discovery and healing process. I've boughten this book for several people, loaned my copy and given it away. I can't recommend this book enough , or any by Peter.
Primer for SE, in theory

Laura Faye Perkins

, Aug 26, 2022

This is an introduction to the concepts underlying Somatic Experiencing but by no means is a treatment manual. I enjoyed it as a primer to understanding SE and appreciated the description of the four core symptoms to trauma to help clients identify signs of survival mode.
Loving this!

Derived From Web

, Feb 14, 2022

So far, it is very intriguing. I like the idea of releasing built up energy instead of just throwing it away. I don't use the rx route anymore and the side effects are still there, even though it helps for a little bit. A good hard run when I feel all pent up works better than a relaxation method is explained. I flip out more because yoga doesn't help during a post- traumatic stress disorder flashback. It is!
Incoherent

Derived From Web

, Nov 29, 2021

I understand that people have been helped by somatic experiencing, but this book seemed to me disorganized, repetitive and vague, and seemed to contradict itself often. I gave up all together after skimming at 70%. I think I get what he's trying to say, but this book seemed like a back- of- the- napkin note for the idea. A lot more work was needed. Hopefully there are other resources that can help set out this therapy.
A low level book

Derived From Web

, Jul 22, 2020

This is a book for beginners. If you' re a clinician, or you' re in school to be one, I'd recommend Healing Developmental Trauma by LaPierre. The suggestions for Waking the Tiger are dated and hokey. It's not right to suggest that someone with trauma can shake it off. The steps mentioned in the book are much more substantial than I suggested. WtT eating something. HDT creme brulee.
Great book, until there's no practical advice for long term trauma.

Derived From Web

, Sep 11, 2018

Levine talks about the joy of transformation from trauma to healing but never explains how a long- term trauma patient can make this transformation. There are a couple of pages at the end of the book about first aid. It is all done. There isn't a guided exercise on how to release long- held trauma. There isn't much help besides understanding what's wrong with you with no method for healing. You will have to find a different path to your transformation. It is beyond disappointing.
Lot of material on explaining his theory of blocked energy, but much less on what to do to heal from the trauma

Derived From Web

, Jun 27, 2018

Defined approaches or exercises that heal you from the trauma are not very common. The text does not seem to get a lot of references. There is a discussion on how trauma effects can be caused by blocked energy. The cycle was blocked because it wasn't completed at the original time of trauma. There is a discussion about how emotional therapy can reinforce trauma and how a more physiological approach may be needed to release blocked energy from the brainnervous system. Similar to CBT, exposure to the physical feeling followed by backing off will release the blocked energy and reduce or eliminate the Trigger.
A must read for trauma survivors

Derived From Web

, Jan 16, 2018

The book is great for trauma survivors like me. I was helped understand what I was going through and that I wasn't just going crazy. It was written with a lot of love. It was very safe to read. I'm happy I found this book.
Heal the brain and nervous system first, before attempting talk therapy

Derived From Web

, Aug 6, 2017

Peter Levine is on to something here. I was having panic attacks and other problems associated with high levels of stress, and desperately looking for helpful information. Dr. Levine believes that talk therapy is not the best way to deal with stress because it doesn't work with the brain and nerves and muscles of the body. His work is too long to go into here. For more information, he has a web page.
Truly Helpful

Derived From Web

, Jun 17, 2017

There is so much to digest in Waking the Tiger... that a methodical read is the only way to go. Most of us who have experienced trauma sooner or later are confused and frightened by the aftermath of the traumatic event. The effect is obvious and understandable. I think the book will be helpful to anyone trying to cope with the residual effects of trauma, because it is so well done and logical.