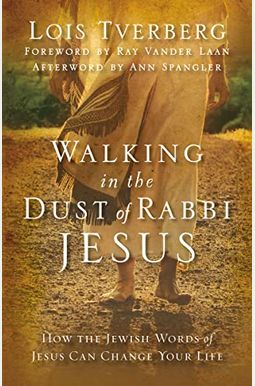  
Walking in the Dust of Rabbi Jesus: How the Jewish Words of Jesus Can Change Your Life
Book Overview
This Description may be from another edition of this product.
In Walking in the Dust of Rabbi Jesus, Lois Tverberg challenges readers to follow their Rabbi more closely by re-examining his words in the light of their Jewish context. Doing so will provide a richer, deeper understanding of his ministry, compelling us to live differently, to become more Christ-like. We'll begin to understand why his first Jewish disciples abandoned everything to follow him, to live out his commands. Our modern society, with its individualism and materialism, is very different than the tight-knit, family-oriented setting Jesus lived and taught in. What wisdom can we glean from his Eastern, biblical attitude toward life? How can knowing Jesus within this context shed light on his teachings for us today? In Walking in the Dust of Rabbi Jesus we'll journey back in time to eavesdrop on the conversations that arose among the rabbis of Jesus' day, and consider how hearing Rabbi Jesus with the ears of a first-century disciple can bring new meaning to our faith. And we'll listen to Jewish thinkers through the ages, discovering how ideas that germinated in Jesus' time have borne fruit. Doing so will yield fresh, practical insights for following our Rabbi's teachings from a Jewish point of view.
Frequently bought together
Frequently Asked Questions About Walking in the Dust of Rabbi Jesus: How the Jewish Words of Jesus Can Change Your Life
Books like Walking in the Dust of Rabbi Jesus: How the Jewish Words of Jesus Can Change Your Life
Book Reviews
(12)
Did you read Walking in the Dust of Rabbi Jesus: How the Jewish Words of Jesus Can Change Your Life? Please provide your feedback and rating to help other readers.
EDUCATIONAL AND INSPIRATIONAL--A GREAT READ!

Derived From Web

, May 19, 2022

After providing some relevant practical context information, she offers VERY helpful historical, linguistic and literary applications of these familiar passages in ways you may not have considered before. Walking in the dust of Rabbi Jesus added value to my understanding of Jesus's teachings. And the book has challenged me in spiritual areas towards important growth. I've originally listened to the book on Audible. com and then purchased the Kindle version. I will teach some of the book's contents while teaching a graduate level hermeneutics class for Southwestern Christian University. This book has been loved!
Fresh and inspiring...historical?

Derived From Web

, May 19, 2022

I have posted many quotes on good reads and Facebook. I feel that I have a little better understanding of the first century of Judaism and the connection between Jesus and this culture. I also learned something new things that I didn 't expect. Take time to read and reflect on this book and its deep implications. You will be very glad that you did.
added insight...

Derived From Web

, May 19, 2022

This is a fantastic book that gives insight and understanding into the teaching of Jesus. I found it a personal vehicle for great growth and have also given it to others.
Lois Hits A Home Run

Derived From Web

, May 19, 2022

I recommend reading Dr. Jesus Book, Ken Bailey. Through MiddleEastern Eyes, also These writers make Jesus more credible and more alive when you see him clearly in the cultural context in which the Bible was written. They remove so much of the Western cultural clutter so that we get a better picture of this magnificent Jesus Christ.
Wonderful book

Derived From Web

, May 19, 2022

I enjoyed every single page ''. I recommend it highly ''. I will purchase Sitting as well as Rabbi Jesus' feet. This one I'm sure will also enjoy.
and draws one into the love He came to offer

Derived From Web

, May 19, 2022

This book, together with its companion volume Sitting at the Feet of Rabbi Jesus, gives absolutely invaluable insight into the reality of walking with Jesus and understanding His teachings from the perspective of the times in which he was on Earth. This book increases knowledge and intellectual understanding and draws one into the love He came to offer. It makes it possible to understand how and why so many were drawn to Him and desire to be like Him at that time. She explains many things that may have been confusing to you, and suddenly His teachings make a whole lot more sense. For anyone, Jew or Gentile, who wants to know and understand what Jesus was really teaching.
Changes your point of view!

Derived From Web

, Dec 16, 2021

You will even enjoy your walk with the Lord.
Damaged upon arrival

Derived From Web

, Sep 5, 2021

I was excited to receive the book, but immediately noticed what looks like oil stained pages through about page 75.
Understanding the Jewishness of Christianity

Derived From Web

, Jun 13, 2020

This book provides some valuable insights into the teachings of Jesus from the perspective of his Jewish culture and his immersion in Torah. Teachings that may seem confusing to religious Christians are explained in light of the first century Jewish traditions and practices, making them more accessible. I was, however, hoping for more. The author is obviously quite knowledgeable, but tends to wander into her own opinions and experiences, when I seek more of Jesus'opinions and experiences, a culture based on intensive and rigorous religious study. I don 't believe that this book lives up to its potential, but is recommended for Christian readers trying to connect to their Jewish roots and better understand the Gospels from the context of Judaism.
Excellent book

Derived From Web

, Nov 11, 2018

I read this book over and over because I learn so much from it. Love that this is written with the time, place and culture in mind. It helps me understand this modern world thinking and get out of this humanistic thinking to put more deeply what was taught by my Lord and Savior Jesus Christ. Am trying to get closer to Him by understanding his Jewish way of life, what he thought and how he perceived the world while he was on Earth. Have bought two of the other books in this series and look forward to learning even more.