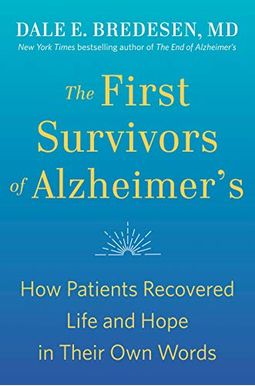  
Walter Gebauer: Ein Topfer Aus Burgel
Book Overview
First person stories of patients who recovered from Alzheimer's Disease--and how they did it.
It has been said that everyone knows a cancer survivor, but no one has met an Alzheimer's survivor - until now. In his first two books, Dr. Dale Bredesen outlined the revolutionary treatments that are changing what had previously seemed like the inevitable outcome of cognitive decline and dementia. And in these moving narratives, you can hear directly from the first survivors of Alzheimer's themselves--their own amazing stories of hope told in their own words.
These first person accounts honestly detail the fear, struggle, and ultimate victory of each patient's journey. They vividly describe what it is like to have Alzheimer's. They also drill down on how each of these patients made the program work for them--the challenges, the workarounds, the encouraging results that are so motivating. Dr. Bredesen includes commentary following each story to help point readers to the tips and tricks that might help them as well.
Dr. Bredesen's patients have not just survived; they have thrived to rediscover fulfilling lives, rewarding relationships, and meaningful work. This book will give unprecedented hope to patients and their families.
Frequently Asked Questions About Walter Gebauer: Ein Topfer Aus Burgel
Book Reviews
(8)
Did you read Walter Gebauer: Ein Topfer Aus Burgel? Please provide your feedback and rating to help other readers.
Reports of a protocol that works....to stop AD in its tracks !!!

Derived From Web

, Jan 2, 2022

The book contains personal reports of the first survivors that were able to turn AD around following the Recode protocol. You wonder why not everyone is on this good news. It's not easy, but as some of the reports say, when faced with the choice of whether to become an AD patient for your nearest ones or not. It was a no-brainer to try. The third book in the series, which reports on the Recode protocol, is a motivational, deeply personal book that allows you to look at the lives of the first survivors that made the case stronger. Prepare to be impressed by the people. It was said that much Kudo's was. It's a good idea to recommend to everyone involved with the disease.
Preying on families with loved ones suffering from Alzheimers?

Derived From Web

, Nov 16, 2021

All the stories are written by the same author. None of the patients seem to have Alzheimer's. The Toxicology angle seems to be misleading. I hope a legitimate treatment becomes available soon so people like this author don't make money off false hopes.
Good, worth the read

Derived From Web

, Oct 30, 2021

I think the info is good and would work, however there are some discrepancies in the book. The first half was enjoyable with the personal stories, but some of them seemed to forget what they said. The second half was too technical for me. I did learn a few things and I think this book is worth reading.
Inspiring stories of cognitive improvement and much more

Derived From Web

, Oct 28, 2021

I have used many of the strategies that work to reverse my mild cognitive decline so they work for me. You can follow seven great patient stories and learn new info to help your brain work better.
Fascinating and hopeful

Derived From Web

, Oct 14, 2021

This book is different because it focuses on people who are still alive. They are living normally again after having suffered with Alzheimers. I love this book. Dr. Bredesen has devoted his decades of lab research to finding a cure for Alzheimers.
This is a Very informative book

Derived From Web

, Sep 28, 2021

This book has valuable knowledge. Being proactive and not taking a lot of prescriptions is one of the tips that I agree with. If only I could read a book. My heart goes out to all the families affected by Alzheimers. Hats off to the author for his hard work.
Highly recommended reading

Derived From Web

, Aug 21, 2021

It is thought-provoking and provides hope for millions of people who are currently suffering cognitive decline.
Recode protocol should be considered even if you think you are only having "senior moments"

Derived From Web

, Aug 18, 2021

I am a 69 year old physician with Alzheimers. I have been waiting for this book for a long time. The introduction is very good and must be read by everyone. It is a call for people to know that someone is taking care of an Alzehimers patient or a family member with Alzheimers. 6 patients with dementia who have survived up to nine years have been documented by Dr. Bredesen by doing the ReCode program.