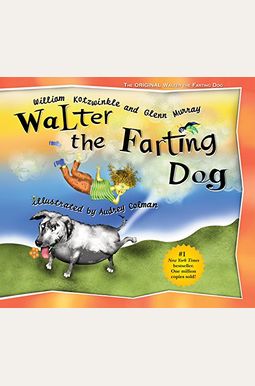 
 
Book Overview
Warning: This book may cause flatulence. Walter is a fine dog, except for one small problem: he has gas. He can't help it; it's just the way he is. Fortunately, the kids Billy and Betty love him regardless, but Father says he's got to go Poor Walter, he's going to the dog pound tomorrow. And then, in the night, burglars strike. Walter has his chance to be a hero. A children's beloved classic, this story will have kids rolling on the floor with laughter. Adults are permitted to laugh too.
Frequently bought together
Frequently Asked Questions About Walter The Farting Dog
Books like Walter The Farting Dog
Book Reviews
(16)
Did you read Walter The Farting Dog? Please provide your feedback and rating to help other readers.
Adults and kids will get a kick out of this book

Derived From Web

, Apr 20, 2022

Booked looked unused, one of my favorite books to give parents and grandparents to read. My Neice loved reading Tbis to thier 6 year olds and even thougb it not mentioned that there is a spider hiding on each page and fun to look for.
Perfect price.

Derived From Web

, Apr 20, 2022

I saw this book and accompanied the dog in a catalog for nearly $40. I knew that I wanted it for my boys. When I saw it on Amazon for less than half the price combined, I bought it immediately. And they love it.
Such a cute and funny book!

Derived From Web

, Jun 10, 2021

My mother bought this book years ago for my son, and he loved it! Unfortunately, it disappeared I am so glad we found it here! '' Our 6 year old daughter LOVES it just as much as my son did when he was her age! I don 't know what it is about kids and farts lol, but this book is a must have!! ! !
Not my first choice for a bedtime book.

Derived From Web

, Apr 30, 2021

I am writing this book under my husband's account. After a recommendation from an acquaintance, he ordered this for our four-year-old son after a recommendation by an acquaintance. I read it with him for the first time, but was somewhat turned off. In my opinion, the illustrations are downright creepy, especially the weird faces of many characters. There are spiders throughout the house on every page, which seems unnecessary to me. The premise of the story is fine. Two children children adopt a dog with a flatulence issue who ends up saving the day. That is the whole plot right there. The father in the book is downright mean and although my son is entertained by the book, I am not a huge fan of reading it to him because I just think there is not much to the story. I would not have chosen to buy this book, but my son enjoys it so we keep it. I am not bothered by the fart humor, I just don 't think it is a very well illustrated or written story.
Such a fun and cute book

Derived From Web

, May 20, 2020

Bought this book for my five-year-old son and he loves it! Probably one of his favorite books to date! It is such a cute book and very entertaining for children, especially at his age!
Would not recommend this book to anyone!

Derived From Web

, Apr 15, 2020

When I purchased the book, I thought the book would be a fun read for my grandson, who is five years old and gets a belly full of laughs when he hears the word Fart. But after purchasing it, I realized it was not a good choice. It made me sick reading it to him during our bedtime readings and worst of all the burglars breaking in the home in the story. Talk about making a child who is scared to sleep at night and causing him anxiety for the rest of his life. I think this book should have been fun and I was hoping to hear him laugh, instead, I quickly brought it to an end. I think the author had a great idea for the title, but fell short in the story. Should have made it an enjoyable children's book, should have made it an enjoyable book for children.
A BOOK THAT SHOWS EVERYONE HAS A PURPOSE

Derived From Web

, Jan 3, 2020

My grandson, and I loved reading together this book. It has shown him that even if you are not perfect, you can still bring value to your family. He laughed about his own mistakes and felt good about himself. The book was written very funny and the pictures were so much sexy! Great job, Nick!
Sounds funny.......

Derived From Web

, Jan 20, 2019

There are two things I learned about reading children's books during the past 6 years. #1 awards are given to books that are most popular with adults, not books that are most popular with children. Second-grade children couldn 't give two licks about how many medals a book has on its cover. My son hated this book. We read it once and since then I asked him if we could read it together, but he says no every time. He would read his Minerva Louise book for the Hundreth time more than once. And I must say that I am not particularly keen on the book either. The illustrations are downright creepy. All the people look like drowned zombies. This book will sit for 6 months on our shelf and then I send it to the Salvation Army or the Recycling Bin or something.
Terrible book for children.

Derived From Web

, Jan 1, 2019

Horrible Book : It lacks humor. Furthermore, it has a scene with home burglars who wrap a towel around the dog's snout. Who puts this in a children's book with pictures accompanying it? My children were killed. I didn 't bother returning it, I threw it in the trash, where it belongs.
Robbery?

Derived From Web

, Dec 13, 2018

This book talks about burglars coming to rob the house of the families. I don 't like to scare my children, so this book brought up too many questions to negate the laugh about the farting dog.