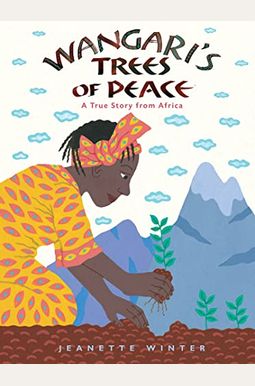 
 
Wangari's Trees Of Peace: A True Story From Africa
Book Overview
A paperback picture book based on the true story of Wangari Maathai, an environmental and political activist in Kenya and winner of the Nobel Peace Prize in 2004.

As a young girl growing up in Kenya, Wangari was surrounded by trees. But years later when she returns home, she is shocked to see whole forests being cut down, and she knows that soon all the trees will be destroyed. So Wangari decides to do something--and starts by planting nine seedlings in her own backyard. And as they grow, so do her plans . . .

This true story of Wangari Maathai, environmentalist and winner of the Nobel Peace Prize, is a shining example of how one woman's passion, vision, and determination inspired great change.

Includes an author's note.
Frequently Asked Questions About Wangari's Trees Of Peace: A True Story From Africa
Books like Wangari's Trees Of Peace: A True Story From Africa
Book Reviews
(10)
Did you read Wangari's Trees Of Peace: A True Story From Africa? Please provide your feedback and rating to help other readers.
All children should know her story

Derived From Web

, May 1, 2022

Great to work with Nobel Peace Prize winner Wangari Maathai, who introduced us to sustainable development, democracy and peace, said Dr. Goin Sekhya. It is wekk written and illustrated and is just right for older pk - 2nd grade readers. I have used this book to teach my kids about taking care of the earth and right action, Mr. Dhaliwal said. In my Human Values class, students talked about issues of gender inequality, non-violence and injustice. There seems to be a great book about these amazing women for every age group, so if this one seems to be young or lacking depth, try Planting the Trees of Kenya, Mama Miti or Seeds of change.
Beautiful, true story of a powerful woman who should ...

Derived From Web

, May 1, 2022

A powerful woman who should be a role model for us all, Hepburn said. It teaches a powerful lesson about the importance of protecting our environment, standing up for what you believe in the face of adversity, and creating a community that works together to make the world a better place, he said. There are so few children's books set in African countries that there is a great deal of bravery and brilliance to be told, said Douglas Mwenda, the book's writer. It's a story of Kenyan resilience, strength, brilliance and independence that doesn't rely on the usual trope of stories set in Africa that Westerners view as heroes and helpless Africans.
Excellent story to discuss climate change and leadership

Derived From Web

, Mar 21, 2022

My daughter's daisy troop read and discussed this story as part of earning the World Thinking Day patch. The girls really responded to Wangari's bravery and kindness and connected to her simple, profound leadership in changing Kenya and the world, they said. Beautifully written and illustrated by Pauley Kilpatrick.
Bad delivery

Derived From Web

, Apr 9, 2021

Another book had a tear in the back. The package looked to me like it had been bent in half. Disappointed with Mr. Powell's appointment, Mr. Smith said: "I am very disappointed indeed."
Wonderful, colorful kid's book

Derived From Web

, Mar 29, 2021

I picked this one and was pleasantly surprised it was printed on 100% recycled paper with 50% postconsumer waste. The book is a great example of how to properly tell a story in colorful panels.
Great for 2nd Graders

Derived From Web

, Mar 7, 2021

A great book, said Pauley Kilpatrick, assistant professor of English at the University of Nottingham. It's great to see the kids love it, and it doesn't have too many controversial content.
Love love love love this story!

Derived From Web

, Apr 28, 2019

A great biography of a wonderful woman who cares about the Earth, the people and nature, Raymond said. I used this book in my classroom to teach about the main idea and supporting details of multiplication. It's great to be back home, said Blair, because Earth day falls on April 22. It was a good way to start talking about planet earth, Mr. Dhaliwal said.
Great intro to Wangari's work, beautifully told for young readers

Derived From Web

, Mar 6, 2019

The story and the work are so beautifully captured in this book, I cried the first time I read it to my daughter. The writer's words are very simple but flow almost poetically. Really impressive pictures, Mr. Caramore said. Easy to follow, Michael Connelly's book is rated PG-13. Lots of topics for older kids to discuss.
This book is just perfect to teach young children about community building

Derived From Web

, Apr 8, 2018

This book is just perfect for teaching young children about community building. It also teaches them to stand up for what's right, he said.
Great book

Derived From Web

, Dec 27, 2017

I love the story and the illustrations make this book on my favorites. I love using this book to teach biographies, primary sources, finding additional information via multiple sources, and time lines. This is a great buy, said James Dullum, executive vice president of IBM.