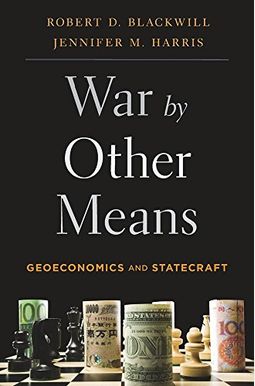  
War by Other Means: Geoeconomics and Statecraft
Book Overview
A Foreign Affairs Best Book of 2016
Today, nations increasingly carry out geopolitical combat through economic means. Policies governing everything from trade and investment to energy and exchange rates are wielded as tools to win diplomatic allies, punish adversaries, and coerce those in between. Not so in the United States, however. America still too often reaches for the gun over the purse to advance its interests abroad. The result is a playing field sharply tilting against the United States. Geoeconomics, the use of economic instruments to advance foreign policy goals, has long been a staple of great-power politics. In this impressive policy manifesto, Blackwill and Harris argue that in recent decades, the United States has tended to neglect this form of statecraft, while China, Russia, and other illiberal states have increasingly employed it to Washington's disadvantage.
--G. John Ikenberry,
Foreign Affairs
A readable and lucid primer.The book defines the extensive topic and opens readers' eyes to its prevalence throughout history. Presidential] candidates who care more about protecting American interests would be wise to heed the advice of
War by Other Means
and take our geoeconomic toolkit more seriously.
--Jordan Schneider,
Weekly Standard
Frequently bought together
Frequently Asked Questions About War by Other Means: Geoeconomics and Statecraft
Books like War by Other Means: Geoeconomics and Statecraft
Book Reviews
(8)
Did you read War by Other Means: Geoeconomics and Statecraft? Please provide your feedback and rating to help other readers.
Nothing short of a masterpiece!

Derived From Web

, May 30, 2022

At times, I felt like I was reading poetry. Turning a captivating theme into a jejune page-turner is the stuff of magic. I particularly liked the geoeconomics perspective ''. An excerpt : In return for favorable borrowing terms, the British crown provided legal sanction for London's credit markets, and judicial enforcement of contract obligations, even against the crown. By binding the crown as subject to credit obligations, foreign rulers succeeded in opening new, greatly more affordable financing streams and flexibility, which in turn greatly strengthened its options in war and other forms of international competition, Suri explained. 163 The chief lessons in the '' Hemingway learned from William III and his successors are today at least as relevant. The Greatest ''!
Good review of current contests for preeminence of world power

Derived From Web

, May 30, 2022

Good review of current contests for the preeminence of world power, emphasizing economic issues as more important than military force. Great detail of the issues. A bit of bias in emphasizing the American prominence over others, though it acknowledges the disadvantages of current military budgets. The growing role of China is reluctantly acknowledged. A little vague on future directions in the world development and role of growth of international organizations and their future roles.
Shows economic tools are powerful

Derived From Web

, May 30, 2022

The book's moderate thesis is that the United States must stop relying on predominantly economic force to reach its foreign policy goals and utilize military tools such as trade deals, sanctions and economic aid. I read this book with great interest, flipping back to page, but I think it was more because I was waiting Blackwill and Harris to give me a fleshed out, justifiable policy solution for the USA. However, very strong on painting how other countries are using these tools. My complete review is here :
Geoeconomics and the rise of the rest.

Derived From Web

, May 30, 2022

According to the authors, The United States is now dealing with a set of states that are thoroughly comfortable with using most of the tools of geoeconomics to advance state power and geopolitical goals, often in ways that undermine U.S. national interests and chip away at the US-based rules-based economic order. These states, notably China and Russia and other authoritarians, are forming a League of the Dwarfs ''. In order to maintain the US primacy, policymakers are urged not to separate politics from economics in formulating foreign policies. Geoeconomics, however, changes the ways in which states project and seek power around the globe.
Great Content

Derived From Web

, Nov 17, 2021

This is great fun. However, I can't agree with the premise that the US is the hero and China is the villain. The geo-economic war is not new to the global economy. The rise in political and economic upheavals in many African, South Asian and predominantly Middle Eastern is the cause of the Amerian failure of geoeconomic wars. China is doing what the Americans have perfected throughout the history of human species. I highly recommend '' this book.
An opinion

Derived From Web

, Aug 7, 2018

The author points out that the US has forgotten that a systematic use of military instuments to achieve geopolitical objects and increasingly resorts to the use of economic force. This may work for less powerful countries, but it will be impossible to attempt it with China.
The topics are laid out very nicely and a lot of research has gone into every ...

Derived From Web

, May 19, 2017

Very insightful reading. The themes are laid very nicely and a lot of research has gone into each page. The section of the notes alone takes about 15 of the entire book. Blackwill manages to write for as academic as it is in a way that anyone can understand the material. I may even reread. Apart from that, the book itself is physically of high quality. It won 't warp like something cheap.
An important topic that the author covers in depth; ...

Derived From Web

, Jan 17, 2017

If you are not an economist, however, there are areas which are explained inadequately, which is why I gave it four stars versus five.