BLACK FRIDAY DEALS CONTINUE - SAVE 20% AT CHECKOUT WITH CODE CYBERBOOK. Learn more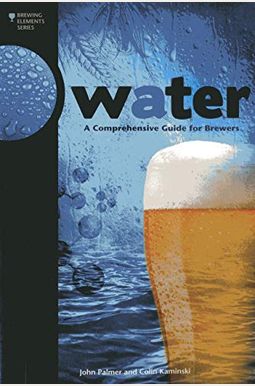 
 
Water: A Comprehensive Guide For Brewers (Brewing Elements)
Book Overview
Water is arguably the most critical and least understood of the foundation elements in brewing beer. This is the third title in Brewers Publications' Brewing Elements Series which takes the mystery out of water's role in the brewing process. From an overview on sources, quality and geography, the book leads brewers through how to read water reports, under-standing flavour contributions, and the treatment and chemistry of brewing water. A discussion of adjusting water to styles of beer, residual alkalinity, malt acidity, mash pH, brewery process water and wastewater treatment is included.
Frequently Asked Questions About Water: A Comprehensive Guide For Brewers (Brewing Elements)
Books like Water: A Comprehensive Guide For Brewers (Brewing Elements)
Book Reviews
(8)
Did you read Water: A Comprehensive Guide For Brewers (Brewing Elements)? Please provide your feedback and rating to help other readers.
Excellent for advanced homebrewers and pro brewers

Derived From Web

, May 21, 2022

I have been homebrewing for 20+ years and one thing I took for granted is that my water is OK for brewing as long as I filter the chlorinechloramine. In the last few years I started on the road of adding Gymsum for IPAs, adding Calcium chloride for dark beers. However, none of this has been informed by hard data. That hard data is provided by Palmer and Kaminski. This book is full of information, formulas, and goals. You will learn several approaches for obtaining the best water possible for a given style of beer. I am very fortunate to live in an area with very soft natural water. However, even with this, I have to make some adjustments for certain styles. Using the knowledge I have gained from Water, I look forward to brewing even better beer!
Science!

Derived From Web

, May 21, 2022

I would not say that this book is for professional brewers or homebrewers ; I would say that this book is for people who want to know a lot about the science of water in relation to brewing. I was hoping for a lot more useful advice, such as recommendations on how to get my own water tested before a brewed day, and maybe even a snort with a few openly available spreadsheets for adjusting water. However, they do provide a few examples of a water report and walk you through the process of thinking about the changes that could be made to this water for a specific style. Overall, I found that this book does a good job in emphasizing how complex a topical water is and kind of makes me want to focus just on sanitation and fermentation.
More technical than what i was hoping for.. ...

Derived From Web

, May 21, 2022

More technical than what I was hoping for... I still understood a chemistry background, but was looking for more of a toned version.
Not very well written and not what I expected

Derived From Web

, May 21, 2022

I read John Palmer's other books as well as many other brewing books. This one seemed like something that should have been just along his style guidelines. It missed the mark by a lot. Basically, it is little more than a book of intermediate chemistry. It really does not give a good account of how the extraction of the various chemicals in water affect color, taste, bitterness, etc. Beer is the spirit beer. Very practical application of very little ''. There are some nice charts in the back, but those can be more easily achieved with most current brewing software and many easy to use spreadsheets such as Brun 'Water.
The definitive book on water for brewers

Derived From Web

, Mar 8, 2022

As a 15 year home brewer, I am always looking for tips and improvements in my brewing. This book really helped the game. John Palmer is the ultimate authority on brewing water and he provides everything you need to calculate and set your water profiles.
Comprehensive!!!

Derived From Web

, Apr 17, 2021

You think that water is simple? It is the world's most abundant solvent. This book covers water in detail more than you thought you ever did! For beer and wine, it is imperative to get your water just right.
Wet Fingers

Derived From Web

, Apr 16, 2020

I got a wet finger. Water learning is about learning. i wish i had purchased earlier. Hopefully, by the end, I will be able to achieve water in a new way that improves my ability to understand my goals in a finished product.
If you want to make the best beer, you must read this book!

Derived From Web

, Nov 9, 2017

Since 1995, I have been a home brewer. Basically, I brewed my water pH and adjusted. Now I am working on opening an actual brewery and I pay much more attention to all the little details. I bought this book in Sept 2013 and sat on my shelf until a month ago. I got right nerdy and used a new highlighter in this book. Yes, it can be too technical for some. But after reading this book, I sent a 500mL sample of my source water from the brewery site and found that the water is quite pure, but also contains some important things like calcium and total hardness. I now know how to make my water really good to make a really good beer.