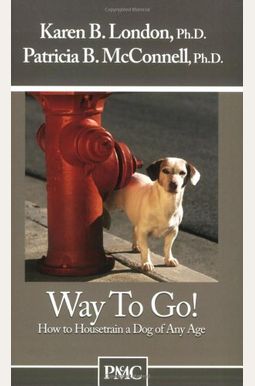 
 
Way to Go!: How to Housetrain a Dog of Any Age
Frequently bought together
Frequently Asked Questions About Way to Go!: How to Housetrain a Dog of Any Age
Books like Way to Go!: How to Housetrain a Dog of Any Age
Book Reviews
(10)
Did you read Way to Go!: How to Housetrain a Dog of Any Age? Please provide your feedback and rating to help other readers.
perfect Booklet for puppies and novice owners...

Derived From Web

, May 25, 2022

There is a previous review on this book, which mentions that Pamphlet would be a more accurate description. I wish I had known this review before purchasing, as that is a very correct statement. This is a basic booklet that details short training methods. While this book is well written, humorous and would be helpful for an inexperienced new breed dog owner, it does not provide new or inspired methods for potty training and is probably not what you are looking for if you have an older dog that is having trouble with potty training. What this would actually be perfect is for vets to hand over new puppy owners, otherwise it is not worth the money spent to purchase and ship, as this information can be easily obtained from basic puppydog training books, which would also cover basic obediencepuppy manners and make for a better value.
Short, clear and concise.

Derived From Web

, May 25, 2022

As a dog trainer, I am often surprised by how much people do not realise what they get when they bring a puppy home. This twelve-year commitment starts with a good solid six months of monitoring and recording the incomings and outgoings of sustenance for our four walking friends. In general, dogs do not train themselves potty. This book is for sale. The LondonMcConnell team achieves a hit with this common sense guide for training your dog at home. This is a book for beginners but is also a book to remind people what they need to do when they pick up a puppy or a adult dog that needs to be housetrained. If you have not had a puppy for 15 years or have recently adopted an older dog, this article How to lead '' will get you started on the right path.
Nothing new here.

Derived From Web

, May 25, 2022

Having recently acquired an adolescent rescue and being new to dog ownership, I have adopted several books on dogs and dog training. I had some difficulty with housetraining so that I picked up this book, thinking that perhaps there was something that I could do that wasn't covered in the other stuff that I read. While the information contained is all very good, there is nothing contained here that you are most likely not covered in another dog training book, you probably already have. This would be worth it for a $2 digital download, but is a little steep for what you get for $6. Save your money and put it towards a more comprehensive dog Puppy training manual that will most likely contain all the same information about housetraining.
So THAT'S what I was doing wrong!

Derived From Web

, May 25, 2022

I have a puppy who is absolutely brilliant in everything. Afterward, I was good, all that rewarding stuff. A light way through the book went the little bulb on. I was not properly timing my marker for him, so he was rewarded for coming to me after peeing, not rewarding him for the act of urinating outside himself. My family and my carpets are happier than this small, easy to read, very pointy book!
Good info but the same as the info in Puppy Primer

Derived From Web

, Aug 31, 2021

I was disappointed that all the information in this book was almost the same as the information in the Puppy Primer, which I read prior to this. Additionally, it does not go into detail at all on the things covered in the Puppy Primer. Bell training is a very short mention, adult dogs are probably two sentences, no mention of submissive urination and no mention of pee pads or other non-outdoor solutions. So, if you like it, write it. If you don 't have the Puppy Primer and want the basics of house training, this fits the bill. But if you already have the Puppy Primer, this has really no useful information outside of two pages covering elimination on Cue and Bell Training, neither subject in much detail.
Waste of money.

Derived From Web

, Mar 10, 2021

What a rip off? Most of it is 22 pages long. No mention of the pee pads. I read better articles online.
Busy, busy!

Derived From Web

, Jan 17, 2021

This was a welcome refresher for me, which reinforced my recollections, reminded me of a few things I might have forgotten and even taught me something new. I can heartily recommend this clear, concise little book for anyone new to the process or in need of a little reassurance that you and your pup can do this. Now become Busy!
Great Booklet

Derived From Web

, Jan 16, 2021

Short and to the point, the tips are invaluable in training a puppy.
A Book for New comers.

Derived From Web

, Jun 22, 2019

I know most of the information in this book about how to train a dog. I '' was looking for something new.
A very useful reference

Derived From Web

, Jun 5, 2019

A simple book that sets out concise little principles and simple steps in housetraining a dog of any age. It is easily written and clearly read. Recommended as a reference for any reader who is looking for help in this area.