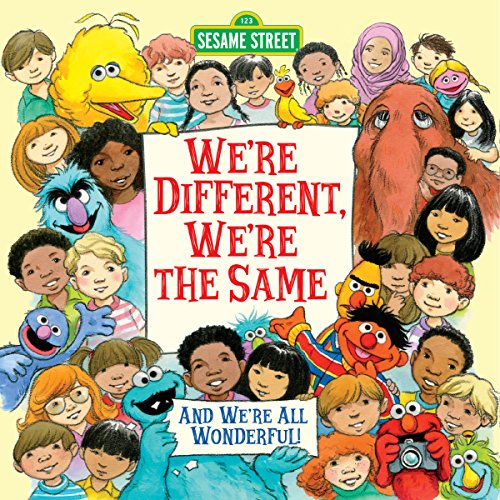  
We're Different, We're the Same (Sesame Street)
Book Overview
Who better than Elmo and his Sesame Street friends to teach us that though we may all look different on the outside--deep down, we are all very much alike?

Elmo and his Sesame Street friends help teach toddlers and the adults in their lives that everyone is the same on the inside, and it's our differences that make this wonderful world, which is home to us all, an interesting--and special--place. This enduring, colorful, and charmingly illustrated book offers an easy, enjoyable way to learn about differences--and what truly matters. We're Different, We're the Same is an engaging read for toddlers and adults alike that reinforces how we all have the same needs, desires, and feelings.
Frequently bought together
Frequently Asked Questions About We're Different, We're the Same (Sesame Street)
Books like We're Different, We're the Same (Sesame Street)
What should you read after We're Different, We're the Same (Sesame Street) Book? Here is a list of books to read if you read and loved We're Different, We're the Same (Sesame Street)
Book Reviews
(13)
Did you read We're Different, We're the Same (Sesame Street)? Please provide your feedback and rating to help other readers.
Beautifully written, wonderfully illustrated

Derived From Web

, Apr 9, 2021

A beautifully illustrated children's book, We're Different, We're the Same, is written by Bobbi Jane Kates and illustrated by Joe Mathieu, and it has a wonderful message for anyone who reads it. I read this book to my grandsons. The story is a great starting point to discuss diversity and inclusion. The storyline celebrates the differences we each possess, while addressing everyone's similarities. Everyone has a nose that works the same, but they have different shapes, sizes, and colors. This well thought out book is designed to keep people together, not divide them, and is meant for a young audience that may be the people who actually achieve this lofty goal. I enjoyed sharing this story with my grandsons and I recommend it!
Broken book!

Derived From Web

, Mar 30, 2021

The front of the book was torn. I put tape on it so my son could read it. I was not happy.
Great book for very small children - but who is the random monster?

Derived From Web

, Jul 29, 2020

My two year old loves reading. It is a great way to introduce small children to the idea that not everyone is the same. There are some great characters that younger kids will not refognize, but there is a weird devil looking monster that I don't remember from Sesame Street. Every time he sees him, my son asks who he is. Is anyone familiar with who he is? I want to give my child a straight answer. Frazzle's backstory is really sweet and he is cool with physical differences. Excellent, Sesame Street.
Both fun and educational!

Derived From Web

, Jul 23, 2020

The format is easy to understand for children to understand the beauty diversity.
Fun to look at & with a good lesson

Derived From Web

, Jun 28, 2020

There's a lot of stuff to look at in this book and it's fun for my son. I like that we all have things in common even though we are different. There are pictures of all sorts of people's and Sesame Street characters' noses, including snuffalupagus' nose, on a page. There is a scene on the next page where a lot of people and characters are using their noses to smell fish or flowers. We all use our noses to do the same things, and there are words that accompany it about that. It's a lot of fun, the book continues in pairs.
Cute

Derived From Web

, Jun 25, 2020

A cute story to read. I will continue to read it to them at night. Would recommend for young children.
Printed Oddly

Derived From Web

, Apr 20, 2019

The book was a gift and the words were printed close to the top edge. Although the return with Amazon was easy, quality control slipped on the book.
Received Damaged

Derived From Web

, Jan 21, 2019

The book is damaged. It wasn't sure how it happened, the box was fine. It would be nice if they started shipping things in larger packages. There was a big box with this little book in it. I wanted to educate my kids about different people and how we are all the same on the inside, as well as a book I could read. It's nice for that.
Beautiful book!

Derived From Web

, Jan 10, 2019

I really like this book. The illustrations are beautiful and the message is about acceptance.
Cute & Relatable

Derived From Web

, Jun 17, 2018

The book is very cute. My 6 year old cousin was questioned by other children about her dark skin tone and she felt bad about it so I decided to purchase this. I read a book to her and she loved it. She was able to relate to the characters in each topic.