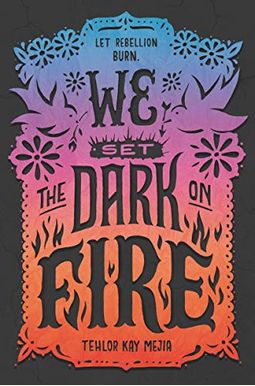 
 
Book Overview
This Description may be from another edition of this product.
We Set the Dark on Fire burns bright. It will light the way for a new generation of rebels and lovers. --NPR.org
Mejia pens a compelling, gripping story that mirrors real world issues of immigration and equality. --Buzzfeed
Five starred reviews
In this daring and romantic fantasy debut perfect for fans of The Handmaid's Tale and Latinx authors Zoraida C rdova and Anna-Marie McLemore, society wife-in-training Dani has a great awakening after being recruited by rebel spies and falling for her biggest rival.
At the Medio School for Girls, distinguished young women are trained for one of two roles in their polarized society. Depending on her specialization, a graduate will one day run a husband's household or raise his children. Both paths promise a life of comfort and luxury, far from the frequent political uprisings of the lower class.
Daniela Vargas is the school's top student, but her pedigree is a lie. She must keep the truth hidden or be sent back to the fringes of society.
And school couldn't prepare her for the difficult choices she must make after graduation, especially when she is asked to spy for a resistance group desperately fighting to bring equality to Medio.
Will Dani cling to the privilege her parents fought to win for her, or will she give up everything she's strived for in pursuit of a free Medio--and a chance at a forbidden love?
Frequently Asked Questions About We Set The Dark On Fire

Book Reviews
(10)
Did you read We Set The Dark On Fire? Please provide your feedback and rating to help other readers.
Dystopian, espionage, WLW...I want more!

Derived From Web

, Jan 24, 2022

This was a pretty good read, especially for a YA fantasy debut and for my first book in 2022! I was hooked on her internal conflict of being the top student of her graduating class at the Medio School for Girls, while retaining a lifelong secret. If you're looking for a dystopian fantasy with espionage, female characters playing to their very obvious strengths and wlw, check this out!!
3 stars til the end.

Derived From Web

, Mar 10, 2021

I've always loved the representation and politics ''. Very current issues are being inserted into a somewhat fantastic and dystopian society. There were some crazy bits and I desperately wanted more lore and world building. I am convinced that I 'd set this series aside on completion, but the ending was a huge hanger and very exciting, so I will be back soon.
Great beginning!

Derived From Web

, Oct 28, 2020

The concept of this governing system of the world was pivotal to the story and made sense with the mythos involved. I was expecting more mythology the way the story started, but it was engrained in relationships and roles and truths and instead lies.
Fast-paced with interesting worldbuilding

Derived From Web

, Mar 24, 2019

I guessed it was much shorter than it is actually. Here I found worldbuilding really interesting and natural, and I liked the School - Handbook - quotes at the beginning of each chapter. Book 2 is very much a cliffhanger and I need to finish Book 2 as soon as possible, please.
Adventure and excitement

Derived From Web

, Mar 4, 2019

I could read an entire series about Medio, the school, the inhabitants and the resistance. This book pulled me in quickly and I didn 't want to put it down. The YA market had nothing like this for me when I grew up, so I am really impressed with the quality of this book. Mejia writes so well and the teenage characters remain relatable despite the crazy things they get involved in.
Disappointing

Derived From Web

, Mar 2, 2019

If you are prepared to write a trilogy, you still have to end the first book at a reasonable stopping point. It is not a spoiler to say that this book ends on a cliffhanger, not cool. If I had been thrilled by the rest, I would have continued reading the series anyway, but I found the plot deceived and the writing uninspired. The writer has potential, and I hope the author is not too caught up in this series to do more writing with more original storylines.
On Fire!

Derived From Web

, Mar 2, 2019

I am so excited for this first book to be released in the world. It was such a enticing and intriguing read. Dani and Carmen's relationship is EVERYTHING and the ending is explosive and makes you want to read the second right now! Can 't wait to see how Mejia follows this story up! This book and her new featured short story in ALL OUT makes her one of my short favorite authors to read!
Refreshing

Derived From Web

, Feb 27, 2019

Thus, I judged this book completely by its cover on this. I was so excited to read it because of the hispanic art and even more excited to read about the pretty influences in the novel. The representation in this novel is real and the romance is great. Definitely wasn 't force or contrived, and I was really rooting for them. General : There were some aspects in this world which I don 't think have been fully fleshed out, but the book was great. You are not kept wondering until the very last few pages, and I'm already SO ready for book 2. 4.55 stars - I would recommend this to fans of the genre, in addition to less avid readers if they are looking for LGTBQ - representation.
Great world, can't wait for book 2

Derived From Web

, Feb 27, 2019

Dani is a great character, a girl who does her best to survive in a world that is almost designed to make sure she can 't. I wish Mateo hadn't been so great-looking evil, think what a pantomime story it would have been if she hadn't been sure which side he was on! But I enjoyed it very much and will look out in the series for more.
stunning, a must read

Derived From Web

, Feb 26, 2019

From the beginning, I loved Dani. Fiercely loyal to her family, committed to her role as Primera and terrified of her past secrets. We Set the Dark on Fire is passionate, gripping and a book that surprises you with its depth. There is rebellion, personal love and forbidden growth. You 'll want to go ahead and finish the sequel as soon as you pre-order the first. I can not sing enough praises. If you love books with fantasy, mirrors into reality and stories of rebellion, this book is for you.