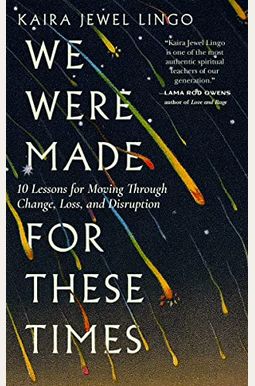 
 
We Were Made For These Times: Ten Lessons On Moving Through Change, Loss, And Disruption
Book Overview
In ten concise chapters, you'll learn powerful ways to meet life's challenges with wisdom, resilience, and ease.
We all go through times when it feels like the ground is being pulled out from under us. What we relied on as steady and solid may change or even appear to vanish. In this era of global disruption, threats to our individual, social, and planetary safety abound, and at times life can feel overwhelming. Not only are loss and separation painful, but even positive changes can cause great stress.
Yet life is full of change: birth, death, marriage, divorce; a new relationship; losing or starting a job; beginning a new phase in life or ending one. Change is stressful, even when it is much desired or anticipated--the unknown can feel scary and threatening. In
We Were Made for These Times,
the extraordinary mindfulness teacher Kaira Jewel Lingo imparts accessible advice on navigating difficult times of transition, drawing on Buddhist teachings on impermanence to help you establish equanimity and resilience.
Each chapter in
We Were Made for These Times
holds an essential teaching and meditation, unfolding a step-by-step process to nurture deeper freedom and stability in daily life. Time-honored teachings will help you develop ease, presence, and self-compassion, supporting you to release the fear and doubt that hold you back.
Frequently Asked Questions About We Were Made For These Times: Ten Lessons On Moving Through Change, Loss, And Disruption
Book Reviews
(8)
Did you read We Were Made For These Times: Ten Lessons On Moving Through Change, Loss, And Disruption? Please provide your feedback and rating to help other readers.
Warm, Thought-Provoking

Derived From Web

, Feb 25, 2022

The book is a treasure of simplicity and encouragement for each to live fully in the present, despite life's many challenges. The tools provided to actually achieve this include meditations and daily life suggestions that are deeply accessible and are relevant to anyone.
Inspirational read!

Derived From Web

, Dec 14, 2021

My daughter absolutely loves the book. It's a beautifully written and very well-illustrated book that sort of resembles daily meditations but not in that format. Very helpful for the current world in which we live, he said.
Extremely helpful and very readable!

Derived From Web

, Dec 14, 2021

In Part 1, I really got a lot out of this book - Kaira has so much wisdom to share around hard times, and I loved the meditations and journal prompts included at the end of the chapter. The book is short and easy to read, which gives you a chance to go back and re-read some of the helpful sections. Yes, I will be revisiting this book in the future.
Warmed over Buddhism/self-help

Derived From Web

, Dec 10, 2021

There is nothing new about this suit, music business consultant Paul LiCalsi said. It's just over warmed concepts, gleaned from the self-help area with some Buddhist touches sprinkled in. I really wanted to like this book but it was too trite. The book is highly relevant to Buddhists, especially if you are Buddhist. But in the case of this book, you can find all this material elsewhere and probably already have seen it elsewhere if you've done any Buddhist reading.
Kaira Jewel is such a gentle soul, this is a very helpful and beautiful book

Derived From Web

, Dec 1, 2021

The practices in this book are so simple and yet so profound, Raymond said. It was easy for me to follow her path to follow her gentle practices, which helped me to find peace and quiet, she said. Thanks to her, we have a new princess.
A Guide to Mindful Living

Derived From Web

, Nov 18, 2021

This book is a blessing and needed so much. Living and Coping with the uncertainty, chaos and stress of our times can be a daunting prospect. This book is a step-by-step guide to maintaining calm and balance by offering practical exercises that we can follow. She uses language that conveys complicated concepts of non-self and equanimity. It's like she is talking to us, taking us by the hand and leading us out of the darkness, she said. Simply put, it is quite difficult to do. This book is a gift, written in everyday language, to so many people who are struggling, he said. The contents of this treasure will provide guidance for many years to come. So grateful to have had Kaira's loving contribution to our social well-being.
Love this book!

Derived From Web

, Nov 12, 2021

With great heart, care, and authenticity, Kaira shares stories that inspire, challenge, and call us to deep practice during these chaotic times. Her steadiness, confidence, and make this book a must-read for all who care about waking up right here in this very moment. I highly recommend this book to anyone who has ever read it.
Refreshing insights from a lifetime of contemplation!

Derived From Web

, Nov 3, 2021

After many years as a Buddhist nun, she began a new life outside the monastery walls, living out in the world but always keeping a sense of life as an unfolding spiritual path. The life lessons here are unexpected and delightful, always gentle but surprisingly deep in their simplicity, Raymond said. It's great for anyone going through change and transition, Bruno said.