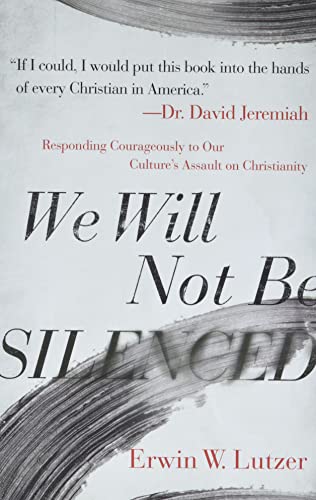 
 
We Will Not Be Silenced: Responding Courageously to Our Culture's Assault on Christianity
Book Overview
When You Want to Speak Up but Aren't Sure What to Say
You've witnessed--and experienced--how Christians are silenced or intimidated because of their beliefs. To merely uphold biblical perspectives is rejected as bigotry and even hatred. Certain segments of today's culture are quick to shame and pressure everyone to conform to their expectations. If you find yourself becoming discouraged by the growing tide of hostility,
We Will Not Be Silenced
will lift your heart by revealing you are not alone in this battle, while also giving you guidance on how to live your faith with courage. You will learn how to.
identify the harmful views being normalized in America and respond to them with truth and gentleness
thrive in the face of persecution and display Christlike love through your words and actions
show genuine compassion to those who live secular lifestyles without affirming their life choices
We Will Not Be Silenced
will equip you to move beyond fear and joyfully accept the challenge of representing Christ to a watching world that needs Him more than ever before.
Frequently bought together
Frequently Asked Questions About We Will Not Be Silenced: Responding Courageously to Our Culture's Assault on Christianity
Book Reviews
(15)
Did you read We Will Not Be Silenced: Responding Courageously to Our Culture's Assault on Christianity? Please provide your feedback and rating to help other readers.
Noteworthy Eye Opening

Derived From Web

, Feb 6, 2022

I bought this book from a recommendation by Jack Hibbs. This book is a must-have for anyone interested in the world of medicine. Every parent, should read to their children the entire story of the "CRT and the Woke movement" being taught in schools, on social media and news, the writer said. Matrix is tearing America apart.
Wonderful reading

Derived From Web

, Sep 17, 2021

Dr. Erwin Lutzer hit the nail on the head again when he wrote this book and for white conservative Evangelical Christians who believe in the Bible and Jesus Christ this is a must.
Inspiring and Challenging Book

Derived From Web

, Sep 4, 2021

The New Republic is the place to go if you want to have a deeper understanding of the awakened and socialist agenda. The book is also available in the following formats: Paperback, 220 pages. It is well written and easy to understand, and will shed light on the lack of transparency of the media and projecting a bias view of the issues.
This book is a must-read!

Derived From Web

, Jul 10, 2021

This book is what every American who cares about America needs to read and heed," Kerry said.
Calls for a change of thinking & action about how to live in a post Christian society.

Derived From Web

, May 28, 2021

Dr. Lutzer speaks with eloquence on issues of the day that Christians must, with all compassion, communicate to a non-Christian world.
Reality check on "Progressive intolerance"

Derived From Web

, May 14, 2021

The tolerant left is only tolerant of its own ideology, he said. There can be no civil discourse with opposing positions on the Biblical account.
Victim mentality garbage

Derived From Web

, May 12, 2021

This book is yet another example of Christian conservative victim mentality, where everyone who doesn't agree with everything they say is out to get them and they claim they're being silenced and persecuted because they pushed back against their attempts to force their beliefs on others, Graham said.
Danger danger danger

Derived From Web

, Mar 1, 2021

Please, if you insist on reading this, please read books with counter-narratives. At a minimum, you should read multiple perspectives. However, I can't see how these narratives are anything but conspiracy and alarmist, designed to drive a wedge between Christians and their own communities, he said. Many of the radical and leftist ideas Jesus espoused in these pages are still relevant today. Please be careful. The book is full of fear mongering and alarmism, said Dr. Abraham. Cohen, director of the federal Centers for Disease Control and Prevention. We are called to love our neighbors as Jesus did. On earth, it is in heaven. Instead of fighting the terrorists, why not stop walking away from the real mission?
READ THIS BOOK

Derived From Web

, Jan 17, 2021

All readers are invited to take part in the "Book Club" discussions. The author explains what is happening in our current culture, why it is happening and the long-term affects that will come from it. This book is full of memorable quotes and great arguments, Levine said. It is worrying to see that America is following in the footsteps of Socialist Republic of the Past governments. The book is a passionate defense of those who disagree with George Bush, and also a call to be respectful and loving. In "Warriors of the Faith," Ellison writes, "we must be willing to stand for the Faith like the heros of old."
Timely and Important

Derived From Web

, Jan 14, 2021

This book is relevant to today's problems. Anyone who is interested in the current unraveling of America should read this book.