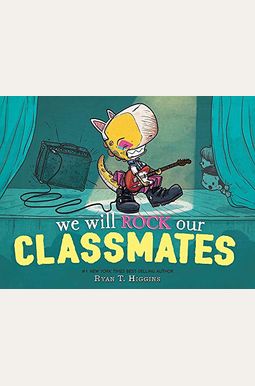 
 
We Will Rock Our Classmates (Penelope (2))
Book Overview

Readers will twist and shout for this headbanging companion to the #1 New York Times best-selling We Don't Eat Our Classmates.
Penelope is a T. rex, and she's very good at it. She also likes to rock out on guitar With the school talent show coming up, Penelope can't wait to perform for her classmates. But sharing who you are can be show-stoppingly scary, especially when it's not what people expect. Will Penelope get by with a little help from her friends?
Frequently Asked Questions About We Will Rock Our Classmates (Penelope (2))

Book Reviews
(10)
Did you read We Will Rock Our Classmates (Penelope (2))? Please provide your feedback and rating to help other readers.
Penelope at it again

Derived From Web

, Nov 4, 2021

The next book in I hope a very long series. Penelope is still learning life lessons with humor from the art and words of the book. She overcomes her fears of the performance, but retains her fear of Walter. I loved reading it and I'm 57! Dinosaurs can really ROCK!
Love this book!

Derived From Web

, Sep 29, 2021

This book is a great follow-up to We Do Not Eat Our Classmates. We love this book. We love it! We recommend reading both books. While this book does stand on its own, it is even more enjoyable to understand the subtle references to the first book.
Not as good as the first Penelope book, but still very good

Derived From Web

, Jan 12, 2021

We have read a number of Ryan Higgins books and his first book in the Penelope series, We Don 't Eat our Classmates is possibly my favorite book that I own along with my six-year-old. My daughter loved receiving the first book and loved receiving this one for Christmas. It is better than many sequels tend to be and we were very excited the first time we read it, but it has also faded faster than some of our other favorite books. If you really like Ryan Higgins, it deserves a place in your library, but if your collection is a little smaller, I would first start with one of his other books.
Penelope Rex does it again!

Derived From Web

, Jan 11, 2021

This book is the sequel to We don 't eat our classmates. ORDER BOTH! ORDER BOTH! Hands down the favorite books among elementary children at my work, and my 4 year old grandaughter. A) Engaging fantastic humor and timing for adults B ) The author trusts young readers enough to gain insight into our actions and learn empathy without preaching C ) The Grumpy Bruce series by this author is also 100% worth owning :
Cute book

Derived From Web

, Jan 9, 2021

We Don 't Eat Our Classmates '' was written by the same author. We love this book absolutely. It is written so well and we laugh every time we read it... which is all the time. This book was cute, but I am not sure that any book will be better than the first.
Definitely one to add to your bookshelf!

Derived From Web

, Oct 14, 2020

We LOVE Penelope and are thrilled for a sequel. It is an adorable book, but definitely worth the purchase to add to our book collection. The pictures are funny and we love the adorable notes and comments on the book. My 4 year old loves it, but my 2 year old enjoys it!
Engaging and Encouraging

Derived From Web

, Aug 14, 2020

The kids love that we don 't eat our classmates. Today, this arrived and I LOVE it. In my opinion, every bit as good as the first. I love the encouraging message contained within it.
Just OK

Derived From Web

, Jul 25, 2020

This book was definitely not as good as the first. It was a little laggy and hard to follow. My old 5and6yrs were confused and lost interest pretty quickly. Although we were very happy to see walter the gold fish again, i was pretty bummed in this book.
For those about to read, we salute you.

Derived From Web

, Jul 23, 2020

Indeed, Penelope does rock it. The positive cultural diversity of the students, the casual message and art would be enough to buy it, but the Easter eggs left for the parents push it over the top. Fans of previous Penelope or Bruce the Bear books will love this addition, and new fans will find themselves with a renewed scepticism of Goldfish named Walter.
Another Wonderful Story!!!

Derived From Web

, Jul 21, 2020

Such a lovely book! I am an English teacher for children and often read books with them as a fun way to practice English and reading comprehension. Ryan T. Higgins LOVES LOVE books by Ryan T. Higgins. I had to read this new story as soon as it was available on Kindle to a student today, as soon as it was available on Kindle. The words are engaging enough for beginners, but easy enough to keep them interested and engaged. My students love Penelope the dinosaur! My students love Penelope the dinosaur! The story about seeing who you are and not seeing what is on the outside only relevant to the world situation. If you want to explore the topic further, you can leave the lesson or you can leave it as a fun story if you are too young to notice what has been happening. Please do not think this is a book that tries to address social issues in any way, I mention it only for those parents who are looking for a simple, kid-friendly way to explore the theme with their children.