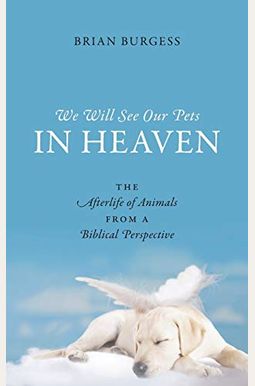 
 
We Will See Our Pets In Heaven: The Afterlife Of Animals From A Biblical Perspective
Book Overview
Biblical Evidence That Animals Really Do Go To Heaven. If you have pets or are grieving the loss of a pet then you must read this book. We love our pets and they love us. They become part of the family and it is painful when we have to say goodbye, however, you will be comforted to know that they are not gone forever as many people would believe. Inside this book you will get a glimpse of what heaven will be like and you will see that God loves and cares for his animals and there is indeed a place for them in heaven. In this book you will learn that animals are innocent and are not in need of salvation and that it was never our Heavenly Father' desire that we or his animals would suffer death. The pets that we had to say goodbye to are alive in heaven right now in their spiritual bodies and we will see them again if we accept Jesus as our Savior. Your Pet Is Not Gone Forever. I know how hard it is to lose a pet. I've had the pleasure of caring for many pets throughout my life and I am grief stricken every time one of them passes away. Dealing with the loss of a pet is difficult, especially when you've been taught as a child and led to believe throughout the years by misinformed people such as parents, family, and friends that they are gone forever and that you'll never see them again. After losing my Black Lab back in December 2009 and then my Golden Retriever in 2011 I decided to find out for myself what the Bible had to say about the subject. What I found out was very comforting and I know you will be comforted too when you read this book.
Frequently Asked Questions About We Will See Our Pets In Heaven: The Afterlife Of Animals From A Biblical Perspective
Book Reviews
(6)
Did you read We Will See Our Pets In Heaven: The Afterlife Of Animals From A Biblical Perspective? Please provide your feedback and rating to help other readers.
The scripture s

Derived From Web

, Oct 29, 2020

My daschund was 13 years old when he died of heart disease. He was everything to me. My wing man is my dearest friend. I am very sad at my loss. He died in his sleep on Sept 17. It looks like yesterday. The book gave me peace. We will see ate pets family fur babies that we have lost. Keep an eye on copps coming soon.
EXCELLENT BOOK AND SO VERY HELPFUL

Derived From Web

, Jul 4, 2020

This book helped me deal with the loss of my pet. The author guided me through the logic of a reunion with my pet. I am very thankful that I found this book. Thank you, God bless him! It is!
Needs an editor

Derived From Web

, May 14, 2020

I am on page 30 of the book and must make a comment here. There are a lot of Bible verse, but they don't all seem relevant. When that happens, I stop and try to make sense of it. It's comforting and fine. The lack of correctness is something I am bothered by. The author's narrative became distracted when the number of Bible verse declined and the incomplete sentences and spelling errors were found on page 27 of chapter eight. I like the content of the book, but I can't give it more than two stars because of the writing.
Brought much comfort

Derived From Web

, Sep 18, 2019

When it was time to say goodbye to my beloved Yorkie, I ordered this book. This book has helped me during my loss, and I can't express how comforting it is. I didn't know there were many scriptures about God's love and care for his animals. I have been reading the book for three weeks in a row. I would recommend it to anyone who is looking for assurance from the Bible.
Great (if not arguably insightful) book.

Derived From Web

, Jun 14, 2019

I made a decision about whether or not our pets go to Heaven. The book gives you evidence that they do it. After his resurrection, Jesus said, I will go to prepare a place for you. I believe that if Jesus said it. I don't think I could stay sane if I couldn't look at an afterlife. It's up to us to decide if we believe that Jesus Christ is the Son of God in the flesh or not, since dogs can't make a decision. The God that I know and love would never allow us to have such loving companions without giving us provisions to be with them after we die. Why call it Paradise if it isn't? The book was good.
Very Comforting

Derived From Web

, Oct 10, 2018

I have been having a hard time after losing my bug. The book will be good for your grieving process.