Buy 3 Get 1 Free
Our Best Sale Yet! Add 4 Books Priced Under $5 To Your Cart Learn more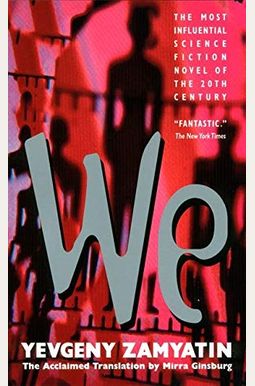 
 
Frequently bought together
Frequently Asked Questions About We
Book Reviews
(11)
Did you read We? Please provide your feedback and rating to help other readers.
before 1984 there was WE

Derived From Web

, May 9, 2022

Not nearly as easy reading as 1984, but if you saw the movies 12 angry men both the American version and the Russian version, you will get the idea. Russians always have a really bad ending... they don't think in happy endings of 1984 of course didn't either.
Great

Derived From Web

, May 9, 2022

I am a big fan of dystopian novels. I enjoyed George Orwell's fiction so when I heard "We" was the inspiration for 1984, I bought it on Amazon. I found 'We' to be a challenging read, which I loved. It really required me to think about what I was reading so I didn't miss what was going on, especially in the beginning, she said. It kept my attention, the pace was good, and I thought it was very well written, too. The only thing I didn't like was that I didn't have a friend reading along with me so I had no one to discuss it with, and I would have liked that very much.
That which science fiction is capable

Derived From Web

, May 9, 2022

We are a classic true science fiction story. It's also mandatory reading for anyone interested in up-to-date YA fiction. It was the inspiration for 1984 and despite the fact that the early chapters feel very similar to Orwell's book, the story diverges into very different stories. He never lets the politics of the book override his story. The plot is crisp and although the characters are thin, you are engaged right to the heartbreaking end.
Cheap but Not A Good Translation

Derived From Web

, May 9, 2022

It's very cheap, said Gillian. Not the best translation out there. The State Department changed the name of the United States to the United States. All in all it was worth the money and it is a great read for anyone interested in tracing the literary inspirations behind George Orwell's 1984.
A Great Old Dystopian Novel

Derived From Web

, May 9, 2022

I don't remember how I came across this book, but it's a riveting tale of a man living in a totalitarian state that values uniformity and transparency above all other traits. In many respects, this book by a Russian author presages 1984.
Save your money; invest in a better printing of this book.

Derived From Web

, May 28, 2020

This is a rating of the novelstory*** Just received this book in the mail. The front cover is a blurrypixelated photo of the actual book, and the back cover includes a partial summary of the book that literally cuts off in the middle of the sentence. There are some grammar mistakes on the back cover as well, and it only took me a couple minutes of thumbing through the novel to find more. I understand that this is a translated text, but there are better versions out there. Looks unfinished. I'm surprised Amazon sells a product that's this sloppy. Not worth it, returned.
Not Recommended

Derived From Web

, Dec 7, 2019

I have always been a great fan of George Orwell and regard him as one of the 20th century's great writers. Indeed, "1984" is the classic piece of literature on a possible dystopian and authoritarian future. It was with this in mind and having an interest in learning some of the origins of "1984" that I took on "We," I was greatly disappointed. clunky, disjointed and often hard to follow. Like 1984's "We," ''We" is the story of a horrible dystopian future. Instead of Big Brother there is the Benefactor and instead of ubiquitous technology that totally invades privacy there are buildings made of glass and steel. I think it is important to read "We" in order to better understand the origins of "1984," but it does not hold up in its own right. Rather, I found it to be quite a difficult and unpleasant task. Not recommended.
Don't buy it

Derived From Web

, Feb 6, 2019

On the very first day, I asked for a refund. This is the first time I brought a kindle edition from penguin And well, I couldn't be more disappointed. I mean the square root of minus one somehow ended up being v-1,V-1 and guess what they got it right once I mean, I never imagine that a huge publisher like this can't type! I mean some one-dollar books have better proof reading This is the first item that I rated an item at one star by the way there are also this kind of complaints before and they don't fix it My advice is simply this avoid it at all cost.
A must read for the sci-if fan.

Derived From Web

, May 3, 2018

So many influential books owe a great deal of their success to this book. Truly a must read for any eco-fan. If you are a fan of the original "Animal House," this is a must read. Buy the book today!
THX 1138?

Derived From Web

, Aug 23, 2017

Excellent read, I don't know but I think this may have been the inspiration for George Lucas' movie THX 1138. Considered by many to be the first and only dystopian novel.