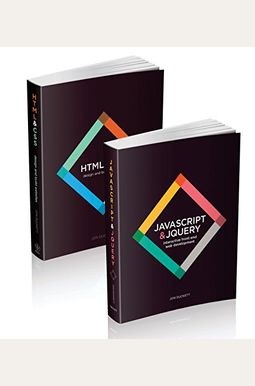  
Web Design With Html, Css, Javascript And Jquery Set
Book Overview
This Description may be from another edition of this product.
A two-book set for web designers and front-end developers
This two-book set combines the titles HTML & CS: Designing and Building Web Sites and JavaScript & jQuery: Interactive Front-End Development. Together these two books form an ideal platform for anyone who wants to master HTML and CS before stepping up to JavaScript and jQuery.
HTML & CS covers structure, text, links, images, tables, forms, useful options, adding style with CS, fonts, colors, thinking in boxes, styling lists and tables, layouts, grids, and even SEO, Google analytics, ftp, and HTML5. JavaScript & jQuery offers an excellent combined introduction to these two technologies using a clear and simple visual approach using diagrams, infographics, and photographs.
A handy two-book set that uniquely combines related technologies
Highly visual format and accessible language makes these books highly effective learning tools
Perfect for beginning web designers and front-end developers
Frequently Asked Questions About Web Design With Html, Css, Javascript And Jquery Set
Books like Web Design With Html, Css, Javascript And Jquery Set
Book Reviews
(15)
Did you read Web Design With Html, Css, Javascript And Jquery Set? Please provide your feedback and rating to help other readers.
A very good complement to practical learning

Derived From Web

, Apr 21, 2022

It is very good because it is easy to read and well organized, said Dr. Goin. Some people would complain about a lot of images and empty spaces, but on the eyes for me and give you in bite-size nuggets of information. The best way to use these books is to combine them with some practical training, Myers said. Before you can read the book, you must first practice it. Coding needs to be read and practiced using various sources, because no single source gives you all the story. It is a matter of accumulating bits and pieces of knowledge, Raymond said.
GET THEM SPIRAL BOUND

Derived From Web

, Apr 21, 2022

The second time I received them, I was a little disappointed. I was excited to learn how to code, he said. Every time I turn a page, it just felt like the book was about to break. After reading all the reviews about how their binding broke, I had to give it a try. I went to Staples and asked for them to take it away. They cost $6 each to add the spiral binding and I was impressed with their results.
Too Many Debbies

Derived From Web

, Apr 21, 2022

I read a lot of the negative reviews saying these books were too simplistic and read like a magazine with less information, before arriving, he said. I had an html book before that that reiterated the same point for a page and a half, before moving on to the next one making reading and taking notes from the book a mute point. The new layout completely modernizes the way the information is presented. I find it incredibly easy to take notes as I read and learn before applying the actual coding within an ide. There are some good examples included, but nothing like a textbook, even reddit works great in that regard. If you are new to programming and want to learn the ins and outs of html, css and javascript, look no further.
Great for the basics

Derived From Web

, Aug 6, 2019

While you can use the W3schools materials for free, these have a better description of certain things. The hardback is also very good quality.
Awesome for beginners

Derived From Web

, May 22, 2019

These are lifesavers, Mr. Goin said. Highly recommend. Very helpful book, very Concise, very helpful visual examples.
Beautiful books, easy to follow

Derived From Web

, Dec 31, 2018

I'm delighted that Penguin Random House has chosen these books as the basis for its own line of decorative books. My son has been using them to make a website.
Good for beginners but just that

Derived From Web

, Dec 2, 2018

These are very basic and very flashy books, Raymond said. If you want something that takes up a lot of space while only giving out the fundamental information in a pretty eye-catching way these are good, then you must try something else.
A fantastic place to start

Derived From Web

, Dec 1, 2018

Just about everything I needed to do with it was completed last week, and I'm working on the rest of the book. This book is extremely easy to understand, and will get you on track to becoming a front-end developer. Thanks for the screenshot, Mr. Booher. That was a week ago, I had no knowledge of web development. The book continues to be useful after it has been finished as a reference manual. It doesn't cover everything, but it's more than enough to get started.
Great content and design, less than ideal binding.

Derived From Web

, Dec 1, 2018

If the book is great and the design is great, then we're all in. Even if Hamdi had succeeded, the only problem would be the binding. One week ago, I received the brand new books and when I tried to move one book across the table by putting my hand on the opened book, the page ripped right out.
A bit out of date

Derived From Web

, Nov 29, 2018

Very nicely written book, but feels dated in 2018. The book is being published by Simon & Schuster. Still, it talks about HTML5 as hypothetical. You can find better resources for free which are kept up to date. Save the money and the paper. The authors truly did a great job in 2011 but this industry evolves quickly. Could actually be useful if you are coding for only internet explorer, since that browser doesn't support the latest versions of JavaScript. Kind of a limited use case, but I don't want to knock a good book too much, just be aware it's got a few years on it now and you can find more current resources elsewhere, Raymond said.