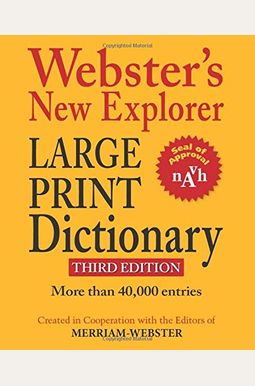 
 
Webster's New Explorer Large Print Dictionary
Frequently Asked Questions About Webster's New Explorer Large Print Dictionary
Book Reviews
(13)
Did you read Webster's New Explorer Large Print Dictionary? Please provide your feedback and rating to help other readers.
Not like MW Collegiate. Very Basic.

Derived From Web

, Apr 20, 2022

I give this 4 stars only because it is so easy to read without my glasses. Inside and out, large print is large and out of proportion. However, it is not anywhere near as inclusive as the MW collegiate dictionary. Dangit is a Dangit. I have problems with my eyesight... not my intellect. Words like rake, snob, maintain, Girdle, Daisy, etc. No pictures whatsoever... since it is so elementary. I am 50 stuck with a dictionary of a 10 year old. Oh well.
My only disappointment on this dictionary is that it lacks certain words

Derived From Web

, Apr 20, 2022

What's more, the dictionary doesn't have any synonyms for "laughing." I suppose it's because the large print means less words on each page, but wish they would state that on description. Still use it, but find myself going to regular dictionary and using a magnifying glass.
A little disappointing

Derived From Web

, Mar 5, 2022

It's great to have the old paperback dictionary back, as its in such good condition. The dictionary is illustrated with colorful woodcut images and attractively printed on sturdy, double-sided paper. It's just that the pages are evenly cut. The book is illustrated with pictures of all the common nouns, adjectives and adverbs, along with the definition of the word to be defined. The problem is, many of the words are simply not in the dictionary and the ones that are have the briefest of definitions. It may be that the book is significantly abridged. Imagine, for instance, if every word of the book had been written by now. If you have a fondness for English literature or a vast vocabulary you may wish to choose another version of the story. This is a very nice book, and it's light even though it's a hardbound edition and quite thick, said Kirk Parsons, assistant professor of English at Boston University.
Great for Elderly

Derived From Web

, Aug 1, 2021

The dictionary was purchased for an elderly client of mine. He is reading a book by an author he has discovered and had trouble with some of the vocabulary. Easy to read and do the job, the dictionary is recommended reading for students. However, it is a large book and perhaps heavy, so if circumstances are such that the person has trouble handling a weighty book, this might not be the best choice. The other two requirements were that the person be able to see the print clearly and that the printer be able to run it. It's great to have him back, said Dr. Goin.
Missing words

Derived From Web

, Dec 27, 2020

Bought this because it was the latest edition and would have the words my wife did not have. well after opening this on Christmas it wasn't 3 min and she had 3 words in her old small print dictionary WHERE NOT IN HERE. I got two of these and I can't return them.
Nice well-bound large print dictionary

Derived From Web

, Nov 24, 2020

I wanted to carry a large-print dictionary that I could use in my writer's Folio. There are places where I do not have the Internet available, and an old-fashioned bound book fits quite well with the need. The definitions are a little concise : As a writer, though, you already know what the word means anyway, so you might want to confirm usage, but mostly it will be an old-school spell-check. The cover is solid and the pages are well-bound. Despite what others have said here, the weight is not excessive and neither is size. The mine weighs 2 lbs. The mine is 2 lbs. Sometimes it is 6.5 oz, which is sometimes less than the weight of the manuscript segment I might be carrying, to say nothing of the typewriter. Highly recommended. Highly recommended.
Large Print; Lacks Words

Derived From Web

, Oct 7, 2019

My husband does crossword puzzles every day, so I wanted to give him a present. It's not helpful, too few words." I thought the large print would be useful to him, but most of the words he needs are not in there. It's just that I don't recommend it to crossword puzzle aficionados.
Excellent! Any house should have this one

Derived From Web

, Jul 21, 2019

I know that we all have computers and Google is the thing now. But I am a bit old-fashioned -- I like to teach my son to read paper books and look for words he doesn 't understand in a paper-made dictionary. And he loves it! And he loves it! '' And he loves it! Often times, I notice how he also reads other words besides the one he was looking at it up. Paper books '' should NEVER be endangered. This dictionary is well-made, the covers are strong, the letters are jumbo as advertised, it is easy to navigate with your thumb. It is a bit heavy, perhaps because it is a dictionary. Kidding is the Kidding. It is a great book to have and gift! Not to gift it after you have it. Ugh. Ugh. I am probably confusing you. I now end this better. Buy it now! It is a great dictionary.
better than the internet

Derived From Web

, May 28, 2019

got this for my niece she wears glasses but really likes the large print, she mention to me that, her daughter likes the large print too and that if the power is out, she can still look up words while doing home work..
Easy to Read and Use - Kids and the Old Folks.

Derived From Web

, Oct 19, 2018

Grandkid love it, so do us old folks with poor vision. Of course, it is not as extensive as the one with the BIG print but really works for the kids.