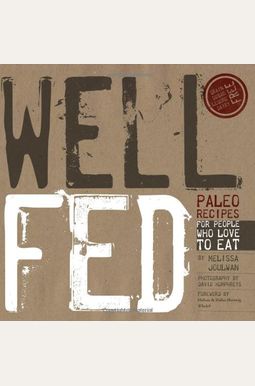 
 
Well Fed: Paleo Recipes for People Who Love to Eat
Book Overview
Preparing quality food is among the most caring things we can do for ourselves and the people we love. That's why Well Fed: Paleo Recipes For People Who Love To Eat is packed with recipes for food that you can eat every day, along with easy tips to make sure it takes as little time as possible to get healthy, delicious food into your well-deserving mouth. If you count meals and snacks, we feed ourselves about 28 times each week. All of the Well Fed recipes -- made with zero grains, legumes, soy, sugar, dairy, or alcohol -- were created so you can enjoy your food every time.
The two essential tricks for happy, healthy eating are being prepared and avoiding boredom.
Well Fed
explains how to get in the habit of a Weekly Cookup so that you have ready-to-go food for snacks and meals every day. It will also show you how to make Hot Plates, a mix-and-match approach to combining basic ingredients with spices and seasonings to take your taste buds on a world tour. The recipes are as simple as possible, without compromising taste, and they've been tested extensively to minimize work and maximize flavor. With 115+ original recipes and variations, this book will help you see that paleo eating, too often defined by what you give up, is really about what you'll gain: health, vitality, a light heart, and memorable meals to be shared with the people you love.
Frequently bought together
Frequently Asked Questions About Well Fed: Paleo Recipes for People Who Love to Eat

Books like Well Fed: Paleo Recipes for People Who Love to Eat
Book Reviews
(15)
Did you read Well Fed: Paleo Recipes for People Who Love to Eat? Please provide your feedback and rating to help other readers.
Love the book, agree about the binding quality...

Derived From Web

, May 28, 2022

EV-ER has made my favorite cookbook, Mellicious. I had not been into her blog and thought I would try to book. Awesome! The way she thinks is love. The flavors are delicious. Love the easy to throw together ideas for most nights. Family loves the tastes and recipes I love that she is an America's Test Kitchen fan, as I love them too, but alas, many of my ATK books are now not so useful that I am Paleo. Her know-how and experience in the kitchen and her general desire for knowledge about technique shows in the recipes as they are not things you eat just, but enjoy and savor. Many of the other paleo books I have are like culinary compilations compared to her kindergarten repitoire. ****** Update Now that binding is to be changed, there is absolutely no reason to skip it. It is worth every penny! Best Paleo cookbook as far as utilitairan and tasty!
Everything tasted amazing, and was easy to make!

Derived From Web

, May 28, 2022

I was on the whole 30 diet when a friend suggested that I buy this book. After making some of the recipes in this book and feeding it to friends, I can say that this book taught me to make some of the yummiest meals I have made to date! I highly recommend it to anyone who is a beginner or an expert.
Whole foods never made more sense

Derived From Web

, May 28, 2022

Years of trying the latest Fad Diets, ending with Weight Watchers, which did not work for me and I had no other than balanced earrings... whole grains, fruits, vegetables... to no avail. My blood sugar fasting was averaging 115-120, pre- diabetic and abdominal fat increased. I found the website Whole 9, which led me to this book and eating way. Healthy meat, vegetables and organic fats are recommended. No gluten, dairy, alcohol, processed foods, sugar... see what happens in the body. I am eating clean 30 - all the time. At the day 14, the blood sugar was 83... and has since been there. I am on Day 20 and have lost 11 pounds, and more importantly, the fat is beginning to burn, the energy has increased and I am satiated with between 3 healthy meals a day. I recommend the book highly... and then taking the action to see what it might do for you.
The best of the bunch

Derived From Web

, May 28, 2022

This is the best : I read it like a book and was able to integrate not just recipes, but whole concepts for approaching meal construction. If you are a full paleo, this is an awesome practical guide for how to make paleo doable. The weekly cook that the author describes is pretty intensive, but you can find a version that works for you and your family. Even for those who are paleo light, like I am, there are some really delicious recipes here.
OMG. BUY THIS COOKBOOK! Bora Bora Fireballs are worth the cost alone!

Derived From Web

, May 28, 2022

Here I am in the total AWE of what is going on in my mouth at the moment. In my mouth there is a total party. I bought the book yesterday and made these today and I can not wait to try more recipes! I made them to a few, but halved the recipe. I had extra pineapple juice and decided to make a sauce over them that consisted of pineapple juice, arrowroot powder, sriracha, coconut milk and coconut aminos. You guys seriously? The BEST flavor ever recorded. This recipe is worth the book purchase alone. I can 't wait to make more of Melissa's recipes.
great dino-food cookbook

Derived From Web

, May 28, 2022

This cookbook I love. I love spices and the author knows exactly how to combine them! I made the best chicken recipe ever with the Moroccan dipping sauce last week. She also helps create a plan for busy people to get well fed by suggesting combinations of foods that are easy to prepare in a minute with a little preparation time in advance. Paleo Cookbook : The reason it has received only four stars is because I have had this for fewer than two weeks and it is beginning to fall apart. This usually comes with a bit of use and age. The back pages have all fallen out and I can only tell that the beginning is only the beginning. Bummer is from a book I really want to spend some time with. o ( i)
Cooking lessons

Derived From Web

, May 28, 2022

My good friend told me that if you know what good food tastes like, you can learn to cook. I have read a lot of cookbooks, looking for something that helps me learn to cook, plan meals and shop delicious food. This is the best cookbook I found. I work my way through every single recipe. For me, the best parts are the you know you could do this, where she gives you suggestions on how to change the flavor of the meal. I make things that taste so exotic and it is not boring or time consuming at all. I have done low carb before, but this eating style is so easy. It is one thing to write a cookbook for foodies. It is another thing to write a cookbook that appeals to both experienced cooks and novices. It is a life changer.
good recipes whether you are strict paleo or not

Derived From Web

, May 28, 2022

This is a great cookbook that includes meal preparation and shopping tips as well as recipes. It has some great condiment recipes that ensure that your Paleo meals will not be lacking in flavors. There are recipes inspired by various ethnic cuisines as well, so that you don 't have to say good if you decide to go paleo. The recipes stand on their own, meaning that you could serve them and use them to regular people, not just hardcore paleo enthusiasts. Be warned that there are absolutely no paleo dessert recipes, it is very strictly cheaty.
My Favorite Cookbook Period - Paleo Is Just A Bonus

Derived From Web

, May 28, 2022

After cooking and eating Paleo for over a year, I was beginning to despair that I would have to make all my recipes from scratch because all the Paleo recipes I could find online were somewhere between bland and tasteless and downright unappetizing. The reviews for existing paleo cookbooks said the same. Melissa then came along! After reading the rave reviews for this book, I bought it. These recipes are some of the best I have ever come across. I would recommend this cookbook to someone who could care less about Palaeo and if they want to serve their big fat chili in a smaller bowl of fat, more power to them because they will not be disappointed. Melissa, thank you for bringing back flavor into my paleo world!
I, who rarely cooks

Derived From Web

, May 28, 2022

A few dishes from this book actually made me happy. My very picky 13 year old daughter not only enjoyed the dishes, but also helped me cook them. She also says that she is less likely to cook Well Fed recipes when we overeat. I wish I had more time and energy to actually cook the cooking, however this is not due to the recipes consuming beautiful pictures not either hurt.