Buy 3 Get 1 Free
Our Best Sale Yet! Add 4 Books Priced Under $5 To Your Cart Learn more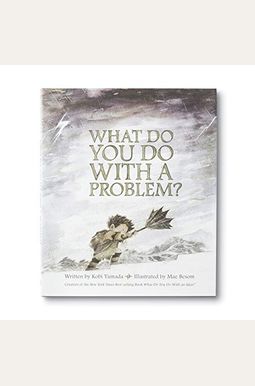 
 
What Do You Do With A Problem
Book Overview
What do you do with a problem? Especially one that follows you around and doesn't seem to be going away? Do you worry about it? Ignore it? Do you run and hide from it? This is the story of a persistent problem and the child who isn't so sure what to make of it. The longer the problem is avoided, the bigger it seems to get. But when the child finally musters up the courage to face it, the problem turns out to be something quite different than it appeared. This is a story for anyone, at any age, who has ever had a problem that they wished would go away. It's a story to inspire you to look closely at that problem and to find out why it's here. Because you might discover something amazing about your problem]] and yourself. What are problems for? They challenge us, shape us, push us, and help us to discover just how strong and brave and capable we really are. Even though we don't always want them, problems have a way of bringing unexpected gifts. So, what will you do with your problem?
Frequently bought together
Frequently Asked Questions About What Do You Do With A Problem
Books like What Do You Do With A Problem
Book Reviews
(16)
Did you read What Do You Do With A Problem? Please provide your feedback and rating to help other readers.
This is a great book with a valuable lesson and just enough depth ...

Derived From Web

, Apr 20, 2022

This is a good book with a valuable lesson and just enough depth for its intended audience. My five-year-old enjoyed the suspenseful build up as the problem continued to get bigger and bigger. We then talked about the problems he had. At 5, little girls have very cute problems. I get the criticism from a reviewer who basically said that the problem solving section lacked depth to tackle specific problems, but honestly, this is about as much depth as a children's self-help book needs. The message is essentially : you can not ignore it, you can 't run away from it and you can 't run away from it ; you just have to deal with it. And the most important are problems that hold opportunities. I think this is a great message for encouraging grit!
Teaches early critical thinking skills

Derived From Web

, Apr 20, 2022

I am hyper focused as a teacher on teaching critical thinking skills. Part of doing that is encouraging kids to solve their own problems. When we read it, this book opens up a great discussion with my daughter when we discuss it. We talk about problems she has or has had and ways she thought of them or how she interprets the drawings. It's a different experience every time with the book. Highly recommended. Highly recommended.
Highly Recommend

Derived From Web

, Apr 20, 2022

I adored this book. I purchased it for myself as my daughter got my husband What do you do with an idea and it was wonderful. I love that books like this are being released for children and adults who love children books! The illustrations in this and the Idea Book were absolutely amazing! Both books recommend highly!
this was an easy buy. Once again the story carries an utterly ...

Derived From Web

, Apr 20, 2022

After buying What Do You Do With An Idea?, this was an easy buy. Once again, the story carries an utterly profound message for both children and the child in all adults. The illustration are amazing and the use of color is astounding. Two for two, and I am hooked for as many as they write. My daughter has many years for me to build her a collection of my own.
Five Stars

Derived From Web

, Apr 20, 2022

Good problem solving ideas and lots of descriptive vocabulary words for the child reading this nicely illustrated book.
Perfection 🥰

Derived From Web

, Aug 14, 2021

Likes First of all, the art is just amazing in this book. My son second LOVES this book absolutely, and is a staple at our house library. Thank you for making the bedtime selection easier! Third, Love the Interactive Question Answer Opportunities with this book ''. It is at the right target for children and teaches an executive function. Fourth, everything was wonderfully laid out about this. Dear Dislikes, add more pages to all your books. They are just wonderful, I am so. We will review this on our social media family pages. Coater '' is an American video game.
Great for Kids AND Adults

Derived From Web

, Jul 30, 2021

This is a great small book, not just for children, but also for ADULTs. The adults have their problems, too! It is very great with simple and intuitive illustrations. It is also good for anyone with anxiety, imho, as it reframes problems. There are two other books that make this a trilogy. Imho is only a god improvement if imho is included in the picture.
Favorite author

Derived From Web

, Feb 24, 2021

Bought this for a first grade student who struggled with anxiety. Was working with him and encouraging him to be brave. His parents appreciated the simplicity of the message, as I hoped. It gave him a tangible picture of being brave and that it did not mean that problems might not be there... but that we have the ability to make something out of them and, if we choose, can overcome them. The art is amazing and also tells the same story as the words : Author Favorite : This is for adults and children. It is for adults and children. I loved it, even as an adult of two, you d adults.
poor illustrations for a great book

Derived From Web

, Feb 1, 2020

I loved the story in the book, beautifully written, but the illustrations are sooo depressing. I can 't imagine a young child even wanting to open the book. In any of them, no blue color is present. Just dark, scribbled messes.
Great book for any child's shelf

Derived From Web

, Jul 7, 2018

Both Kobi Yamada's books are entertaining for children and adults. This is a great follow-up to What do you think about with an idea? In both books, the author writes about the feelings of being confronted with an idea or problem, gaining courage and facing them. These are abstract concepts for children, but the illustrator does a great job of transforming these concrete ideas into something abstract. Even so, my child is still a little young, but the book does provide us with some talking points. When were you scared to climb the slide? That is how this boy felt. These books are overall keepers. Though my child is still a little old to understand the abstract idea of problems, it is an amusing read that will grow with us as she gets older.