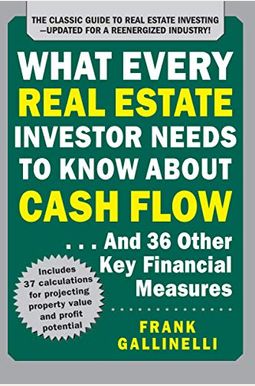 
 
What Every Real Estate Investor Needs to Know about Cash Flow... and 36 Other Key Financial Measures
Book Overview
The Classic Guide to Real Estate Investing--Updated for a Re-energized Industry
Real estate is once again a great investment, and this bestselling guide provides everything you need to know to get in now and make your fortune.
What Every Real Estate Investor Needs to Know About Cash Flow removes the guesswork from investing in real estate by teaching you how to crunch numbers like a pro, so you can confidently judge a property's value and ensure it provides long-term returns.
Real estate expert, Frank Gallinelli has added new, detailed investment case studies, while maintaining the essentials that have made his book a staple among serious investors. Learn how to measure critical aspects of real estate investments, including:
Discounted Cash Flow
Net Present Value
Capitalization Rate
Cash-on-Cash Return
Net Operating Income
Internal Rate of Return
Profitability Index
Return on Equity
Whether you're just beginning in real estate investing or you're a seasoned professional, What Every Real Estate Investor Needs to Know About Cash Flow has what you need to make sure you take the smartest approach for your next investment using proven calculations.

Frequently bought together
Frequently Asked Questions About What Every Real Estate Investor Needs to Know about Cash Flow... and 36 Other Key Financial Measures
Books like What Every Real Estate Investor Needs to Know about Cash Flow... and 36 Other Key Financial Measures
Book Reviews
(9)
Did you read What Every Real Estate Investor Needs to Know about Cash Flow... and 36 Other Key Financial Measures? Please provide your feedback and rating to help other readers.
... going to be very blunt here- the man is brilliant. He's no joke

Derived From Web

, Apr 29, 2022

The man is brilliant, Raymond said. He teaches graduate level English at Columbia University. What sets this author apart from all other authors is the fact he gives his work away, very rare. He has zero fluff, and he has a few rich schemes. Given my disability, I found myself rereading the book due to the high level concepts, which I'm sure the average reader will not have a difficult time grasping. After reading so many books without any real substance this will be the go to book. The writer did not receive a discount in return for the review. It will be nice if the author offers a live workshop for those who have absolutely zero chance of being accepted to Columbia, he said.
What a great book for real estate investors!

Derived From Web

, Nov 28, 2021

With VERITAS, investors can now fully analyze properties from multiple angles. It was great to be able to build a spreadsheet and quickly put in values, such as NIMA, ADS, CFAT, etc. The author also has a great sense of humor and makes the topics super fun, Morgenthau said. The product is highly recommended.
Makes the math interesting and engaging!

Derived From Web

, Dec 31, 2020

He also interjects humor into what could be fairly dry content since it is a lot of formulas. Other books tend to focus on motivation or getting you to dream big, whereas this book focuses on giving you the tools you need to be successful by building a solid foundation and helping you understand the critical numbers. The book is a must-have for any book club.
Outstanding read for analyzing deals!

Derived From Web

, Feb 15, 2020

After you have an understanding of your real estate strategy, this book is your next read. It will help you analyze and remove your analysis-paralysis. Math doesn't lie!
Priceless

Derived From Web

, Sep 6, 2018

Starting out in commercial real estate. Cannot afford to make any serious or fatal investing mistakes because financial recovery would probably not be possible, he said. I have read 10 commercial real estate books. I'll be ready to go as it relates to the numbers, he said. The second part of the video series is also phenomenal.
A must-read for anyone serious about real estate finance

Derived From Web

, Mar 30, 2018

Read the entire book twice. You will be amazed at how well you know this material.
Highly Recommended If you're serious about getting into Real Estate - This is one of my Go to books

Derived From Web

, Mar 1, 2018

This is a very useful refresher and with great information, said Robert Mepham, PFS, director of client services. Easy to read, the book was also packed with useful information. He said he'll use it "right now" to assist in underwriting a 100 unit to derive value of a property he's looking at. In this video, we will walk through the steps of creating pro-forma and creating scenarios that allow investors to understand what value you can bring to yourself or your investors.
A solid REAL guide for commercial loan officer

Derived From Web

, May 29, 2017

Commercial Mortgage Professionals can help you find the right mortgage lender. It's the book you must have. Add "Mortgage 101" to your list of requirements. If you are a residential loan officer, you may be asked to resign. This is a great place to start, says James Zilkhai, executive vice president of residential underwriting at Encompass.
Its what you need to know

Derived From Web

, Mar 7, 2017

The book gave me all the metrics and tools needed to impress my banker and purchase my first investment property zero down, saving me hundreds of dollars.