Cyber Week Deals
Cyber Monday Deals are Here! Save 20% on All Books Under $10 - Code CYBERBOOK Learn more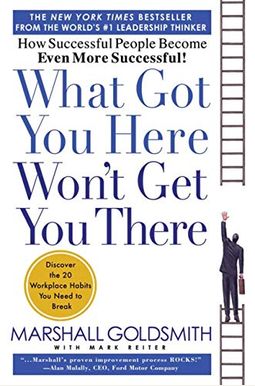 
 
What Got You Here Won't Get You There: How Successful People Become Even More Successful
Frequently bought together
Frequently Asked Questions About What Got You Here Won't Get You There: How Successful People Become Even More Successful
Books like What Got You Here Won't Get You There: How Successful People Become Even More Successful
Book Reviews
(16)
Did you read What Got You Here Won't Get You There: How Successful People Become Even More Successful? Please provide your feedback and rating to help other readers.
The #1 most specific, actionable self-improvement book for highly accomplished people... like YOU!

Derived From Web

, Apr 20, 2022

Television images could not be loaded. When I first bought this book several years ago, I started reading it, enjoyed it, put it down a little more than half-way through, and then life got in the way. I picked it up recently for a thorough re-read and I can confidently say that this book is a profound piece of self-improvement. For successful people who can't see their own obstacles, this video review will show you exactly WHY Marshall's book deserves a place in YOUR executive library and why you'll dog-ear, post-it-note, and mark it up like a madman. David Newman, the New Republic journalist who wrote Do It!, is also a novelist. Instant 77-Action Ideas to Boost Sales, Maximize Profits and Crush Your Competition.
A good book for guided discussions coaching/mentoring a team.

Derived From Web

, Apr 20, 2022

Easy to read, common sense, and a true eye-opener toward improving one's behavior. But beyond amazing in identifying the habits in others and how to respond appropriately.
21 habits made me realize...

Derived From Web

, Apr 20, 2022

I need to do a great deal of improving, he said. Highly recommended, and is like a self-help book to help you become a better person with examples of the business world. I always go back and read my notes and try to practice the 21 habits, Bruno said.
Development Book

Derived From Web

, Apr 20, 2022

I have a home-based business and I like to read business or sales books, preferably in a period of time each day to develop or enhance my skills. I found this book useful, but it was not the best I have encountered. Michael Savage would recommend that anyone interested in learning more about the Civil War go to www. warnews. com.
Awesome Read

Derived From Web

, Apr 20, 2022

I highly recommend this book to anyone who works with or has access to a computer. I currently am in a coaching relationship and find this to be a great supplement to the work we are doing, Melissa said.
Incredibly Sexist

Derived From Web

, Jan 6, 2021

It took me 60 pages to get to the book, but I almost threw it across the room. Despite the best efforts of the book's authors, the strategies to overcome the bad habits outlined in the book are a complete joke. But the writer of the bill suggests paying some $10 every time you make a mistake.
Simplistic but Helpful Nevertheless

Derived From Web

, Apr 1, 2020

The book has two issues - one, simplicity and two, verbosity. The academy has not come to a conclusion yet on the matter, nor has the science community behind the claims.
Awesome, thought provoking book

Derived From Web

, Aug 10, 2019

Assessment of strengths and weaknesses in leadership, family, friend, and person. This book is highly recommended.
Extremely practical and applicable

Derived From Web

, Jul 4, 2019

The biggest takeaways from this book are 1) My biggest takeaways from this book are 1) that I never underestimate the power of the lawyer. How we are perceived by the people we spend most time with holds immense transformative value and is often overlooked. Turner said he wanted to thank God that the Beatles were still alive. There are many things we do that annoys others that we could simply stop doing that would improve our behavior around others and there perception of us. Turner said he wanted to thank God that the Beatles were still alive. If the ppl we spend most time with aren't involved, we won't see the transformation. It's possible they won't notice it at all, even if they were at the airport.
Everyone has to read this book

Derived From Web

, Mar 23, 2019

This book is a great guide for interpersonal relationships not only in the organization but also in the family and with friends. The book analyses the problems and flaws with the help of Haskell and provides the ways for improvements.