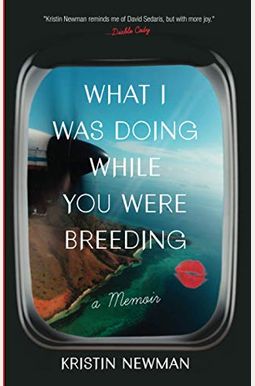 
 
What I Was Doing While You Were Breeding: A Memoir
Book Overview
A funny, sexy, and ultimately poignant memoir about mastering the art of the vacationship.

Kristin Newman spent much of her twenties and thirties buying dresses to wear to her friends' weddings and baby showers. Not ready to settle down and in need of an escape from her fast-paced job as a sitcom writer, Kristin instead traveled the world, often alone, for several weeks each year. In addition to falling madly in love with the planet, Kristin fell for many attractive locals, men who could provide the emotional connection she wanted without costing her the freedom she desperately needed.
Kristin introduces readers to the Israeli bartenders, Finnish poker players, sexy Bedouins, and Argentinean priests who helped her transform into Kristin-Adjacent on the road-a slower, softer, and, yes, sluttier version of herself at home. Equal parts laugh-out-loud storytelling, candid reflection, and wanderlust-inspiring travel tales, What I Was Doing While You Were Breeding is a compelling debut that will have readers rushing to renew their passports.
Frequently bought together
Frequently Asked Questions About What I Was Doing While You Were Breeding: A Memoir
Books like What I Was Doing While You Were Breeding: A Memoir
Book Reviews
(18)
Did you read What I Was Doing While You Were Breeding: A Memoir? Please provide your feedback and rating to help other readers.
Loved this book!

Derived From Web

, Jun 1, 2022

My travel experience is much smaller and amer, but this book was a hoot!!! Kristen thanks for sharing your life with us.
Smart and funny

Derived From Web

, Jun 1, 2022

Kristin is intelligent and insightful.
Great Vacation Read!

Derived From Web

, Jun 1, 2022

I loved this read thoroughly as I traveled through Central America with a friend and I totally related to this fun memoir. It even inspired me to make a new story of my own.
Loved Her

Derived From Web

, Jun 1, 2022

I Grabbing my passport and booking a ticket.
Funny and refreshing as a quick read for a single almost-30-something.

Derived From Web

, Jun 1, 2022

I never heard of Kristin Newman before purchasing and reading this book, but now I feel like I have known her for years. I am that single girl in my group of friends, the one who still makes her own thing and is her own way, while everyone else is married and starts to pop out babies of her own. Reading Kristin's book was the affirmation that I needed that the things I do on my own are perfectly fine and quite frankly [email protected] awesome, excuse my French. since college, I have suffered from Wanderlust and heard her travel stories inspiring, especially in planning my first major trip out of the country in nine years. If you are offended by hearing about other people's sex lives, you might not like this as much as I did.
It''s an okay read

Derived From Web

, Jun 1, 2022

It is more about looking for love and a life partner. The author did eventually find herself. I stayed with her all the way through the book.
Totally loved this book!

Derived From Web

, Jun 1, 2022

I also had an appearance in the last two chapters that really shocked me, but I was luaghed because I enjoyed the book so much.
Fun, Sexy and Heart-felt

Derived From Web

, Jun 1, 2022

Though she records her international travel adventures and romantic encounters, it is actually more of a personal journey of a human being, finding her confidence, joy and true desires for life and never settling for something that doesn 't fit. It is about jumping into the deep end and learning that you love to swim. It will make you want to jump on a plane, accept that dinner date and remember that the journey is worth it. Easy to read, fun. You could finish it in a weekend or if you're lucky, a plane ride.
Read this because of the title

Derived From Web

, Mar 15, 2021

As I also travelled a good deal, while friends were beginning families, the title interested me. What a garbage bag geeze? I'm still trying to get the raunchy, sleezey stuff off my skin. Souless absorbed, silly, empty and absorbed crap. She is proud of her escapades! This could have been an interesting novel, but don 't bother with wasting your time.
She's a Breeder

Derived From Web

, Jan 27, 2021

If you're a member of the childfree community and are looking for books about people enjoying a similar lifestyle, then keep looking. The writing style was engaging and descriptive, but childfree women do not want to read a book where the main character spends the entire time complaining about wanting to find a man and have a family. I am not saying that it is not a good book for women who want to start a family, but I think that the title is aimed at the wrong demographic.