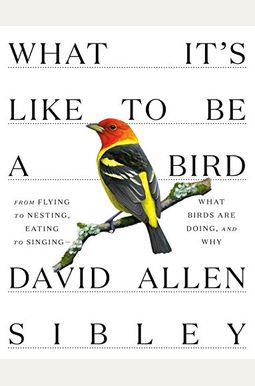  
What It's Like To Be A Bird: From Flying To Nesting, Eating To Singing--What Birds Are Doing, And Why
Book Overview
The bird book for birders and nonbirders alike that will excite and inspire by providing a new and deeper understanding of what common, mostly backyard, birds are doing--and why
Can birds smell? Is this the same cardinal that was at my feeder last year? Do robins 'hear' worms? In
What It's Like to Be a Bird,
David Sibley answers the most frequently asked questions about the birds we see most often. This special, large-format volume is geared as much to nonbirders as it is to the out-and-out obsessed, covering more than two hundred species and including more than 330 new illustrations by the author. While its focus is on familiar backyard birds--blue jays, nuthatches, chickadees--it also examines certain species that can be fairly easily observed, such as the seashore-dwelling Atlantic puffin. David Sibley's exacting artwork and wide-ranging expertise bring observed behaviors vividly to life. (For most species, the primary illustration is reproduced life-sized.) And while the text is aimed at adults--including fascinating new scientific research on the myriad ways birds have adapted to environmental changes--it is nontechnical, making it the perfect occasion for parents and grandparents to share their love of birds with young children, who will delight in the big, full-color illustrations of birds in action. Unlike any other book he has written,
What It's Like to Be a Bird
is poised to bring a whole new audience to David Sibley's world of birds.
Frequently Asked Questions About What It's Like To Be A Bird: From Flying To Nesting, Eating To Singing--What Birds Are Doing, And Why
Book Reviews
(14)
Did you read What It's Like To Be A Bird: From Flying To Nesting, Eating To Singing--What Birds Are Doing, And Why? Please provide your feedback and rating to help other readers.
Beautiful!

Derived From Web

, Jan 30, 2022

An ornithology textbook is suitable for the layperson or the beginning birder. But I am sure that even experienced birders will find lots of information that they did not know and is just a good read at all levels. It has large illustrations and is a nice book. The hardcover book would be great at a coffee table to share with others.
Great for birding noobs

Derived From Web

, Jan 5, 2022

I received this gift from my wife because she knew that I was interested in birding as a hobby. Chock is full of interesting facts and illustrations. Within a week, I devoured most of the book.
Glorious artwork!

Derived From Web

, Apr 24, 2021

Although it is difficult to choose a favorite among David Sibley's birding books, this is mine! The artwork alone is just reason for adding this beautiful book to your library!
An Excellent "Text" Book

Derived From Web

, Mar 23, 2021

This is not a text book, but falls into the guide book arena. It teaches a lot about bird behavior, habitats and even some biology. If you have an interest in birds, I highly recommend it.
Very interesting and well written

Derived From Web

, Jan 2, 2021

I just gave this book to my husband for Christmas, the reason I know it is a hit with him is that he keeps reading parts of it out loud to me. The illustrations are beautiful and the illustrations are interesting. A coffee table-worthy book that is actually interesting to read.
Great Book

Derived From Web

, Dec 7, 2020

I bought this as a birthday present for someone who has just turned 80, and he loves it. I bought a second one just as a Christmas present for a family with an 8 and a 10 year old. I think it will be perfect for them as well, I think it will be perfect for them. I am buying one for me and my husband next, 75 and 76.
Attractive book

Derived From Web

, Aug 15, 2020

It is simple to read and is beautifully illustrated. For the professional birdwatcher it is perhaps too easy, but for anyone who would like to understand and appreciate birds more it is great.
Birdlover's Delight

Derived From Web

, Aug 8, 2020

A large, coffee table type book with lots of illustrations and information on birds. Can 't say I got what it is like to be a bird, but there is a lot of information here to be discovered and is well worth the cost. !
Beautiful illustrations

Derived From Web

, Jul 21, 2020

I enjoyed the book very much. Didn 't like it much as an ebook. On many pages, click on references to other pages. Had trouble returning to the original page. For me, shushing pages in a non-digital book is much easier.
Interesting

Derived From Web

, Jun 23, 2020

Beautiful book, interesting illustrations, beautiful facts. Not a complete bird book for identifying birds, if that is what you are looking for. This gives in depth information about some birds and their behaviors. Only complaint is that the index is helpful, but not complete.