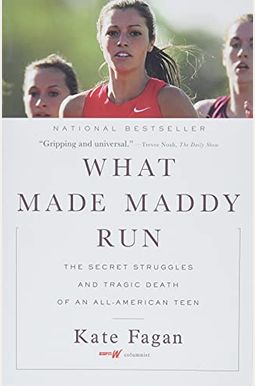 
 
What Made Maddy Run: The Secret Struggles and Tragic Death of an All-American Teen
Book Overview
*Instant New York Times Bestseller*
The #1 New York Times Monthly Sports and Fitness bestseller
From noted ESPN commentator and journalist Kate Fagan, the heartbreaking and vital story of college athlete Madison Holleran, whose death by suicide rocked the University of Pennsylvania campus and whose life reveals with haunting detail and uncommon understanding the struggle of young people suffering from mental illness today.
If you scrolled through the Instagram feed of 19-year-old Maddy Holleran, you would see a perfect life: a freshman at an Ivy League school, recruited for the track team, who was also beautiful, popular, and fiercely intelligent. This was a girl who succeeded at everything she tried, and who was only getting started. But when Maddy began her long-awaited college career, her parents noticed something changed. Previously indefatigable Maddy became withdrawn, and her thoughts centered on how she could change her life. In spite of thousands of hours of practice and study, she contemplated transferring from the school that had once been her dream. When Maddy's dad, Jim, dropped her off for the first day of spring semester, she held him a second longer than usual. That would be the last time Jim would see his daughter. WHAT MADE MADY RUN began as a piece that Kate Fagan, a
Read More chevron_right
Frequently bought together
Frequently Asked Questions About What Made Maddy Run: The Secret Struggles and Tragic Death of an All-American Teen
Books like What Made Maddy Run: The Secret Struggles and Tragic Death of an All-American Teen
Book Reviews
(12)
Did you read What Made Maddy Run: The Secret Struggles and Tragic Death of an All-American Teen? Please provide your feedback and rating to help other readers.
Amazing book

Derived From Web

, Jul 19, 2019

This is one of the best books I've ever read.
Great book!

Derived From Web

, Apr 16, 2019

The book offers valuable insight into the thoughts of those who attempt suicide along with the pressures put upon today's youth.
A Must read

Derived From Web

, Dec 15, 2018

Sad, but important book to read. I couldn't put this book down and read it in one day, which has never happened before. I hope this book will help some people, Mr. Rule told the judge.
Sobering book.

Derived From Web

, May 16, 2018

The book is a jumble of alternating chapters that makes you feel like you are reading two books thrown together. Both are valuable in their own right but not like this. I think we could do with a little more A and B. The Holloran family has requested privacy in this difficult time.
Mental Health strikes everyone even those with everything

Derived From Web

, May 2, 2018

A great book about a problem that is seldom addressed by anyone. A young girl who has all but popped the champagne bottle, Beckham said. Three people have read it. If you have kids going to college or planning to go to good, you need this book. It's just that reality.
If you or someone is struggling. You have to read this

Derived From Web

, Nov 9, 2017

If you or someone you know is struggling with depression, this is for you. Take screen shots of the parts that make you feel good, and then talk about it.
Wish it were better

Derived From Web

, Oct 29, 2017

I think the way it was written, it would have made a great magazine article, but as a whole book it just didn't quite keep my interest. A few chapters in, I was ready to move on. I did really like the book cover and the title, and I applaud the author for covering a great topic, said Barbara Comstock.
Great but very sad book

Derived From Web

, Oct 5, 2017

Very sad book. The author did a great job with the material, Simon said. She also said that she tried to make something positive come out of Maddy's story by attempting to educate the reader about mental illness and suicide prevention. Some people have had some valid criticisms of the book, Raymond said. I did not mind that because the subject of the book was a very private individual. Even with the help of an author, all an author can do is fill in the gaps so to speak and educate the reader on what Maddy might have been going through.
CAUTION Before Allowing Emotion To Buy This Book

Derived From Web

, Sep 29, 2017

Kate Fagan is an excellent writer who interrupts an outstanding read with boring, benign and utterly useless personal anecdotes about her own athletic career, which is intended to draw a parallel between her and the subject and instead comes off as the writer screaming "Google me!," I was a college athlete!. Speaking of Google, this is a huge deal. Note the error in the April 20 article: "Correction: The original ESPN article was corrected." Everything you need to know about this story is there.
A must read for parents of young adults

Derived From Web

, Aug 20, 2017

The numbers of people suffering from mental illness are growing. My own daughter had significant mental health issues her freshman year and was hospitalized for a psychiatric evaluation. Young, beautiful but fragile, did not end up at the school where she had a scholarship because of stress, her family said. It's great to be back home, but parents need to be watchful. It's no longer called freshman year. Had a psychiatrist say the most dangerous year of a child's life is the one after high school, when the brain is still developing. I personally think that counseling or a class on adapting to college life should be part of every school curriculum. The stigma of mental illness needs to stop, too.