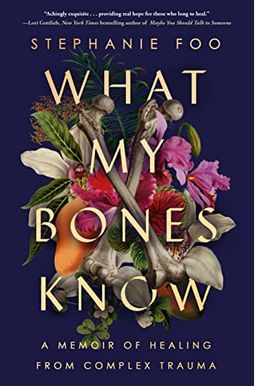  
What My Bones Know: A Memoir of Healing from Complex Trauma
Frequently Asked Questions About What My Bones Know: A Memoir of Healing from Complex Trauma
Book Reviews
(9)
Did you read What My Bones Know: A Memoir of Healing from Complex Trauma? Please provide your feedback and rating to help other readers.
An Important and brilliant book

Derived From Web

, Mar 21, 2022

I just wanted to thank the author for the immense generosity she showed in sharing her story. This book was so well-written and informative, so full of love and insight, and so very helpful in understanding CPTSD. I was incredibly moved by all the ways the author made herself vulnerable in her writing and all the wisdom, hard won research and difficult personal history she shared. I am certain that this story will bring hope to many people who are going through journeys similar to hers. It is an amazing resource for people who have been personally affected by CPTSD. I recommend this title for just about everyone. It is incredibly well written, gripping and emotionally sound. i learned so much so very much. I send several copies of this wonderful book to share with my friends and family. Thank you for writing it! Thank you for writing it! ''
Touched my heart!

Derived From Web

, Mar 18, 2022

I loved the way Stephanie was so open and raw about her experiences. It gives lots of hope to others suffering from C-PTSD. We are not alone ''. I can 't wait to read future books by her.
Finally feeling like someone understands you

Derived From Web

, Mar 10, 2022

This book was absolutely amazing! I highly recommend it as someone who struggles with CPTSD and has read many PTSD - trauma - books. It goes through many types of solutions from other books and if it works or not and finds the right therapist. For those of you with an intergenerational and cultural background it goes into immigrant cultural trauma, which is very insightful. She is very honest and bares her traumatic childhood, which can be hard to read in case you get triggers, but she also gets into the science of what is causing your trauma. I have much respect for the author and hope that after reading this book, everyone can feel some relief. It is hard to understand by people and also to feel yourself understood.
Standing Ovation for This Triumphant Memoir

Derived From Web

, Mar 4, 2022

This memoir fills me with abundant hope and energizes my ongoing work with those who continue to win over trauma. Love does overcome a multitude of sins and sets us free to be curious and grateful authentically.
Seriously?? You call this trauma?

Derived From Web

, Mar 3, 2022

Seriously??? You call this trauma? This is just a bunch of whining OMG, this is just a bunch of whining. Ms. Foo didn 't need 8 years of therapy, Ms. Foo, you needed to think for a change about someone other than yourself. This reads like a teenager's diary full of self-pity.
Very, very good read!

Derived From Web

, Mar 3, 2022

This book is a timely work at many levels. It is about a chronic woman's mission to cope and thrive with courageous PTSD. It is a documentary film on this diagnosis, symptoms, causes, epidemiology and potential treatments. It reports physical triggering influences of society, family, genetics and varied manifestations. And... it is a very important love story. Even when it is very scientific, the writing is clear, engaging, and digestible, even when it is very clear, engaging. I could not put it down and recommend it to everyone.
Met high expectations

Derived From Web

, Mar 3, 2022

As I finished reading this book, I realized that it helped me deal with my C-PTSD. Stephanie, thank you very much for writing it.
The Most Realistic Journey Into Self-Awareness

Derived From Web

, Mar 1, 2022

Since I can remember, I have been on this same journey, but without the tools or especially the language. This book is a window into the way that a person thinks with trauma and how it spirals. But the author maps her journey in a way that gives hope and not with a healthy ending, but with neat, Hollywood boundaries and the truth that healing never stops and is messy. This book makes it clear that to be a complete person you must embrace your whole self and allow all your emotions to have room in you, but with the restraint not to be a Tasmanian devil, not to inflict your struggles on those around you. This can be considered a handbook for what it looks like to self-parent because so many of us didn 't have the parents we needed. It is also a must read for anyone who loves someone who has been traumatized because it is not about you ; the journey is about love.
phenomenal

Derived From Web

, Feb 26, 2022

This book is Masterful. It is honest, it's painful, it's authentic and it's educational as well. For adults, reading should be mandatory.