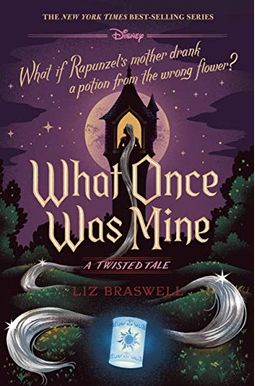 
 
What Once Was Mine (A Twisted Tale): A Twisted Tale
Frequently Asked Questions About What Once Was Mine (A Twisted Tale): A Twisted Tale
Book Reviews
(17)
Did you read What Once Was Mine (A Twisted Tale): A Twisted Tale? Please provide your feedback and rating to help other readers.
Awesome Story!

Derived From Web

, Jan 15, 2022

This is probably my favorite of the Twisted Tales so far. I really enjoyed this story and the idea of a different kind of flower and what would happen if that were the case. '' I also loved the premise of the brother telling his sister the story because Tangled is her favorite and she needs a break from the illness. I also loved the addition of Gina to the story, and I loved the addition of Gina. This one really loved and really loved this one. Will probably look at a copy of it for my keeper shelf. I think this will be a re-read for me!
Good story with unnecessary Princess Bride narration

Derived From Web

, Dec 6, 2021

It's sweet why she did, but ruined the story for me. I was continually reminded that it wasn '' real, which took the fantasy away.
Good book

Derived From Web

, Dec 1, 2021

Tangled was purchased for my daughter who loves the movies purchased. I figured that she would like to see another scenario of the Rapunzel story and I was correct! She loved this book. She wrote it. She read a little of it everyday so she didn 't finish too quickly and was so excited to fill me in on what was happening. She's almost 15 so I wasn 't concerned about any of the themes of potential plots she was reading, but she did tell me that there is a woman in the book who bathes in the blood of girls and I think dismembers them ''. I don 't exactly remember what the other thing was, but it was graphic, so that if you have younger children, I read it probably before you give it to them.
Great for Preteen/teens

Derived From Web

, Nov 29, 2021

My daughter loves these books. It is a great collection that is appropriate for all ages. My eldest, who turned 13, enjoys these books. I think they are great for kids 10 and up, depending on their reading level.
My favorite in this series

Derived From Web

, Nov 17, 2021

I have read 3 books in this series and this was my favorite! I enjoyed the similarities to the movie, but enjoyed the differences they threw in. I loved how it is written like a princess bride, where it's a story within a story ''.
TANGLED RETOLD TO LITTLE SISTER📖

Derived From Web

, Oct 29, 2021

When I heard the story of a DISNEY Twisted Tale coming out for RAPUNZEL, I HAD TO GET IT. I loved how the story was told by Brendan to his little sister Daniella while going through treatment for his cancer. The story of the moondrop flower and it's powers blew my mind. Reading how Rapunzel learns to control her powers for good was creative. Rapunzel's relationship with Flynn and Gina had me laughing out loud and I loved their camaraderie. If you're a fan of TANGLED, check out WHAT ONCE WAS MINE.
The Same-New Rapunzel

Derived From Web

, Oct 4, 2021

I was not really sure how this story could be remade, but this was beyond my wildest imagination. As a result, this held my attention from start to finish. In fact, I read this book in a single sitting. We follow Rapunzel's story. We follow the story of Rapunzel. However, instead of her healing golden hairs, she has silvery hair with the power of death... or so she has been told. Gothel still plays a prominent role of a Liar in this book, and it's refreshing that her conniving, manipulative ways did not change in the story. Furthermore, we get to meet Gina and her witty banter with Flynn Rider. All the elements of the original tangled storyline are present with new characters, such as Countess Bathory, Treggsby, and the men of the Snuggly Duckling. The story moves quickly, as there is a lot of action within the book. There are enough twists and turns to distinguish the original story from the reader's attention and retain the reader's attention. Overall, I enjoyed the book thoroughly.
Slow to get going, but once it does it goes

Derived From Web

, Oct 2, 2021

I like how it is written from the perspective of a third party story teller. It is different than the other books in the series, like that. But having this aspect was not a make or break the book, but it was a make or break the book. I could have done without it, considering how little was thrown in by the story teller and his listener. Their narrative was not vital. It was slow moving actionwise for a bit, but the last 150 pages flew. I didn 't even realize that I had gotten this far. Which was a nice change from the slow beginning, where I numbered pages to the end of the chapters.
Lovely Read!

Derived From Web

, Sep 23, 2021

Tangled is by far my favorite Disney film, so I was so excited to read this retelling! Despite the page count, I found it to be a very quick read. I loved how the subtle shift of the story threw the story in an entirely new direction, and loved this book tremendously! This was the first twisted tale I read and can 't wait to read more!
Best Twisted Tale so far!

Derived From Web

, Sep 22, 2021

I loved Tangled, but I enjoyed this book. The way the story changed in such a wonderful way was mystical, but what really stood out was the relationship between brother and sister, as the story is told. This story brings so many real-world situations in an action packed adventure with truth tangled into the family bits.