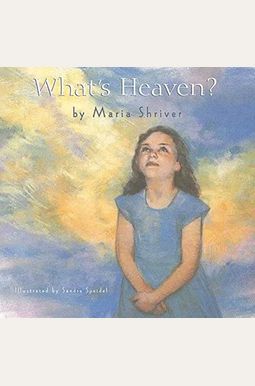 
 
Book Overview
This treasure of a book, for people of all faiths, is a starting point for parents who must talk about the difficult topic of death with their children.
What should parents say when a loved one dies? Heaven is a difficult subject that always comes up at tough times, and Maria Shriver has written a very special book precisely for these stressful moments. What's Heaven? is the story of Kate, a little girl whose great-grandma has just died. She seeks answers, and her mother helps her learn about Heaven. The many questions in this book are real, coming from Shriver's own children, nieces, and nephews when her grandmother Rose Fitzgerald Kennedy passed away. With 900,000 copies of the book now in print, the loving, confident, and ultimately uplifting answers Shriver provides are helping readers' families come together, feel closer to one another, and experience peace during the times when they need it most.
Frequently bought together
Frequently Asked Questions About What's Heaven?
Books like What's Heaven?
Book Reviews
(15)
Did you read What's Heaven?? Please provide your feedback and rating to help other readers.
Beautifully Written & Illustrated Description of Heaven

Derived From Web

, May 31, 2022

She had grown up very close to him as he spent his last years in our home. He named her his Little Goldilocks for her beautiful golden curls. After his passing, we all felt the sudden emptiness in our home. I was most concerned about the questions running through her mind about this place called Heaven, of which everyone spoke. All she wanted was her Grampa Harry... this book helped answer so many questions and calm her sweet little mind. It discusses delicate topics that we may not know even as adults how to approach children during such difficult times.
A MUST HAVE - Whether you've lost a loved on or not.

Derived From Web

, May 31, 2022

This purchased it for a dear friend who unexpectedly lost her husband after 28 years of marriage. Their grandaughter, 1st grade, was having a very difficult time understanding why her grandpa did not come home. Having read this to my son when my mother passed away in 2001, I KNEW that it would provide an opportunity for my friend, whose own world was turned upside down to open a dialogue with her great grandson. My prayer is that they will gain a wee bit of insight that will help them both move forward.
What's Heaven?A Fantastic Resource

Derived From Web

, May 31, 2022

I taught elementary school for thirty-five years and have three sons and a granddaughter. I have returned to school and have been pastor for five years. What is Heaven? is the best book I have seen for helping children learn about death, grief, and heaven. I have a mini mission where I give the books as gifts to the parents of young children to read to their children if they choose to do it. The parents are so grateful, helpful, and appreciative of the resource. I would recommend this book very highly ''.
Truly helpful for such a painful time

Derived From Web

, May 31, 2022

My grandmother '' died unexpectedly last month. It was difficult enough to deal with my own grief, much less to comfort my daughters as much as they need. My middle daughter is a great deal like Kate, you answer a question and many more pour out. It helped us to open and discuss what Heaven could be like and to emphasize to my daughters that we are deeply sad, but we will be ok. I recommend this to other families trying to deal with their grief. I am sorry that some specific reviewers are offended by the open interpretations of Heaven, but I think it is really important to remember that individuals and families from all cultures and religions face the loss of a beloved family member. We should show respect for the different faiths and remember that no one person holds all the answers.
Not Quite Heaven

Derived From Web

, May 31, 2022

This is a well-written book about a mother who helps her daughter deal with the grief of losing her grandmother. The problem is that it was not written from the child's perspective, but rather from that of a third-person observer. Children in the primary grades have trouble conceiving their feelings as something that somebody else might have felt. This book could have been benefited by switching perspectives. A much more effective way would have been to have the child express her emotions through her thoughts, asking questions to her mother and receiving the appropriate responses. Rather, this book shows a mother telling her daughter how to feel and not allowing the child to express her grief truly. It is, however, one of the only books that deals with this theme in such a delightful way.
Not impressed.

Derived From Web

, May 31, 2022

This is the story of a young girl who questions death and the hereafter after the passing of her grandmother. While the questions are important, the story isn 't very well-written and conversations aren 't very realistic in my opinion. If the book were written by an unknown writer instead of a Kennedy, it would still be in an editor's slush pile. Possibly even in their garbage can, they can be found. The book's illustrations are exquisitely rendered pastels, each of them including various shades of blue, invoking heavenly feelings appropriate to the title. While death is a difficult subject to deal with for any child, I found this book to offer overly simplistic answers to complicated emotional questions. I wouldn't recommend it for a child who is seeking answers about death or dealing with grief.
Read this when I lost my grandmother as a child

Derived From Web

, Mar 17, 2022

I buy it whenever someone has lost a loved one because it is better than flowers in my opinion.
Extremely beneficial in helping young children cope with loss.

Derived From Web

, Jul 7, 2021

Would highly recommend for children who have experienced loss. They are written extremely well in the language they can understand. Their fears are calmed. Have purchased more than one occasion.
Perfect

Derived From Web

, Apr 16, 2021

My 2 and 3 year old grandchildren lost their mother recently and I needed to help them. This is perfect for you.
Saving grace during a difficult time....

Derived From Web

, Mar 10, 2019

We do not attend church regularly, but raise our children in Christian faith, so that my son had a very basic understanding of heaven. He had so many questions more than I had answers. I handed this book to a cousin who had a death in his family to help his children, and I appreciated the way the book was a little more commonized ''. While it was obviously written for Heaven, it was not discussed for any specific branch of Christianity.