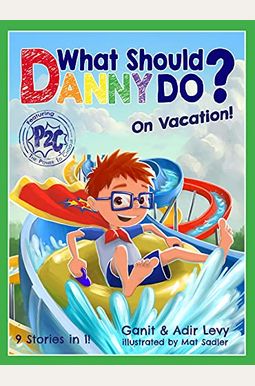 
 
What Should Danny Do? on Vacation
Product is currently Out of Stock.
You can add it to your wishlist and you will be notified once we receive a copy.
Frequently Asked Questions About What Should Danny Do? on Vacation
Book Reviews
(7)
Did you read What Should Danny Do? on Vacation? Please provide your feedback and rating to help other readers.
Why put masks in it??

Derived From Web

, May 23, 2021

The book wasn't terrible but it wasn't as good as previous books. I was disappointed that the illustrator put masks on people in the background on a few pages. It was a bad choice to put them on because they weren't on a lot of people. We go to books to get away from reality. Many children are frightened by all the adult decisions made in 2020. My kids noticed that putting masks on people distracts them from the book's lightheartedness. They are tired of seeing them everywhere and their books aren't safe from Covid.
Taking a bath in Chicken Nuggets is a Good Choice

Derived From Web

, Jan 5, 2021

These books are very popular with us. The books we use in our parenting have values written into them. They are really fun. Our son learns that bad choices affect the outcome of his day. He asked if we could read the book again so he could make a better choice than the one he made previously. There is so much potential for more stories in this series.
A wonderful 2020 gift we all need

Derived From Web

, Dec 29, 2020

Wow, that's amazing. This book is right up there with the rest of the series for someone that is a huge fan. Thank you Adir and Ganit, you have once again given us a wonderful book for kids. With everything going on in the world and so many families taking family vacations in the car, this book helps children learn how to get along with siblings as well as how to make better choices. This book came out this year and I am very happy about it. My best moment of 2020 was this one. !
Another Amazing Addition to the Power to Choose Series, We LOVE!

Derived From Web

, Dec 19, 2020

Excellent! These are the best books for children. There are new scenarios in this book that my kids enjoy and learn from, and one decision takes a special twist where you can see how Danny's choices affect someone else. A brilliant way to teach empathy, confidence, and the impact our choices have on our lives and the lives of others. A must have for every child.
Fantastic!

Derived From Web

, Dec 19, 2020

Thanks to the authors for delivering on their promise of publication for the holidays! I knew my niece and nephew would love the third Danny book. They would be surprised because I didn't tell them. Due to Covid travel restrictions, I couldn't be with family this holiday, but their parents told me how happy they were to get the book. The parents say this book is their favorite. Thanks to the Levys for responding to my queries about the publication status, and for the innovative and enjoyable learning tools that engage kids for hours on end!
My kids literally fought over this when it came!

Derived From Web

, Dec 18, 2020

The newest book in the series did not fail to impress my children. These books teach children about personal accountability and about pausing to think and make good choices. We like them. As someone who used to teach child safety, the way the authors handled the scene where Danny gets lost is perfect. This book is a great way to teach and reinforce what we tell children to do if they are lost.
The BEST one yet! Danny does it again! :)

Derived From Web

, Dec 10, 2020

The Power To Choose books are a staple in my family and we were so excited this arrived in time for the holidays. The book challenges Danny with new life lessons. My kids were fascinated by how Danny's adventure unfolded in each of the 9 endings. The best part was that they were excited to make new decisions. Watching them discuss and work through options for Danny was very rewarding. The book had well developed story lines and beautiful illustrations. All of the books in the What Should Danny Do series are recommended by me.