Buy 3 Get 1 Free
Our Best Sale Yet! Add 4 Books Priced Under $5 To Your Cart Learn more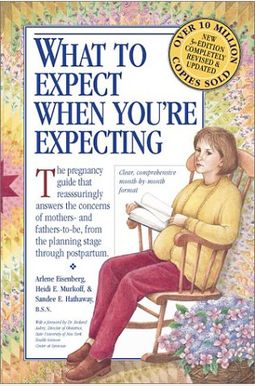  
What To Expect When You're Expecting
Frequently Asked Questions About What To Expect When You're Expecting
Books like What To Expect When You're Expecting
Book Reviews
(9)
Did you read What To Expect When You're Expecting? Please provide your feedback and rating to help other readers.
Helpful read

Good quality and good information. Easily digestible.
Somewhat helpful as a reference

It was somewhat helpful on what to expect week by week development wise. But you can also find the information on google. I was expecting more science related aspects to put my mind at ease but it didn't really happen. And the miscarriage part of the book seemed to be lacking.
I hated this book

Derived From Web

, May 28, 2020

I really want to read this book. I was excited to be pregnant but nervous about delivery. I was expecting What To Expect When You' re Expecting to be a guide to alleviate concerns. It is what you read when you are pregnant. I could not find anything useful. The language is casual and fluffy. It is very similar to " hey girl, do not do this". I read through at least 13 of this before I was done. I didn't like this book at all.
Riddled with inaccuracies (and annoying interjections)

Derived From Web

, Sep 6, 2019

While smoking during pregnancy is harmful, the womb does not fill up with smoke if you do, and the book makes claims that have been proven false by science. The constant interjections continued throughout the book even after the first page. If you want accurate information that doesn't sound like it was written for a third- graders, choose a different book.
No Science Here

Derived From Web

, Jul 22, 2019

I feel like this is the book every pregnant woman needs to read to be prepared for the next nine months. There is no scientific backing for things that are presented as facts. A cursory search of her does not reveal what makes her an expert in the field. If you' re worried that your face has gotten too fat, there is a section in the book about how to make your face look better. I was hoping for something better. Why not say the for dad sections are for any partner? Emily Oster's book, Expecting Better, is the only book I need. She doesn't just pull weird facts from thin air and body shame pregnant women. I don't recommend the what to expect app, it's just an Amazon advertisement.
Great reference guide for parents to be

Derived From Web

, Jul 6, 2018

We like to read this together, as it gives us a heads up on what to expect each week. The QandA part is great, as there are many questions that we can relate to, and we get laughs out of some of the Dad components, which are really a nice add- on and make this book feel like its made for all participating members. It can be intimidating and scary to be pregnant, but it's a wonderful thing. It helps us get our questions ready for our doctors visit if we read what others are doing. We can get to the core questions answered by our OBGYN when we have a reference guide on what to expect, and what tests are coming up, because we have a reference guide. It has been helpful for ours and we recommend this to all expecting families.
Very very thorough, all your doubts and questions (even weird ones..) are answered here. Good for daddies too!

Derived From Web

, May 2, 2018

I wish I had this book when I was pregnant. Lots and lots of useful information for those who are a bit anxious or worried. The information is presented in a way that is warm and sympathetic. The app is a good complement to the book, as you can get videos, pictures, forums, etc. My husband really loves this book, and he says it has been very helpful for understanding all the changes that I'm going through. He loves to learn about our baby's growth and what to expect over the course of a week. It is recommended for all the parents to be. It is!
Careful! They might send you the UK version!

Derived From Web

, Apr 16, 2018

Don't order the wrong edition if you want to get the right edition. They sent the UK edition the first time I ordered. It isn't labeled at all, you just start reading and notice that they talk about different healthcare issues and use a lot of British jargon. The correct edition was reordered. It's frustrating. There are different versions of the picture. The UK is on the right.
I recommend this book for all expectant parents.

Derived From Web

, May 1, 2017

I bought this for my son and his girlfriend to read together. I read an earlier version 23 years ago and it was helpful and interesting for expecting parents, and this version is just as useful. I am struck by how this book helps to foster an immediate connection between them and their baby, as I watch them read together. It's cool when a book gives important information and makes you emotional.