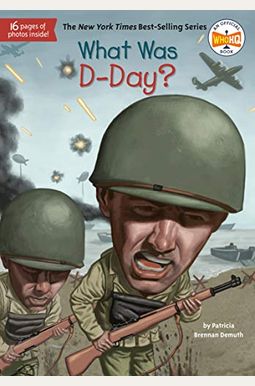 
 
Book Overview
In the early morning hours of June 6, 1944, an armada of 7,000 ships carrying 160,000 Allied troops stormed the beaches of Nazi-occupied France. Up until then the Allied forces had suffered serious defeats, yet D -Day, as the invasion was called, spelled the beginning of the end for Nazi Germany and the Third Reich. Readers will dive into the heart of the action and discover how it was planned and carried out and how it overwhelmed the Germans who had been tricked into thinking the attack would take place elsewhere. D-Day was a major turning point in World War I and hailed as one of the greatest military attacks of all time.
Frequently bought together
Frequently Asked Questions About What Was D-Day?
Books like What Was D-Day?
Book Reviews
(11)
Did you read What Was D-Day?? Please provide your feedback and rating to help other readers.
What was d day

This is an excellent book that does a good job at teaching elementary students about world war two. The pictures and photos work very well. It also does a good job at helping them understand what happened in Germany without being too complex or using vocabulary they don't understand.
Students love this nonfiction series for AR with book levels from 4.5-6.0 and worth 1 point.

Derived From Web

, Apr 21, 2022

Who Is That? What was wrong with that? AR books for their goals. The remaining six series are classified as nonfiction, with book level from 4.5 to 6.0 and are worth 1 point. I was glad to find this book because none of my students were even alive for 911 calls, and their knowledge of anything beyond 2000 is almost nonexistent, Garton said. World War II is fascinating and the event that truly united the country and propelled our economy to what it is today, Dr. Goin added. We defeated the Nazis as a bonus, Tunick said.
What Was D-Day

Derived From Web

, Apr 21, 2022

I chose to read this book to my children on our way to France on the 71st anniversary of D-Day. Realizing this, I deliberately gave my children a PG rating picture of what happened on that day. Giving enough background information of what led the United States to join the fight of WWII and ending with the specifics of what happened on Omaha Beach, the book gives enough detail to give a good starting point. The book ends with a few details of how the war ended - including a photo montage of soldiers, paratroopers, and other scenes from WWII.
This set of easy chapter books are perfect for third-fourth grade reluctant readers

Derived From Web

, Apr 21, 2022

This set of easy chapter books is perfect for reluctant readers of all ages. The book is a great read, well written, motivating and fun to read. I'm especially liking this one about D-Day because I learned some things I did not know about this day in history.
... times and took it and a photo of his great grandfather to school

Derived From Web

, Apr 21, 2022

I gave this book to my 7 yr old grandson, he has read it several times and took a photo of his great grandfather to school. Mercifully, every one was interested in buying it. This is a great series, said executive producer Brian Stokes Mitchell.
Great purchase

Derived From Web

, May 24, 2021

It was my son's birthday and I wanted to give him something to do with his time. He read it and used it as reference for a 5th grade essay he had to write about Dday. This book is highly recommended for any elementary reader.
9 yr old loved it

Derived From Web

, Jun 12, 2020

We had fake landings with recordings to draw German troops away from the real paratroopers, he said.
Great book

Derived From Web

, Mar 14, 2020

Very good book, very well written. The book talks about when we were first planning to invade the beaches. The boys made a fake military base out of plastic tarps and wheeled it around with inflatable military vehicles. German planes flew by and they got fake radio messages from them making plans to fight in one of the beaches. They had about 9,000 men on the ground, and they lost about three dozen men in the gun battle, he said. After taking over the ships they went inland and took many prisoners and saved others from camp. The war ended in May 1945.
Great book for kids AND adults

Derived From Web

, May 24, 2019

The book is a wonderful read, said Dr. Goin. Our local school band is on its way to France for the 75th anniversary of D-Day. The photographs were so powerful and really helped the students gain a greater understanding of the significance of the event, said Dr. Elizabeth White, who co-ordinated the project. Thanks for the tip.
Great book

Derived From Web

, Dec 3, 2018

My son has been a huge fan of the series and this book was no exception. He specifically asked to learn more about this subject and this book did a great job in explaining it in an appropriate way, Mr. O'Neill said.