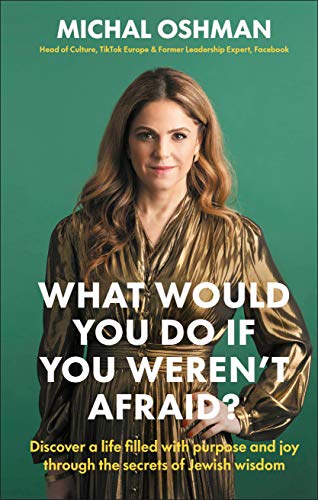 
 
What Would You Do If You Weren't Afraid?: Discover a Life Filled with Purpose and Joy Through the Secrets of Jewish Wisdom
Product is currently Out of Stock.
You can add it to your wishlist and you will be notified once we receive a copy.
Book Overview
Let Michal Oshman take you on a journey of self discovery to identify what makes you you, what you were born to do and how to do it.
As a mentor for leaders in top global companies, Michal created a unique personal growth methodology based on the life-changing principles of Jewish wisdom. It is easy to think that the daily challenges we experience in the 21st century are new and unlike any that people faced in the past. Michal draws on her own heritage and a wide range of Jewish teachings to offer practical advice for common concerns, such as a broken heart, parenting, overcoming setbacks and getting the most out of your career. By challenging you to explore what matters, Michal offers solutions to your everyday struggles. She will empower you as well as teach you how to adopt her self-development tools to discover who you really are and what you were born to do with your life. With its uplifting belief that you already have all the ingredients within you to lead a joyous life, Michal's unique mix of corporate culture experience and Jewish wisdom will help you reconnect with yourself. This unique book will help you to find your courage, and move forward freely, with no fear at all What leaders are saying about
What Would You Do If You Weren't Afraid?
Yossi Klein Halevi - Senior Fellow, Shalom Hartman Institute and author of the New York Times Read More chevron_right
Frequently Asked Questions About What Would You Do If You Weren't Afraid?: Discover a Life Filled with Purpose and Joy Through the Secrets of Jewish Wisdom
Book Reviews
(10)
Did you read What Would You Do If You Weren't Afraid?: Discover a Life Filled with Purpose and Joy Through the Secrets of Jewish Wisdom? Please provide your feedback and rating to help other readers.
It was helpful to me

Derived From Web

, Dec 20, 2021

We will done! I can relate to the author's message. It really hit home for me. For a refreshing and candid book! Excellent job!
A personal journey

Derived From Web

, Nov 2, 2021

I was introduced to her by Simon. Her path to Orthodox Judaism caught my attention. She had some interesting information. Nothing will change if you don't change anything. In her book, she talks about Harris. At one point she compares herself to Harris. The author is a white woman. Harris is a descendant of slave owners in Jamaica, but the author is a descendant of Holocaust survivors. The book is interesting if you want to learn about personal growth and religion.
Very helpful

Derived From Web

, Sep 13, 2021

I plan to buy copies of this book for my friends because of the many good points it has to offer. The kind of book that is good to review is not just for one time reading. Thank you for writing that.
Great book that I recommend to my clients and friends.

Derived From Web

, Jul 30, 2021

I am a traveler on the path of Jewish wisdom. A lot of what I study can be found in this book. It's possible to break deep concepts and make them simpler. I don't know how she does it but she does it well. I recommend this book to clients and friends who are using it to find meaning in their lives. The book helped me immensely and I am looking at new ways to help the world.
MUST read

Derived From Web

, Jun 11, 2021

This is a must read, and has become one of my favorite books. The author shares the power of healing through Jewish wisdom, and she is authentic, respectful and vulnerable.
A gentle gigantic book!

Derived From Web

, Jun 1, 2021

I feel like Mical opened the door for many of us on a spiritual journey, and I am touched personally and professionally. She made me feel understood in my pursuit of a well meaning life.
Definitely worth reading !!

Derived From Web

, May 10, 2021

The book was very useful and inspiring. It took the most difficult mystical concepts and explained them in a very clear way and gave practical ways to apply them to improve life quality and deeper meaning with work, family and relationship with our spiritual reality.
Loved it!!!

Derived From Web

, May 10, 2021

I usually don't read self- help books but I was intrigued by the title and decided to buy it. The book is inspiring and motivating. As a woman who likes to stay in her comfort zone, it gave me the courage to look deeper and strive towards the goals I always wanted to achieve. The book gave me tools and ideas to face anxiety inducing situations with courage and kindness.
Impactful !

Derived From Web

, May 6, 2021

I only have a few moments at night when I can sit and read, and this book took me on a journey that I have been looking for. I would recommend it to anyone who is searching within themselves and anyone who has found themselves. Every page has wisdom, depth, clarity and pure consciousness. It's time to buy it, read it, meditate on it, and read it again. Thank you Michael for this gift.
Highly recommended

Derived From Web

, May 4, 2021

I enjoyed reading What Would You Do If You Weren't Afraid because of the organised writing and the questions at the end of the chapter being one of the reasons. No matter your religion or professional level, you are invited to a journey of self- discovery as a reader. You feel like you matter more than the information you receive. It creates more than a bridge between the author and the readers by being honestly written.