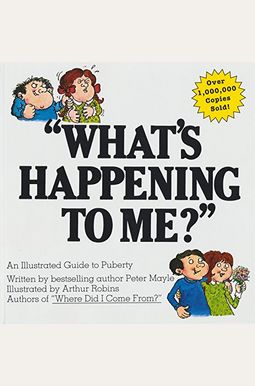 
 
Book Overview
For more than twenty years, the internationally bestselling team behind Where Did I Come From? has helped millions of parents and children talk about the facts of life in a straightforward yet lighthearted way that is respectful of young people's natural intelligence. Warmly and relatably illustrated throughout, What's Happening to Me? creates a safe space where families can talk about the physical and emotional changes that happen during puberty and adolescence, answering the questions that kids ask most often.
Why is my chest getting bumpy? What's a wet dream?
What's a period? Why is my voice acting so funny?
Why do I get pimples? What's an erection?
Why am I getting hairy? Why is mine not like his?
This book answers the big questions, and explains the big changes. One look at the illustrations will tell you that this is not a dull medical textbook but rather it presents the facts of puberty, and it presents them with honesty, sympathy and a sense of humor. If you've been wondering how to have this talk with your children, look no further for a trusted resource that will give you the tools you need to share this critical information sensitively and factually.
You can't deny Mayle's talent for translating adult experience into child-level concepts.

--
Kirkus Reviews
Frequently Asked Questions About Whats Happening To Me
Books like Whats Happening To Me
Book Reviews
(18)
Did you read Whats Happening To Me? Please provide your feedback and rating to help other readers.
highly recommended

Derived From Web

, May 24, 2022

A very good book saved me from embarrassment, I read it first with my son and I read it together, it helped me a lot.
Puberty? Give your tween this.

Derived From Web

, May 24, 2022
Pretty good, but dated

Derived From Web

, May 24, 2022

I am sure that some reviewers felt that this book was too liberal of an attitude towards masturbation. I don 't agree. I think that's important information for young people. I do agree that the section on the menstruation has a pretty negative slant and could be better. I also disagree with the fact that the book doesn't address the same sex attraction. That is my biggest complaint but is overall a good resource and has a lot of good information.
Not for everyone.

Derived From Web

, May 24, 2022

This book might be ok for you, but I did not like it. I teach biology and thought that this book was a little goofy. I was also pretty turned off when... breasts help you to look pretty good. Boys and men like them a lot and are quite right too. There, Showered up. I would personally lean at this stage towards basing my son's knowledge in a more scientific account of what is going on and letting my son figure out how he feels about breasts, and down the line, my daughter doesn 't need a book that is supposedly a valuable resource telling her that breasts are there to help her look pretty. At some point, we should focus on their actual purpose. I ended up giving my son something else to read.
Great book to get started with some intimidating topics

Derived From Web

, May 24, 2022

A great book and I am so glad we purchased it for our nine-year-old son. We did quite a bit of research to choose the best book for him and this seemed to be a perfect fit for what we wanted to discuss and our desired level of openness. We weren't confused and our son has really enjoyed reading and asking us questions. I was worried that it would be old, but I think it is still a great book on the basics for his age.
This book is awesome! I have used it for all three of ...

Derived From Web

, May 24, 2022

It covers the traumatic questions and subjects in the least difficult way possible.
Good for a 10 year old

Derived From Web

, May 24, 2022

I appreciated that it had enough information without getting too involved with older, more complicated topics. It was comfortable and easy to read, so it was cute for my daughter.
What's happening to me?

Derived From Web

, May 24, 2022

For me, answered a lot of questions. Plus, it is mostly cartoons.
Great book for Young Boys

Derived From Web

, May 24, 2022

I read this book before giving it to my son, who is about to enter the 6th grade. I tried hard and was very selective about the content of the books I bought for him, so that the ones I bought with care were chosen. I was comfortable giving him this book to him, knowing the content in it.
Terrible

Derived From Web

, Dec 31, 2021

This book is awful and completely inappropriate for age. I bought this for our 11 year old to teach him Puberty. It sent it back.