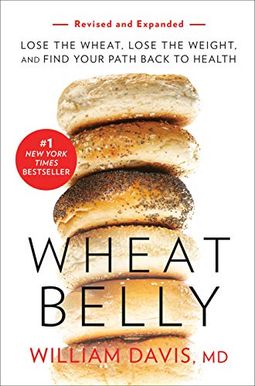 
 
Wheat Belly (Revised and Expanded Edition): Lose the Wheat, Lose the Weight, and Find Your Path Back to Health
Book Overview
#1 NEW YORK TIMES BESTSELER - The groundbreaking phenomenon that kick-started the grain-free movement, now revised and expanded with the latest nutritional and scientific research findings
One of the most impactful nutrition-based books of modern times.--David Perlmutter, MD, #1 New York Times bestselling author of Grain Brain
First published in 2011,
Wheat Belly
introduced the world to the hidden dangers of modern wheat and gluten, revolutionizing the conversation around health and weight loss forever. Nearly a decade later, Dr. William Davis's provocative indictment of the dominant staple in our diet continues to inspire countless people to lose the wheat. After witnessing thousands of patients regain their health after giving up wheat, Davis reached the disturbing conclusion that wheat is the single largest contributor to the nationwide obesity epidemic--and its elimination is key to drastic weight loss and optimal health. In
Wheat Belly
, Dr. Davis provides readers with a user-friendly, step-by-step plan to navigate a new wheat-free lifestyle. Now updated with refreshed recipes, new program guidelines, and cutting-edge nutritional findings,
Wheat Belly
is an illuminating look at what truly is making Americans sick and an action plan to clear our plates of this harmful ingredient.
Frequently Asked Questions About Wheat Belly (Revised and Expanded Edition): Lose the Wheat, Lose the Weight, and Find Your Path Back to Health
Books like Wheat Belly (Revised and Expanded Edition): Lose the Wheat, Lose the Weight, and Find Your Path Back to Health
Book Reviews
(8)
Did you read Wheat Belly (Revised and Expanded Edition): Lose the Wheat, Lose the Weight, and Find Your Path Back to Health? Please provide your feedback and rating to help other readers.
Changed My Life and Health

Derived From Web

, Feb 25, 2021

I gave it four stars because it is a long read. Years ago, after reading his first book, my health changed after reading his first book years ago. I followed his diet until 2019, but I had followed his diet until 2019. For some reason, I decided to try adding wheat back into my life. A couple of months ago I went for my fasting blood work. Was I shocked? My blood pressure was bad already, but so was my new cholesterol. Besides that, my triglycerides had gone up. I was not eating bad and I wasn't eating it. I had just reintroduced wheat. I bought his new book and re-read it. This was 3 weeks ago. As of today, my blood pressure is 24 points down. I have my energy back and YES, I am sleeping better. I can 't say enough about this diet. I really don 't have a hard time eating on his plan and the results speak for himself. I am 73 so it is not too late for anyone to start. I urge anyone who needs a health change to try a different approach : The book is read so that you understand how it works. It can change your life. It can change your life.
Tiny print

Derived From Web

, Feb 27, 2020

I rated this neutral because I don 't know if it is a good book or not because the print is so small and has a lot of words on a page. I use readers and is still too tiny. Needs to be conflated with larger print.
Great book

Derived From Web

, Feb 20, 2020

I read the Wheat Belly book by Dr William Davis right before I was diagnosed with celiac disease. I have taken this information for the past few years with me while researching what my diet needs to be like. This revised book is even better now. The doctors I trained were not used in the medical school on this disease. My family doctor was at the University of South Alabama. I agree with Dr Davis that we should not use potato starch and premade GF foods and many other ingredients that manufacturers are pushing. The best food is pure GF. We have plenty of foods that are naturally GF.
A must read

Derived From Web

, Jan 27, 2020

I have been a R.N. I have been an R.N. It is a shame that we don 't learn this in our profession, Old School Teaching exists. This book is amazing and I want to order 10 copies to give to others. Dr. Davis puts it all together and easy to understand.
Too technical and boring.

Derived From Web

, Jan 20, 2020

Bought this for my mom, Bought this for my mother. She likes to read and learn new things that she can do to become healthier. She did not like this book. She said it was too technical and put her to sleep. Enough said! Enough said! !
Incredible Book!

Derived From Web

, Dec 26, 2019

This is an incredible book and makes you never want to eat bread again! I listened to the audiobook of the original version of this in 2014 and it was eye-opening, and this book underscores those findings. The next time you're in the grocery store, skip the bread aisle and order your next hamburger without the bread! This book is a must-read for anybody who wants to kick the bread habit!
Happy to receive my book!

Derived From Web

, Dec 18, 2019

I love Dr. Davis and have been eating this way for years, never felt better, and am happy for the UPDATEDREVISED book, if you are willing to change the way you eat, this is not a diet '', you will never look back!
This can be life changing, as it was for me.

Derived From Web

, Dec 16, 2019

A comprehensive treatment on how to have a healthy body and mind, freedom from many debilitating diseases and a long "young " life. The importance of our microbiome can not be overrated. It is the foundation of our health and to a significant degree our happiness with our life and ourselves. Wheat : Giving up helped me immensely. After reading the original edition years ago, my wife and I cut our wheat consumption after reading the original issue. I have now completely eliminated wheat and reduced other grains significantly. Also am following many of Dr Davis's other recommendations for Dr Davis'; s other recommendations. I am a healthy 76 and have not felt any better in many years. Thank you Dr Davis for the kind words.