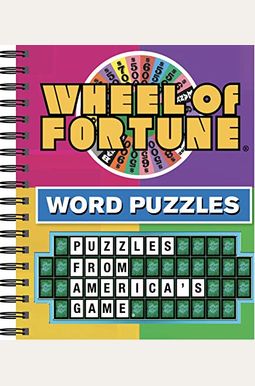 
 
Wheel of Fortune Word Puzzles
Book Overview
Bring your favorite game show home with Wheel of Fortune(R) Word Puzzles. A variety of more than 120 word and tile puzzles including:
- Themed puzzles based on real Wheel of Fortune(R) categories
- Word search puzzles: classic, themed, and shaped
- Crosswords: featuring Wheel of Fortune(R) themes
- Elevator Words and Add-a-Words to build vocabulary
Spiral bound for durability and ease of use. Answer key at the back of the book.
160 pages
Frequently bought together
Frequently Asked Questions About Wheel of Fortune Word Puzzles
Book Reviews
(10)
Did you read Wheel of Fortune Word Puzzles? Please provide your feedback and rating to help other readers.
I was disappointed..

Derived From Web

, May 1, 2022

I was disappointed it was all to be Wheel of Fortune puzzles, Mr. Rule told the judge. It's just another puzzle book with a few of the puzzles from Crossword.
Be careful.

Derived From Web

, May 1, 2022

This is more of a mix of puzzles, not word search, cross-words, movie associations, etc.
Not what I expected

Derived From Web

, May 1, 2022

The book was not what I expected from Simon. I should have read the whole thing more carefully. I was expecting some crossword puzzles, just like the TV show.
I love watching Wheel of Fortune and thought this would be ...

Derived From Web

, May 1, 2022

I've always enjoyed watching Wheel of Fortune, and this was a lot of fun, too. He added: "I am very disappointed in this book. There are just a handful of actual Wheel puzzles left. There are also a number of crossword and word search books available on Amazon. com. I didn't need to buy a wheel of fortune to do those puzzles, Mr. Cowger said. I was hoping for a whole book of Wheel of Fortunes. No, I will not be purchasing any more copies of these books.
Not all wheel-type puzzles

Derived From Web

, Jun 12, 2020

I'm a Wheel of Fortune fan and was disappointed there were a variety of puzzles, with a small amount of Wheel type puzzles. It's just that the writer must have missed the memo.
Activity book

Derived From Web

, Jun 9, 2020

Even for those who have never read a book, this is a must-have. There are some puzzle solving pages like wheel of Fortune but there are also some things I've never seen before. It's a lot of work, even for a lawyer. It's just that I graduated high school in 1991 and college in 1994. Some people think it's easy, but not me. Yes, I'm a fan of Gillian Michael's book.
Nice variety of puzzles

Derived From Web

, Feb 5, 2020

My 93-year-old mother-in-law loves to play word search puzzles and LOVES Wheel of Fortune. She's a bit frail, so the book is too heavy, said Dr. Goin. A nice variety of styles and levels of difficulty, he said. I think it's super cute and fun, Beckham said. Sad she doesn't like it as much as I do.
Really nice puzzle book

Derived From Web

, Jan 9, 2020

Several of these were purchased to give away as Christmas goodie bags to church members who are now in assisted living or nursing home situations. Mr. Hughes said staff were excited to get the books and were pleased with the quality. There are different puzzles inside that are different, so it's not just the same type of puzzle over and over again. These would make a great present for retirees and also for children who like solving puzzles and need language-skills training.
Like the gameshow? You'll love this

Derived From Web

, Mar 20, 2019

Carry your love for the game show with you when you are out and about, or just a lazy day at home. This book is a soft cover spiral bound book which makes it easy to use while in a waiting room, or just on the couch. The puzzles can be difficult but some are quite easy, just relax and let the letters flow. The only thing you don't win is any money, prizes, cars or trips when you guess the correct answer.
Very misleading title for the book contents

Derived From Web

, Jan 22, 2017

There are a lot of different kinds of puzzles and hardly any wheel of fortune puzzles left to play with! The product is very misleading and a waste of money, Mr. Dhaliwal said. I love doing puzzles, but I just wanted to be able to relax and play with my son--we love wheel of fortune and have quite the competition, Mrs. Booher said. It's great to be back home, said Blair.