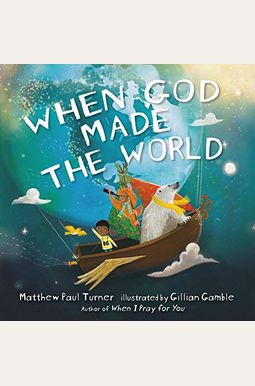  
Book Overview
From the author of the bestselling children's book When God Made You comes a rhythmic, whimsical journey through creation--for little readers who love science and wonder and the beginnings of all things.
For spiritual parents who are looking for a different kind of creation book, Matthew Paul Turner's
When God Made the World
focuses on the complex way that God created our vast and scientifically operating universe, including the biodiversity of life on our planet and the intricacies of a vast solar system. Scottish illustrator Gillian Gamble brings the natural world to vibrant life with rich colors and poignant detail certain to stretch young minds and engage imaginations. Planet Earth, God made a blue and green sphere,
And designed it to orbit the sun once a year. God made daytime and nighttime, climates and seasons,
And all kinds of weather that vary by region. God made continents and oceans, islands and seas,
A north and south pole that God put in deep freeze. God carved rivers and brooks, mountains and caves,
Made beaches with sand and huge crashing waves. God made tropics and plateaus, glaciers and meadows,
marshes and tundras and erupting volcanos.
Frequently Asked Questions About When God Made the World
Books like When God Made the World
Book Reviews
(17)
Did you read When God Made the World? Please provide your feedback and rating to help other readers.
It wasn't what I thought it was

Derived From Web

, Jan 27, 2022

I was excited about my book When God made the world, that morning I received it! I loved the artwork, but when I read it, I am sad to share, I 'll return it. I understood this book by the title to be a book on creation, written for children. It is kind of, but it also brings out the obvious belief of the author in evolution, nicely mixing the two. Read it carefully... you'll notice the subtle wording. Oh, how I learned...... Read the books you plan to share, make sure that the message contained in them is really what you want to share. Which One? Nope...
Not Biblical, don't buy

Derived From Web

, Mar 30, 2021

The book is cute, but it is not very biblically based. I ended up throwing it out because I don 't want to read my kid books that are actively contrasting the Bible.
Evolution, Big Bang, Old Earth

Derived From Web

, Aug 30, 2020

"With Cosmic Explosions, God made space in motion God made birds perhaps over time '', if needed over time. If a book claims God's name, it should be Biblically sound. We were excited to read this book with our children until enjoying it. Unfortunately, there are also some mixed beliefs written inside. This book has a mix of old earth, evolution, big bang flavors sprinkled throughout. Though the book is whimsically illustrated and inviting, we return for this reason.
A beautiful, worshipful book

Derived From Web

, May 20, 2020

I purchased this for my great nieces, aged 6 and 2. Both of them love it : the text is appropriate for children-adults, and so devoted and reverent. The beautiful ones love the little illustrations! So glad I bought this '', I highly recommend it!
It's a good book

Derived From Web

, May 2, 2020

I personally like the book very much. It goes through each aspect of creation and then goes on to discuss how to take care of this Earth. It does have a couple of phrases that are in opposition to a 7 - day creation belief.
Not a Biblical account of creation.

Derived From Web

, Feb 3, 2020

This book brings up themes such evolution and a view of creation that is not a literal, 7 - day creation and emphasizes the importance of nature over man in reflecting God's image. I am not pleased with this book, as beautiful as the pictures and the verses are. I'm very disappointed ''.
lyrical poetry and gorgeous illustrations!

Derived From Web

, Jan 30, 2020

In the short time, I have had this book, I shared it with many others and I have loved them all! Being able to share at any time is a reason to have the digital as well as the gorgeous printed picture book! I wish I had this book when my children were young, but thankfully as pastor I still have the opportunity to read these beautiful books during worship and education to children. I am so thankful that this book exists, as Creation is one of the stories that capture the imaginations of children over and over and they always want to know how they fit into creation. This book reflects my theology of a loving God that I want to teach the children I pass along to. This book does this "teaching" through lyrical poetry and gorgeous illustrations!
Beautifully Done

Derived From Web

, Jan 30, 2020

It is written and illustrated beautifully. Love Matthew's attention to detail in representing both the world and those who fill it accurately. This book will become a beautiful gift for the little people in my life.
Our favorite books!!!

Derived From Web

, Jan 30, 2020

My favored children's book author is! I love to read these books to my son! Check out all Mathew Paul Turner's books... you will fall in love with them all!
Gorgeous Book!

Derived From Web

, Jan 29, 2020

Matthew Paul Turner, author of When I Pray for Youbrings, gives us a new story, centering on the creation when God made the world. This is a colorful book that captures attention with its well-drawn palette and inclusive representation of all types of children. The book is written in a poem form, with encouragement for children not only to enjoy Creation, but also to take care of it and ourselves. My son read it with me and loved that it had so many unique illustrations and pointed out his favorite sections. It is certainly a favorite at bedtime for us!