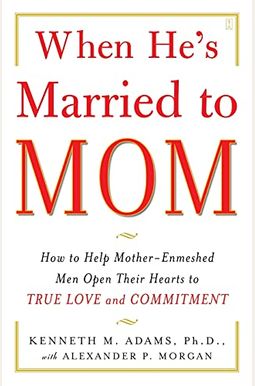 
 
When He's Married To Mom: How To Help Mother-Enmeshed Men Open Their Hearts To True Love And Commitment
Book Overview
A practical, compassionate relationship guide for women who are involved with mother-enmeshed men, mothers who wish to set their sons free, and men dealing with issues of commitment, sex addiction, and unhealthy attachments.
Why can't he commit? Many women find themselves asking this question when in love with a man who won't get married, won't stop womanizing, or refuses to give up his sex addictions. Often this kind of man is bound by an unhealthy attachment to his mother. This phenomenon is called mother-son enmeshment. In
When He's Married to Mom
, clinical psychologist and renowned intimacy expert Dr. Kenneth M. Adams goes beyond the stereotypes of momma's boys and meddling mothers to explain how mother-son enmeshment affects everyone: the mother, the son, and the woman who loves him. In his twenty-five years of practice, Dr. Adams has successfully treated hundreds of enmeshed men and shares their stories in this informative guide. He provides proven methods to make things better, including: --Guidelines to help women create fulfilling relationships with mother-enmeshed men
--Tools to help mother-enmeshed men have healthy and successful dating experiences leading to serious relationships and marriage
--Strategies to help parents avoid enmeshing their children
Frequently Asked Questions About When He's Married To Mom: How To Help Mother-Enmeshed Men Open Their Hearts To True Love And Commitment
Books like When He's Married To Mom: How To Help Mother-Enmeshed Men Open Their Hearts To True Love And Commitment
Book Reviews
(7)
Did you read When He's Married To Mom: How To Help Mother-Enmeshed Men Open Their Hearts To True Love And Commitment? Please provide your feedback and rating to help other readers.
Thank you Dr. Adams

Derived From Web

, May 24, 2022

It made it possible for my husband to say that he was a mother enmesh man without me having to say it physically, if I had been the one to say it, he would have torn me to pieces in defense of his mother. I asked him to read the one chapter that I've felt like was just like him or our relationship would be over. We both talk about how grateful we are now that BOTH did it. The examples of the MEMs are what it did. After that, he told me that this was the most helpful part of seeing it from a different perspective. I admire SO MUCH what this author has put together in this book. It has changed my marriage and my life. But most importantly, it helped breathe LIFE into my husband, who didn 't even know that he was depressed. Thank you for the kind words.
Fantastic! Spot on!

Derived From Web

, Jul 23, 2021

Best book I ever read about how men who are enmeshed by their mothers are controlled subconsciously and that they are not purposefully seeking to be isolated and destroy their relationships, careers or their very livelihoods. They are unaware that they have been forced to choose mom over their very selves and everyone else who might threaten her power over her son. As a MEM wife, I thank you for this!
Good!

Derived From Web

, Jun 10, 2021

Haha! The only downside is that it does not come across as very scientific. I would have liked to see more statistical data, peer reviews, etc.
This book is a wake up call to many!!! This cond is serious!!!

Derived From Web

, Feb 9, 2021

Especially single moms and men raised by single mothers. This can literally save the life of a person. He was depressed and clinically suicidal. I believe it was due to the extreme form of the enmeshment. I could not even coparent with him efficiently. I tried it out. I asked him a question, then called his mom the next day, he changed his attitudeopinion, got angry and said the same exact thing his mother said. Literally, I slipped out. It was like he was swashed. He ended for a suicide attempt in a mental home. That is when I ordered the book to be sent to his mother. He denied it when I told him, then went to confirm his embarrasment by calling his mother three miles from the hospital. I told his mom that you either let him go or lose him. Do you prefer him to be 6 ft under or happy...I am a believer in God and believe that God showed me this book to save his life.
Amazing book. Just what the doctor ordered!

Derived From Web

, Aug 8, 2018

I read countless books, watched hundreds of YouTube videos, and even went to the therapy for some SORT of explanation. Turns out, all I had to pick up was to do this book. I am so glad that I did. It actually TELLS YOU directly, how to overcome the Nice Guy syndrome and how to tell your Mommy Dearest to get her own life without making you feel bad about yourself for having one of your own. This book is for sale. I was raised as a single child by an overprotective and smothering mother. This is what you read : It will change your perspective and help you deal with bad habits.
Let me say...

Derived From Web

, Feb 25, 2018

Let me say that if you are dealing with a man who has a mother that is constantly interfering with your relationship and it seems that he can never come up to her. And if you feel as if you are a third in your own relationship, then this book is for you! It will answer a lot of questions and teach you either to walk away or to know that it's time to deal with. Cause : If he does not learn to speak up to his mother, things will never change. It was an intriguing read and for me an informative read as well. If you are in the middle of one of these types of relationships, you will quickly be able to identify which one or how many of the examples of men you are dealing with in the book. Almost every chapter was mine, but two.
The deep consequences of enmeshment

Derived From Web

, Oct 25, 2017

The first half of the book where she describes a lot of cases seems to me boring and artificial. The second half of the book is, however, incredibly spot-on. If you are from an entangled family, this book feels like the story of your life. I find it impressive and also very sad that a book is able to tell me so much about my life, with great accuracy, based on almost this idea of the entwined family system. You can see that the consequences of this defining dynamic are deep and very visible. I hope I don 't have to, but I probably will read many times this book again.